Rodgers Confronts Elam On Low Hit (GIF)
Aaron Rodgers was not pleased with Matt Elam
's low hit on Randall Cobb.
Elam's tackle ended a key Packers' drive right before halftime, but it also took the receiver out of the game with a knee injury. Rodgers confronted Elam after the play, which resulted in some shoving and a personal foul penalty on the Packers. (Mobile users tap "View in Browser.)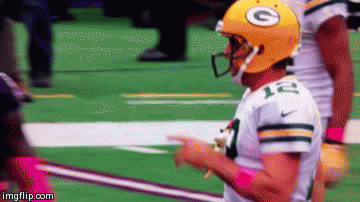 After the game, Rodgers called it a "questionable play."
"I just felt like he had enough time to make a hit in the legal hitting zone," Rodgers said, per ESPN Wisconsin.
But the thing is, Elam did make a legal hit, and he only had a split second to make a decision about where to target Cobb.
Elam may be a rookie, but he knows the emphasis the league has put on concussions, and the penalties and fines that accompany high hits on pass catchers. The byproduct, and unintended consequence, of those illegal high hits is defenders aiming low.
"Go high and your bank account could take a hit," wrote The Baltimore Sun's Matt Vensel. "Go low and you could cause a serious knee injury, something that many players would prefer much less than a concussion."
On the critical third-and-19 play, Cobb was close to converting after he completed a 15-yard pass from Rodgers. Elam dove at Cobb, leading with his shoulder, which knocked into Cobb's knee, dropping him four yards short of a first down.
Take a look at the play.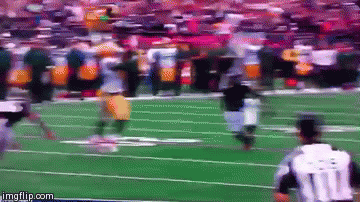 When Rodgers confronted Elam, teammate and fellow safety James Ihedigbo
rushed over and explained to Rodgers that Elam was trying to play how the rules dictate.
"We try to play within the rules of football," Ihedigbo told The Sun. "That's on [NFL commissioner] Roger Goodell. He wants us to hit low, we'll hit low, and guys will keep getting injured. … God forbid, I don't know what Randall Cobb suffered, but I'm praying for him because it's unfortunate."
Several media outlets are reporting that Cobb will have an MRI Monday morning, but early indications are that it may not be serious.
Rodgers appreciated what Ihedigbo had to say on the field.
"(Ihedigbo) came over and made actually a very knowledgeable point – which I appreciated a little intelligent banter back and forth – about some of the issues defensive players have to deal with with the target area," Rodgers said. "I totally understand that and get that. I just felt like, from my vantage point, (Elam) had plenty of time to not take out a guy's legs in that situation. I think he could have hit in the proper hitting zone, and that's what I told him."
The NFL's competition committee will look at those low hits, according to FOX Sports' Mike Garafolo.
"We will certainly discuss this at length this offseason," Giants President and CEO John Mara, a member of the league's competition committee and the committee on health and medical issues, wrote in an email to FOX Sports. "Too early to tell if there will be a rule change. We will look at all of these plays before deciding if a rule change is warranted."
Offense Squanders Defensive Effort, Becomes Liability
It took nearly 43 minutes for Rodgers – one of the most prolific passers in the NFL today – to toss a touchdown pass against the Ravens defense. And it was the only touchdown the Packers scored all game.
Had you heard that note prior to the game, you might have thought the Ravens would have gotten the victory.
Instead they fell to 3-3 on the season following the 19-17 loss, "squandering" a solid overall defensive performance, says The Baltimore Sun's Aaron Wilson.
"The Ravens slept through another first half on offense, and they paid for it," added The Sun's Ron Fritz. "The defense played a terrific game, except for the breakdown on the 64-yard bomb, but wore down after the offense couldn't sustain any early drives."
While the defense faded in the final quarter, failing to get the ball back into the offense's hands with just over two minutes remaining, Jamison Hensley believes you can't blame the unit for the loss.
"Six weeks into the regular season, the Ravens' defense has proven to be playoff caliber," the ESPN blogger wrote. "By the end of the Ravens' first home loss of the season, it became clear that the offense is a liability.
"The root of the Ravens' troubles is their running game. To be more accurate, it's a stumbling game. … I've seen the Ravens offense struggle mightily over the years, but they've always been able to run the ball. That's the disturbing part."
Led by Pro Bowlers Ray Rice
and Vonta Leach
, this unit is only averaging 2.1 yards per carry. Sunday, the Ravens totaled 47 yards on the ground.
Ravens running backs are having a hard time even getting back to the line of scrimmage. On 21 of their designed run plays, Ravens' backs were hit in the backfield nine times, according to ESPN Stats & Information.
"Until the offense can put together a complete game, the Ravens can't be considered a complete team," Hensley concluded.
Harbs Putting Too Much Faith In Offense?
John Harbaugh defended two of his coaching decisions after the game: going for a touchdown on fourth-and-1 from the 1-yard line, and passing with 12 seconds left in the first half in their own territory.
The Ravens got stuffed on the fourth-down attempt, and Flacco was sacked and stripped at the end of the half, leading to a crucial Packers field goal.
The Ravens head coach explained that the percentages in those situations worked in the Ravens' favor, and he had confidence in his players.
"You give your guys a chance to make plays in situations like that," Harbaugh said. And his players appreciated that trust, and were regretful that they didn't justify the faith he put in them.
Hensley wonders, however, if Harbaugh is showing too much faith in an offense that has struggled through six games.
"The percentages are never in the Ravens' favor when it comes to running the ball," Hensley wrote. "Before that fourth down, Ravens running backs combined for zero yards on nine carries. Why would anyone think the Ravens could gain one yard on fourth down?"
Not everyone disagreed with Harbaugh's fourth-down call, including Vensel, who tweeted, "Poor execution, but I thought going for it was the right call."
Suggs Asks Fans To 'Hang In There With Us'
The Ravens have fallen to second place in the AFC North. Their .500 record is tied with the Cleveland Browns, and the Bengals lead the division with a 4-2 record.
Despite Sunday's loss, the Raves are still in a solid position and Terrell Suggs
is asking for Ravens fans to stick with the team.
"We all HATE [losing]! Especially at Home!!!! Hang in there with us Ravens Nation!!! WE WILL GET IT FIXED!!!" Suggs tweeted after the game.
Added Torrey Smith
: "Tough loss...can't keep starting so slow...back to work....another big game on Sunday...no need to cry about something that's done."
Meanwhile, the Steelers picked up their first win of the season and now own a 1-4 record. Punter Zoltan Mesko celebrated by photobombing a Ben Roethlisberger interview.
Quick Hits