Torrey Smith
: Complaining Won't Solve Anything
The Ravens thought they had it.
They know they should have beaten the Bears. But they only blame themselves – not the storm delay, not the muddy field conditions, not the refs.
The Ravens had an early 10-0 lead, but it evaporated. They had two chances to punch in the go-ahead touchdown from inside the 3-yard line with only seconds remaining in regulation, but came up short both times. They had the ball first in overtime, but the possession ended in a punt and the Bears responded with the game-winning field goal for a 23-20 win.
Yes, Baltimore should have won.
So now what?
"Disappointed and pissed but not discouraged.... b****ing and complaining isn't going to solve anything..on to the next one," tweeted receiver Torrey Smith.
Smith's on the right track because as crazy as the trip to Chicago was – five-hour game, nasty storm, overtime loss, Ozzie Newsome's reported ambulance ride – the fact that the 4-6 Ravens are still in the thick of the AFC wild-card race is even crazier.
There's zero time to hang their heads as the team that currently owns the second and final wild-card spot is coming to M&T Bank Stadium in six days.
AFC Playoff Picture
If the Ravens are going to get back on track after a 4-6 start, they have the schedule, the conference and opponents to do it.
Baltimore has a three-game home stretch against teams that don't have a winning record: the Jets (5-5), Steelers (4-6) and Vikings (2-8).
"The Ravens aren't done in the AFC wild-card chase, but if they don't win next week at home against the Jets, it'll be curtains for the defending Super Bowl champs," wrote Don Banks of Sports Illustrated.
The Jets are only one game ahead of the Ravens, and a victory over former Ravens Rex Ryan and Ed Reed would knock New York out of the final wild-card spot for the time being.
At this point, that's the most likely route to the playoffs as the Ravens took a big hit in the race for the AFC North division crown and now trail the Bengals by 2.5 games. Baltimore is in a three-way tie with the Steelers and Browns for second place with six games remaining.
While the Ravens are mathematically still in the playoff race, ESPN's Jamison Henley questions whether they deserve to make the postseason.
"Yes, there's hope. I just don't know why anyone should believe this is a playoff team," the blogger wrote. "Count me among the skeptics. The only reason why the Ravens are in 'this thing' is because the AFC is the Awful Football Conference."
Only five teams in the conference have winning records, and six have the same record as Baltimore.
Check out the current 2013 playoff standings in the table below:
AFC PLAYOFF STANDINGS
Division Leaders
W
L
T
DIV
CONF
Broncos
9
1
0
3-0
5-1
Patriots
7
2
0
3-1
4-2
Colts
7
3
0
3-0
5-2
Bengals
7
4
0
2-2
5-3
Wild Card
W
L
T
DIV
CONF
Chiefs
9
1
0
1-1
6-1
Jets
5
5
0
2-2
2-5
In The Hunt
W
L
T
DIV
CONF
Dolphins
5
5
0
0-2
4-3
Raiders
4
6
0
1-2
4-3
Titans
4
6
0
0-3
3-4
Steelers
4
6
0
1-1
3-4
Ravens
4
6
0
2-2
4-4
Browns
4
6
0
2-2
3-4
Chargers
4
6
0
0-2
2-5
Bills
4
7
0
2-2
3-6
Texans
2
8
0
1-1
2-4
Jaguars
1
9
0
1-1
1-5
Well Wishes For Ozzie Newsome
Ravens General Manager Ozzie Newsome didn't travel back to Baltimore last night after he was reportedly transferred to a local hospital in an ambulance.
Well wishes were sent to Newsome via Twitter.
"Prayers up for Mr. Newsome," wrote Smith.
"Hoping all well with @Ravens Ozzie Newsome tonight in Chicago. Hall of Fame player and GM and a good friend over the past 20 years. #prayers," tweeted Phil Savage, Ravens former director of player personnel.
Per reports, Newsome was sweating profusely after the game and security officials prevented stadium employees from entering the area as he was loaded into the ambulance. CSN Baltimore's Brent Harris reported that Newsome entered the ambulance under his own power.
The Chicago Tribune's Brad Biggs snapped a picture of the scene where employees were stopped (mobile users tap "View in Browser" at the top of the page).
Security at Soldier Field stops employees from using hallway to load person from #Ravens on ambulance pic.twitter.com/PVYF2Ff7LL

— Brad Biggs (@BradBiggs) November 18, 2013
'Moron' Runs Onto Soldier Field In Storm
If a tornado watch is in effect and I see players and fans taking cover, you wouldn't have to ask me twice to evacuate the seating bowl.
But not this moron.
The video below was originally uploaded to Facebook with the caption: "HOLY [COW]! Stupid Ravens fan... We just talked this guy into doing this!!"
The man many are calling a "moron," "stupid," and "idiot" almost tripped on his way down the stadium steps. He was tackled by security pretty quickly after he reached the field.
The Ravens prosecuted 'Baltimore Batman' and he was sentenced to jail for streaking at M&T Bank Stadium last year.
His message after he went to court?
"Don't do it. Trust me," Mark Harvey said after getting his sentence. "It's a lot that I had to go through, I have to do more jail time and that's hard-earned money that I have to pay now. It's definitely not worth it."
One wonders if this Ravens fan will suffer a similar fate. It's just plain stupid and dangerous to run out onto the field, especially in the middle of a storm.
Before, During And After Pics Of Soldier Field
Things got downright nasty at Soldier Field.
Check out this timeline of the storm and its effects on the field and local area.
Mobile users tap "View in Browser" at the top of the page.
Shoutouts to Rice, J. Smith
While the result was disappointing, let's not forget to give props to two Ravens that had a heck of a day.
First was Ray Rice
, who busted out a 47-yard run on his first carry of the day and never looked back. He finished with a season high 131 yards and a touchdown.
"Ray Rice lives!" tweeted NFL.com's Ian Rapport.
Added Hensley: "For the first time this season, Ravens running back Ray Rice looked like Ray Rice. He took advantage of the NFL's second-worst run defense with his first 100-yard performance of the season."
Then there was cornerback Jimmy Smith
, who defended against one of the league's biggest and best wide receivers in Brandon Marshall.
On one series in the third quarter, Smith was flagged on a debatable holding penalty on Marshall in the end zone on third down. The flag gave the Bears a first down at the 2-yard line. The defense still prevented the Bears from a scoring a touchdown in large part because Smith absolutely shut down Marshall on two passes thrown his way.
"Ravens CB Jimmy Smith just did a number on Brandon Marshall and Josh McCown. What a goal line stop," tweeted Robert Klemko after the series.
The result?
Frustration. In the GIF below, cameras caught Marshall throwing his helmet to the ground on the sidelines.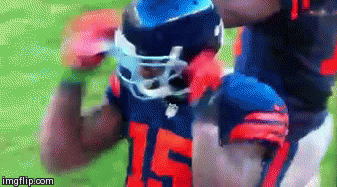 Quick Hits