Hensley: Flacco Far From Ravens' Biggest Problem
As one might expect, Joe Flacco
was quick to take full accountability for Sunday's aggravating 23-20 loss. But the reigning Super Bowl MVP's play isn't the core issue going forward.
Anyone can take his final stat line – a career-high five interceptions – and juxtapose it with his new contract of $120 million and come up with a jab.
Cue ESPN's Skip Bayless.
"Today Flacco was a $55 million Fluke-o with five interceptions," the "First Take" host tweeted.
While you can't absolve Flacco of his part of the problem, ESPN's Jamison Hensley says that Flacco is not the reason the Ravens "flopped."
"Flacco is hardly the problem," the blogger wrote. "It's easy to put all of the blame on Flacco.
"The problem is Flacco doesn't have the supporting cast right now to come back on the road this season. He could not in Denver. He could not in Buffalo. If you really want to fault Flacco for something, it is the fact that the NFL's third-highest paid quarterback could not carry his team when everything else was falling apart around him."
Hensley's list of things falling apart around the reigning Super Bowl MVP is long:
1) The Ravens couldn't run the ball. They gained a measly 24 yards Sunday.
2) The Ravens couldn't stop the run. They allowed 203 yards on the ground.
3) The Ravens couldn't protect Flacco. He was hit 12 times, and sacked four times.
4) Other than receiver Torrey Smith
, who should Flacco target?
"Ed Dickson
and Tandon Doss
cannot catch," Hensley said. "One interception went right off Dickson's hands. Tight end Dallas Clark
has trouble getting consistently open. Marlon Brown
(thigh) and Deonte Thompson
(concussion) left the game after getting hurt, joining Jacoby Jones
(knee) and Brandon Stokley
(groin) on the growing injury list.
"The only receiver Flacco can have any confidence in is Torrey Smith, who will likely draw triple teams from now on."

Flacco was criticized for some of his decisions, however. He uncharacteristically put balls up for grabs. For example, after linebacker Daryl Smith
's interception gave the Ravens offense the ball in the red zone, Flacco threw an ill-advised pass to Smith in the end zone. The ball was underthrown as protection broke down.
"He just took three points off the board," The Baltimore Sun's Matt Vensel tweeted.
Those three points were big in a game that was decided by one field goal. His final interception ended any chance for a comeback victory.
Even though Flacco needs to play better, few expect his poor play to continue.
Running back Ray Rice
, summed it up: "Joe Flacco is not to blame; I'm going to put that out there. He's our guy. Without him, we don't get down the field. Guys need to make plays.
"Joe is our leader. We've been down this road before. We don't point fingers around here, but the last person I'm worried about is Joe Flacco. He's a Super Bowl MVP. He's a Super Bowl quarterback. As long as Joe goes, we go. You saw it for yourself. As bad as we played, Joe Flacco still led us down the field and we were that close."

Breaking Down Five INTs, Who's At Fault
Not all five of Flacco's interceptions were his fault, as his receivers and protection played a part in some.
Baltimore Breakdown's William Stokes took a look at each and gave his take on who is to blame. Take a look at the accompanying GIFs (mobile users tap "View in Browser") and see if you agree.
Pick No. 1 Blame: "Flacco. He couldn't have been more transparent the ball was going to Doss and completely missed [Bills cornerback Aaron] Williams lurking by the sideline," wrote Stokes.
Pick No. 2 Blame: "The interception is pretty clearly Dickson's fault," Stokes states. "Flacco made a good, safe pass that Dickson not only failed to catch, but bounced it into the air which let the Bills make a play on the ball."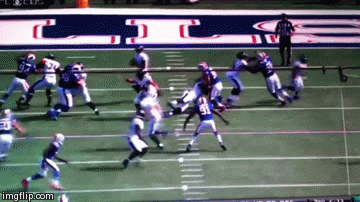 Pick No. 3 Blame: "The Ravens player most responsible is Flacco. Ideally, he should have put the ball where only Smith could have made a play on it, but it's understandable why he wasn't able to given the pressure he was facing," Stokes wrote. "[T]he interception was more the result of a great play by Williams than anything the Ravens did."
Pick No. 4 Blame: "The interception is unequivocally Flacco's fault. Not only does [linebacker Kiko] Alonso read the route, but Flacco also threw the ball behind Brown," he wrote.
Pick No. 5 Blame: "No one really," Stokes says. "It was a tipped ball an incredible diving catch. Sure, Flacco tried to force the ball to Clark, but that's to be expected at this stage in the game. There is nothing you can do here but tip your hat to Alonso for coming up with the great interception."
Can Flacco Still Trust Dickson?
Dickson deserves time to get on the same page with Flacco after missing the entire preseason, but does chemistry affect holding onto the ball?
After making his sixth drop of the season Sunday – and this one bounced off his hands and resulted in an interception – many are wondering whether Flacco can continue to trust the fourth-year tight end.
"Ed Dickson just can't be trusted in the passing game whatsoever," tweeted WNST's Luke Jones.
Vensel said he was receiving tweets from fans who said they want the Ravens to cut Dickson. The Sun's Jeff Zrebiec added that Dickson is playing with "zero confidence."
Dickson admitted after the game that he feels like he is living a nightmare, but is taking accountability for his mistakes.

"There's no excuse for it," Dickson told Zrebiec. "It was a ball that I probably made the catch on 48 times in my career and it happened early in the game. Mentally, it seems like a bad dream, but I'll continue to grind it out and there's going to be brighter days with my success in this offense."
Thompson A Difference Maker
Receiver Deonte Thompson returned from a preseason foot injury for the first time Sunday, and we finally got a glimpse at what the coaching staff had been raving about this offseason.
Thompson, and his speed, made an immediate impact on the passing game. He had four catches for 50 yards.
"Their offense really started clicking when Smith and Thompson were on the outside and Brown moved in slot," tweeted The Baltimore Sun's Jeff Zrebiec. "Speed opened up a lot of stuff."
The only problem is that Thompson was knocked out of the game with a concussion, and Brown sustained a thigh/hamstring injury. It's only one game (and not even a full one), but Thompson could be a threat going forward.
Stokley In Jeopardy When Jones Returns?
When Jones returns from a knee injury, one hopes the passing game will take another step forward as a lineup with Smith, Jones, Brown and Thompson could become a solid corps.
But one gets the feeling that somebody's job could be in jeopardy when Jones' return is official. While Doss was already cut by the Ravens once, Zrebiec wonders if Stokley will be released.
"[Stokley] showed up on the injury report Friday with a groin injury but he looked fine out on the field running warmups," Zrebiec wrote in a fan chat yesterday. "Problem is Ravens are starting to get into a numbers game at WR with Doss occupying the return role and Deonte Thompson back healthy. When Jacoby Jones comes back, you have to wonder if Stokley is in trouble."
Time To Hit Panic Button On Run Game
Entering the game, the Bills had the second worst run defense in the league. And the Ravens only managed 24 yards against it.

"Running back Ray Rice said no one should push the panic button on the Baltimore Ravens' struggling ground attack. He's wrong. It's time to sound the alarm," wrote Hensley.

"[T]he Bills stink at stopping the run. The Ravens, though, showed they stink worse at running the ball."
After the game, nobody complained about the number of carries (nine times was a franchise low). And Hensley says that's the most telling part.

"By no one calling for the Ravens to run the ball more, it says to me that no one has confidence in the running game right now," he wrote.
Biggest Issue Is 'Obvious'
Flacco got mauled Sunday: four sacks and a dozen hits.
Despite Flacco's continuous interceptions, Offensive Coordinator Jim Caldwell kept calling passing plays because "the Ravens were so sick of seeing their backs run into a wall, they washed their hands of the running game," wrote Vensel.
There is one culprit that connects the two issues.
"It's pretty obvious that out of all the team's issues, offensive line is the biggest one," wrote Zrebiec. "Even Yanda got called for two penalties today."
League Stands By Penalty On Suggs
Head Coach John Harbaugh stands by Terrell Suggs
' final hit on EJ Manuel, as the quarterback was delaying putting his knee down on consecutive plays to run precious seconds off the clock. The Ravens were hoping to cause a turnover in the waning seconds of the game to get one last shot at winning or tying the game.
But the league reportedly stands by head referee Jerome Boger's call of unnecessary roughness when Suggs hit Manuel, causing his helmet to come off.
"A league source tells PFT, however, that the league believes that Boger made the right call," wrote Josh Alper.
Mike Pereira, the NFL's vice president of officiating from 2004 to 2009, believes both Manuel and Suggs should learn something from the play.
"Smarten up, EJ," wrote Pereira for FoxSports.com. "While Manuel needs to know as a rookie that he needs to take an immediate knee, Suggs needs to know he can't slam the quarterback when he obviously was trying to take a knee."
While the call was controversial, Baltimore Beatdown's Jason Butt doesn't think it had a big effect on the outcome.
"Don't kid yourself, the Ravens weren't winning w/o the penalty," he tweeted.
No Second-Guessing Final 4th-Down Call
Harbaugh isn't second-guessing his decision to kick a field goal from the 6-yard line with four minutes, eight seconds remaining in the contest while trailing 23-17.
Four minutes can be an eternity with two timeouts and a two-minute warning. And with the way the defense was playing, Harbaugh was betting that the defense would get the ball back with plenty of time for the offense to get something done.
"I feel like we did the right thing there," Harbaugh said.
Our own John Eisenberg agrees:
"I had no problem with Harbaugh settling for a field goal to make it 23-20 late in the fourth quarter rather than going for a go-ahead touchdown on fourth down in the red zone," he wrote. "He was gambling that his defense would get the ball back in time for the offense to take another shot, and it did."
Three-Way AFC North Tie
After trading their top playmaking weapon, running back Trent Richardson, to the Indianapolis Colts, many thought the Browns were giving up on the 2013 season.
Yet they are the hottest team in the AFC North with back-to-back wins, including yesterday's victory over the Cincinnati Bengals.
Now the Ravens find themselves in a three-way tie in the division, with the Browns and Bengals also holding a 2-2 record. Meanwhile, the Steelers are off to a 0-4 start for the first time in 45 years.
"We are in uncharted territory," said Steelers quarterback Ben Roethlisberger. "And the water is dangerous right now."
Good News On Webb
Ravens top cornerback Lardarius Webb
left Sunday's game with a thigh injury, never to return.
The Baltimore Sun's Aaron Wilson reported that his injury is "not regarded as serious" and added that Webb should play next week against Miami "depending how the week goes."
Quick Hits