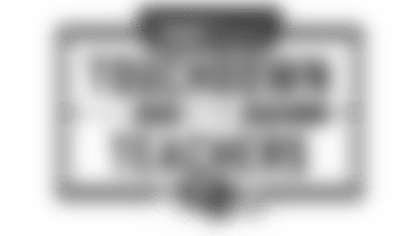 Nominate your teacher today!
Do you know a teacher who goes above and beyond? The Baltimore Ravens Touchdown for Teachers program™, presented by M&T Bank, recognizes local teachers for outstanding service to their schools and communities. Three finalists will be selected by a panel of community members, the Ravens and M&T Bank. One teacher will receive a $5,000 grant for their school, a school visit by a Ravens player, Poe and Cheerleaders, and a Ravens jersey.
The top 3 teachers will be chosen based on one or more of the following criteria:
Amount of involvement in the school and/or community (ex: volunteering, coaching, after school programs, etc.)
Degree of positive impact on the school and/or community
Demonstrates a strong commitment to education in the school and/or community\
Nominate an Educator Today!