An unprecedented number of glittered faces, dance shoes and fluorescent tights filled Baltimore's Merritt Downtown Athletic Center last weekend for the first step in becoming a Ravens cheerleader.
And now, the work really begins.
Ravens cheer coordinator Tina Galdieri was joined by a select group of judges - a diverse 20-member panel that included Ravens corporate sales account executive Brad Downs and Mickey from 98 Rock - to whittle a list of nearly 200 potential rookies and 35 returning veterans down to the 70 names she brought back Tuesday for an intense round of interviews.
It's all part of finding what Galdieri calls "the total package."
Of course, cheerleaders have to be able to dance.
Those factors make the first two days of evaluations relatively easy when it comes to the final piece of the puzzle - personality.
"It's an overall package, kind of hard to explain," she said. "You obviously need to have the look and be able to fit into what the Ravens cheerleaders wear on a regular basis. You definitely have to have some skills - both in cheer and dance.
"And then, it's about personality and character. What have you done in the community? Are you comfortable being out in front of people. It's an in-depth process."
Galdieri personally interviews each candidate for 15-20 minutes and asks the tough questions. With somewhere between 150 and 175 appearances throughout Baltimore and the surrounding area expected this year, the cheerleaders need to be prepared for every situation.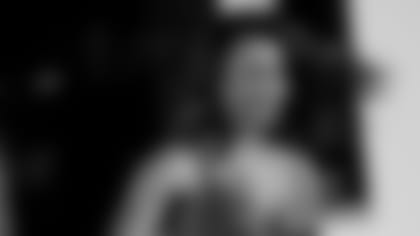 "I can't keep sending the same ones every time," Galdieri said. "I want to have confidence with all of the cheerleaders, so it's a difficult job looking through all the cheerleaders to find them.
Galdieri expects to have the squad finalized by the beginning of April, but the road has been long even to this point.
It started with two cheerleader clinics in February, where anyone with dreams of wearing an official sequined Ravens logo can come to practice for the actual tryouts.
Cheerleader veterans led the recruits through lessons ranging from a simple pirouette to a more complicated dance routine. The girls were also given tips on what to wear to tryouts, from the sports bra down to the white tennis shoes.
"We encourage all the tryouts to go to the clinics, because you really get a sense of where you're at and what this competition is all about," Galdieri explained.
That's what Meghan D. did last year when she tried out as a rookie, and obviously, it helped. She went from sitting on the fence to a spot in the 2008 swimsuit calendar after attending the final clinic at the urging of a friend.
"Last year, I went to school at Mount St. Mary's with Erin, who has been on the team two years now," said Meghan, who is a third-grade teacher in Havre De Grace, Md. "When I graduated, she emailed me one day and said, 'You know there's only one clinic left, right?' I ended up going, and even though I was still so nervous at the tryouts, it really helped.
"Now, I know a little bit more about what to expect, but you still get some of those nerves."
Even the seasoned veterans get a little nervous, as well.
Leslie A., who contributed to the "Ravens Spirit" blog on BaltimoreRavens.com, said that last season would be her last after a six-year run on the team.
But, she couldn't help herself after watching the Ravens advance to the AFC Championship. Leslie knew that even as a veteran, she would still have to impress the judges regardless of her previous tenure.
"It never gets any easier for me," Leslie said with a laugh. "You just have to be at your best every year."
Galdieri, however, was happy to see Ms. October back for another shot.
"I said, 'I think you still enjoy it and don't have an attitude like you've been around here and don't need to work,'" stated Galdieri. "Usually, I can tell when people start turning negative about things. That's when they want to give it up. Not with Leslie. She's still been very upbeat, still in great physical condition."
Both Meghan and Leslie did make it to the group of 70, which will get cut further by Galdieri and Co. before to a final practice round March 24.
It may be a taxing route to becoming a member of the Ravens' cheerleading team, but to everyone involved, it is also worth it when the final product runs out of the tunnel at M&T Bank Stadium.
"We're never lowering our expectations," Galdieri said. "We're trying to get better as a squad every year."