By TERESA M. WALKER AP Sports Writer
NASHVILLE, Tenn. (AP)-- Steve McNair's pastor and close friend cautioned against judging the ex-NFL quarterback Thursday, reminding people who gathered for his memorial not to cast the first stone when talking about his life off the field.
McNair, who was married, was shot to death at his condo early Saturday by his 20-year-old girlfriend, Sahel Kazemi, who then turned the gun on herself.
"Drop your stone the next time you write about Steve McNair. Drop your stone the next time you text somebody. Drop your stone the next time you twitter. Drop your stone, those of you in the barbershops, the beauty shops. Those of you walking the streets on the corner, drop your stone," Bishop Joseph W. Walker III told thousands of people, among them family members, fans and more than 50 former teammates, gathered at Mount Zion Baptist Church.
"What I do know about this man was that he loved God though he was just like us: imperfect," Walked said. "But he knew God."
Among those in the audience was McNair's wife, Mechelle, who later left wearing sunglasses. Walker called her an amazing woman.
"You have inspired us all to endure hardship as a good soldier," he said.
It was her first public appearance since her husband died, and press photographers were asked not to take pictures of her or other family members.
Fans had lined up starting Thursday morning to view McNair's closed silvery-gray casket at a funeral home and later outside the church. A helicopter provided live TV footage as McNair's body was moved by hearse, and three of four local TV stations showed the memorial service live.
McNair's casket was on display at Mount Zion Baptist Church, where he had attended services since moving to Nashville in 1997. It was flanked by a large photo of him posing with his 2003 NFL MVP award on the right and another of him holding a football on the left.
The program included a statement from the McNair family.
"Today in our loss, our hurt, and our pain we recognize our gains in you our friends and loved ones ... They have all been a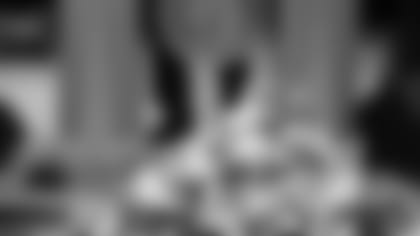 source of strength and comfort at this time to our family," it read.
Titans owner Bud Adams, Tennessee Gov. Phil Bredesen, Nashville Mayor Karl Dean all attended.
Among those speaking was Titans coach Jeff Fisher, who recalled a hit McNair took to his chest in September 2000 that had the NFL quarterback ready to quit the game. He was in so much pain that he spent a bye weekend with the team's former chaplain in Houston.
Then McNair, who struggled to breathe, watched his backup knocked out of the Titans' next game. Fisher said McNair looked at him, winked, tossed two passes and then drove them down the field to a game-winning touchdown. Fisher said he caught up to McNair walking off the field that day in Pittsburgh and started to talk when the quarterback interrupted and pointed to the sky.
"No more turf toe, no more sacks. No more shoulder problems, and no more interceptions, only touchdown passes. I'm going to miss you No. 9," Fisher said.
Several Ravens were also in attendance.  Members of the offensive line went, as did cornerback Samari Rolle.  Wideout Derrick Mason was asked by the family to take the podium.  He had a special message for Mechelle and the four McNair boys.
"Mechelle, you were a loving wife, until his final days," said Mason, who spent the first eight years of his career with Tennessee.  "Always caring for him in every possible way, all that a husband could have asked for and want. I know that today is difficult for you, but remember that Steve is no longer suffering.
"As you share tears of hurt, remember that Steve is shedding tears of joy," he continued.  "As you think and reflect and ask questions that we all struggle with, remember that Steve's questions are gone. As you sit here and remember your husband, and as boys you remember, your father is with his heavenly father. He is watching you, he is not thinking about death. He is more alive than he has ever been before. Steve is happy beyond what our minds can comprehend."
Eddie George, who helped McNair take the Titans to their lone Super Bowl in 2000, was among the pallbearers, along with four of the quarterback's former offensive linemen who escorted his casket out as the service ended. George read a poem describing McNair as a warrior during the service.
"You fought a good battle. Your life has just begun," George read.
Jean Ryan got in line nearly two hours before doors opened at Mount Zion to say goodbye to the man she had followed since the NFL team moved to town in 1997.
"I love him, and he was a beautiful man and I will remember not the circumstances of his death but the great things he did for the Titans and the community," she said, wearing a Titans' pin and crying at what she called the "utter sadness."
Approximately 4,500 filled the church sanctuary for the service, and church officials had overflow areas with a handful of people there.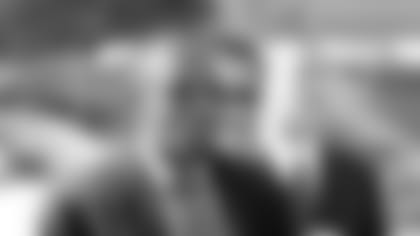 The Titans estimated approximately 9,000 people had visited LP Field, where fans were invited to reminisce about his career, between Wednesday and midday Thursday. Radio stations were broadcasting from the stadium, where the shop had sold out all of its McNair merchandise except for a few children's shirts.
Derrick Lewis said McNair "put the Titans on the map."
Lewis, wearing a Titans jersey, said he and his family were devastated when they learned of McNair's death.
"Myself and my family were completely shocked and some of us were crying because you almost feel like you are related," Lewis said.
But Lewis said the details of the killing haven't changed his opinion of McNair.
"I will always remember him for the good things that he did for the community and the Tennessee Titans," Lewis said. "Nobody's perfect."
Six members of the Ravens organization will travel to Hattiesburd, Miss., for McNair's funeral service in Southern Mississippi's Reed Green Colesium.  General manager Ozzie Newsome, linebacker Ray Lewis, Rolle, safety Ed Reed, director of security Darren Sanders and assistant equipment manager William Sheridan - a close friend of the McNair family - will be at the 11 a.m. ceremony.
Associated Press Writers Kristin M. Hall and Lucas L. Johnson II contributed to this report. Mike Duffy of BaltimoreRavens.com also added to this article.
View BR.com's Steve McNair Retirement Section |Photos