ESPN Declares M&T Bank Stadium Toughest NFL Venue
All fans think their team is toughest at home.
But not all fans have ESPN's latest study backing up their bragging.
M&T Bank Stadium is the toughest NFL venue, ESPN declared after polling more than two dozen NFL players, owners, general managers, scouts, analysts and writers. But it's the numbers that hoisted Baltimore to the top.
A simple way of looking at home-field advantage is to look at the home record (the Ravens rank second behind New England over the last decade), but looking at the stat alone usually skews toward the best teams that also win on the road. So ESPN's Greg Garber looked at the difference between teams' home winning percentage versus that on the road.
"The numbers are, quite frankly, astonishing: In 14 seasons at the building now known as M&T Bank Stadium, the Ravens are a giddy 84-31 (.730)," Garber wrote. "The road record in that time is a less-than-stellar 50-64 (.439). No NFL team in recent years has had more dramatic Jekyll-and-Hyde mood swings."
Baltimore also has the greatest point differential over the past decade at home (plus-756) versus away (minus-77), a swing of 833 points.
Center Matt Birk says that team strength and fans are two leading factors in determining a tough venue. In Baltimore, fans are making "separation anxiety" work of them. Charm City lost the Colts to Indianapolis in 1983, and they know what it's like to be without a football team.
"This city lost its football team," Birk said. "The Ravens filled the void for them, and the fans are really into it here. That makes for a loud stadium on Sundays."
Longtime Patriots linebacker Tedy Bruschi was asked about tough places to play, and pointed to the Ravens-Patriots Monday night game in 2007.
"It was five years ago, and I can remember everything – it made that much of an impression," Bruschi said. "Sometimes when you play in certain venues you feel the audience. The electricity they have, the energy they're giving the team. You feel that in Baltimore.
"It's like the fans and the defense are in perfect sync together."
The Ravens work hard at keeping their fans involved, holding monthly offseason meetings attended by the team president other top executives to discuss the gameday experience. Those meetings increase to several times a month before every home game during the season.
Public relations guru Kevin Byrne said the team's goal is to make the in-stadium experience more compelling than watching from home. How do the Ravens make the sale?
"We invite the fans to help. We're saying, 'You can help us win. You can be a factor,'" Byrne explained. "Let's not guess what they want – let's ask them.
"We spend a lot of time and effort on it. We're pretty good at it, I have to admit."
Here are the top six toughest places to play in the NFL, per ESPN:
2)      CenturyLink Field in Seattle
3)      Lambeau Field in Green Bay
4)      Heinz Field in Pittsburgh
5)      Sports Authority Field at Mile High in Denver
6)      Arrowhead Stadium in Kansas City
Clearing Up Romo-Gate: Cowboys QB Did Not Hang Up On Baltimore Media
Quarterback Tony Romo's conference call with reporters ended abruptly after 37 seconds.
Several Baltimore media members tweeted that Romo hung up because he didn't like the questions.
"Tony Romo hung up on us during a conference call," tweeted The Baltimore Sun's Aaron Wilson. "Apparently didn't like the line of questioning. Sensitive. …  Cowboys haven't had Tony Romo back on call after repeated calls. He hung up after questions about consistency and dropbacks."
Of course the tweets spread like wild fire throughout the web, but it turns out that Romo never hung up.
Per ESPN, the Cowboys public relations staff provided a tape of the call. After 37 seconds. one could hear a loud static while Romo was still answering a question about inconsistency.
"Well, I think our team just has to continue to execute a little bit better than we've been ..." Romo said. He later said, "Hello? Hello?" and stayed on the line for two minutes. "I can't hear anything," he said.
Romo reportedly moved on to other meetings, but later returned when a connection was made and he answered many more questions.
Wilson's colleague Jeff Zrebiec did tweet: "Just to be clear, I erred in reporting that Romo hung up. Recording clearly indicated call was dropped. Romo was gracious with his time. … My apologies for the confusion and the error regarding Romo."
Don't Expect To See McKinnie Soon
With the perception that Michael Oher is struggling at left tackle recently, reporters checked in with Bryant McKinnie and Head Coach John Harbaugh to see if last year's starter could be returning to the lineup.
"The time for a change at left tackle is unlikely to be now for the Ravens despite starter Michael Oher struggling against the Kansas City Chiefs and occasionally the previous week against the Cleveland Browns," Wilson wrote.
"Which means that returning to the lineup in any capacity is unlikely at this time for benched former Pro Bowl left tackle Bryant McKinnie."
Since McKinnie's contract was restructured before the season with a $1 million playing time incentive that requires that he takes 50 percent of the snaps, Wilson says there's chance McKinnie could play later in the season if Oher is still struggling.
McKinnie expects to get back out on the field.
"I do have a feeling like I have a good chance of playing later this season," he told Wilson.
Harbaugh said he is comfortable with plugging McKinnie in at left tackle again if the situation called for it.
"Bryant is ready to play right now," Harbaugh said. "Circumstances dictate a lot of things sometimes. I had a conversation about that this morning and with Bryant. It was more in passing. It was just a fun conversation that we had, and they [McKinnie and Ramon Harewood] are practicing like they are going to play this week, both of them."
Dallas Media Bringing Up Old Stuff, Says Lewis
Neither Jason Garrett nor the Ravens have any regrets about who is the head coach of which team.
Garrett was a leading candidate for the Ravens' job in 2008, but decided to stay with the Cowboys. And the Ravens are more than happy to have Harbaugh, who just wins.
But Dallas media remembered Rex Ryan, the Ravens defensive coordinator then, using Garrett's decision to stay in Dallas a "motivational fodder."
Ryan delivered a passionate pregame speech before the Cowboys-Ravens game in 2008 saying Garrett "didn't believe in the character of the Baltimore Ravens."
Lewis said Wednesday that he never had an issue with Garrett or his decision.
"That's definitely water up under the bridge," Lewis said. "I don't know how it can ever be personal. It's one thing to be here in Baltimore and then have a choice to leave or stay here and not come back here. But to not even be here and part of our organization, to be a part of the Cowboys and to have that option open to go back to the Cowboys, hey, it's a business. It's a business."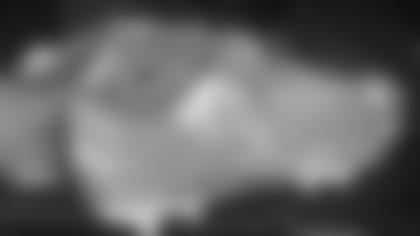 Reed Raising Money For Breast Cancer **
Safety Ed Reed put a picture up of the pink shoes he'll be wearing for the Ravens-Cowboys showdown this Sunday. He put the shoes up for bid to Twitter followers, saying he will sign them after he's used them in the game.
"We trying to raise some funds for breast cancer, who's trying to get these after the game," Reed tweeted. "Let the bidding begin."
Lewis Kicks Nelly's Butt In Workout
Rapper Nelly is doing a series of Celebrity Sweat workouts, and guess is who his latest guest?
Of course, workout extraordinaire Ray Lewis.
Nelly sells the workout videos for $11.99, but I found a little promo with Lewis on YouTube.
Lewis kicks Nelly's butt in the workout. The trailer ends with Nelly breathing hard and telling Lewis to move on without him because he doesn't want to slow down the 37 year old's workout.