Internet Spews Joe Flacco Awesomeness
We're talking about Joe Flacco here.
He went to McDonald's to celebrate his $120 million contract. He doesn't wear fur coats.
But he could have after yesterday's bad-A performance, and nobody would've batted an eye (except maybe PETA). In fact, pulling "[a Joe Namath](https://www.google.com/search?q=joe namath fur coat&rlz=1C1LENP_enUS549US549&tbm=isch&tbo=u&source=univ&sa=X&ei=yq07VIX3K-qn8QGakICQCA&ved=0CB8QsAQ&biw=1536&bih=764)" for the plane ride home from Tampa Bay would have been rather appropriate after he threw five touchdowns faster than anyone in the history of the game.
Not even Namath ever pulled that off.
(Mobile users tap "View in browser" at the top of the page to view the awesomeness.)
Of course, for a more accurate depiction of how Flacco actually reacted to his historic performance, we go to the bench on the sideline immediately after his fifth and final touchdown pass. Joe Cool literally had that same nonchalant look last week when he was scoreless against the Indianapolis Colts.
"That stuff feels good and looks great and all that, but it really doesn't mean anything," Flacco said after the game. "It's all about winning football games. That's what we came here to do and that's what we did."
What's bananas about Flacco's record (five touchdown passes in 16 minutes, three seconds) is that he beat the second-fastest time by more than 12 minutes. And it's always nice to knock Steelers rival quarterback Ben Roethlisberger (28:09) off the top perch of any record.
This seems like a good time to check in on Flacco's elite status, even though I run the risk of ruining this post with a reference to the tired topic.  Hey, at least this time there's a clever graphic to go along with it. Eh?
For those of you pulling your hair out for not starting Flacco in your fantasy lineups, know that you weren't the only ones. He was active in only 19 percent of CBSSports.com leagues, and he's available in 30 percent.
His whopping 42 fantasy points were ranked tops on the day, and was more than Matthew Stafford and two other Pro Bowlers combined.
Inquiring minds want to know: how did Flacco do it? And more importantly, how can he do it again?
"We think we know why they're playing so well," wrote Louis Bien during the game. "That is a fine beard, Mr. Flacco. If the Bucs want to crawl back into this game, their best bet may be holding Flacco down with a razor in hand."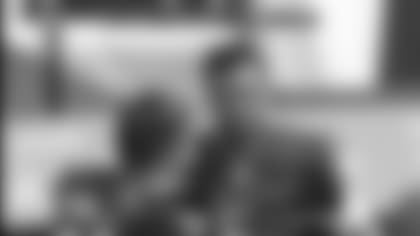 Ravens Fans Take Over With Bucs Fans' Mass Exodus
It was about the time of Steve Smith Sr.'s 56-yard touchdown catch in the beginning of the second quarter when Bucs fans realized it was 90 degrees and they could be chillin' at the beach.
So, instead of watching their team get blown out at home, they left.
"There was a mass exodus from Raymond James Stadium," observed The Baltimore Sun's Aaron Wilson.
Check out a pic of the nearly empty stadium.
So, Ravens fans took over.
It became like a home game for the purple and black, and you could even hear the Seven Nation Army chant. Players and coaches noticed the support, and thanked fans after the game with handshakes and shout-outs on Twitter.
Suggs Air-Punch Sack Dance
I don't know what this Terrell Suggs air-punch sack dance is all about, but I like. Ravens fans will take any kind of sack dance, because, well, it means the defense got a sack.
This is one of five sacks on the day for Bucs quarterback Mike Glennon. He was hit a total of 15 times.
But that doesn't tell the whole story.
According to ESPN Stats & Information, Glennon was sacked or put under pressure on 63 percent of his dropbacks (26 of his 49). That's the highest pressure percentage of any quarterback with 40 dropbacks in the last five years.
"In other words, Glennon didn't have a chance," wrote ESPN's Pat Yasinskas.
Per the CBS broadcast, Bucs wide receivers were yelling at Glennon to tell him they were open. But can you blame him for not seeing them?
Why Ravens (4-2) Are Still Behind Bengals (3-1-1)
The Ravens now have more wins than anyone in the division, yet they are only in second place.
AFC North Standings
Cincinnati Bengals: 3-1-1
Baltimore Ravens: 4-2
Cleveland Browns: 3-2
Pittsburgh Steelers: 3-3
What gives? Why is Cincy still in first place? It all comes down to winning percentage.
ESPN's Jamison Hensley explains:
"After tying the Carolina Panthers on Sunday, the Bengals essentially have 3.5 wins. That gives them a win percentage of .700, which is slightly better than the Ravens' .667 win percentage. It comes down to percentage points because the Ravens and Bengals haven't played the same number of games. The Bengals had their bye in Week 4, and the Ravens' bye doesn't come until Week 11."
Of course, Baltimore can take the top spot with a win in Week 7 against the Atlanta Falcons, and if Cincinnati loses to the Colts. If that doesn't happen, we'll get a rematch in Week 8 of the Ravens' Week 1 loss to the Bengals, and that game could create separation one way or the other.
More AFC North News, Including Dirty Burfict Play
Hey, Flacco! Beware of Bengals linebacker Vontaze Burfict.
He put this dirty move on Panthers quarterback Cam Newton yesterday, twisting his ankle after he was already tackled in the end zone. That's messed up.
And Newton wasn't the only one Burfict put that move on.
In a more classy move over in Cleveland, center Alex Mack's teammates came to his side to give him support after he broke his leg. Mack is expected to miss the entire season with a fractured fibula, according to CBSSports.com's Jason La Canfora.
"Stock watch: Rising -- wide receiver ," wrote Hensley. "After scoring one touchdown in his first five games, he reached the end zone twice in the first two drives Sunday. He didn't get pressed at the line and he made the Buccaneers pay on two slants of 15 and 9 yards." [ESPN]
Jacoby Jones dropped his sixth pass of the season, but was more decisive on returns. [The Baltimore Sun]
Cornerback Lardarius Webb showed off some bedazzled shoes after the game yesterday. They were his kicks from his wedding. [CSNBaltimore.com]