Suggs Talks Brady's 'Smug Attitude' And Hair
There's the Terrell Suggs we all once knew and loved.
This season, the Ravens' new defensive leader has taken a more serious, measured tone during press conferences. But the unfiltered, quote-machine Suggs is still in there.
That was apparent in his E:60 interview that aired on ESPN Tuesday night. When asked to describe himself, Suggs said:
"I got a little bit of dirt bag in me, and that's OK. I'm going to my meetings about it. Actually, no I'm not. I'm actually trying to learn how to become an even bigger dirt bag.
"You could meet 50 different people of Terrell Suggs. You could meet the funny guy, the kid guy or you can meet the a%$#@e."
Guess which Suggs quarterback Tom Brady gets?
The Ravens pass rusher has had an open disgust for the Patriots quarterback that dates back about four years. Ever since then, almost anything about Brady gets on Suggs' nerves – including his hair.
When asked what he thinks about Brady, Suggs replied: "I don't think that's appropriate for camera. I don't like him, he don't like me. I don't like his hair."
Thanks to TMZ for putting together a couple photos of Brady's hairdos over the years (mobile users tap "View in Browser" at the top of the page). The website created a poll after Suggs' comments, and 59 percent of about 33,000 voters say it's "fabulous" while 41 percent say "I hate it."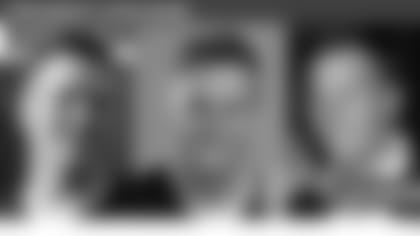 But hair isn't Suggs' only issue.
"I don't like his smug attitude," he said. "Then again, he probably don't like my a%$#@e attitude."
The "hate" all started in a 2009 game when Suggs fell next to Brady's feet during a play, grazing the quarterback's legs as he hit the turf. Brady motioned to the nearest referee, who pulled out a yellow flag and penalized Suggs with a roughing the passer call. The penalty led to a touchdown and Baltimore lost 27-21. (Can't remember the play? Here ya go!)
Suggs said other quarterbacks had been hit in the knee, including Carson Palmer, who blew out his knee in Jan. 2006, but a rule change only occurred after Brady's season-ending knee injury in 2008.
"So I guess those other quarterbacks' knees don't count," Suggs said. "Everyone just seems to worship the guy so much. Not me, though."
Suggs Didn't Use PEDs In Miraculous Achilles Recovery
Suggs says he's asked "all the time" whether he used performance-enhancing drugs to aid his miraculous return from the Achilles tendon tear he sustained before the 2012 season.
Doctors told him it would take nine to 12 months to recover, but Suggs vowed that he would get back much sooner. And he was. It took him just five months.
How did he come back so fast?
"You got to have a high pain tolerance," Suggs said. "You've got to see the overall big picture. I look at it now – it was definitely psychotic what I was doing."
The 2011 Defensive Player of the Year knows that outsiders are suspicious about PED use, but he says he's afraid of needles and hates pills.
The main reason he's never used them is because, frankly, he doesn't need them.
"Maybe if I'm 40 and I'm trying to stay around the game, I might think about it," Suggs said. "Performance enhancing [drugs] is for people that's not good enough to do it with their natural ability.
"Well, I've never had that problem."
The full E:60 video is embedded below (mobile users you know what to do). It's definitely worth a watch as there's plenty more compelling content.
Ravens Expected To Explore Trading McKinnie
Bryant McKinnie's future in Baltimore is in jeopardy.
Once the trade for Jaguars left tackle Eugene Monroe is finalized, the Ravens "could attempt" to trade McKinnie, reported The Baltimore Sun's Aaron Wilson.
"Whether the Ravens will be successful at trading McKinnie remains to be seen with a fluid market for offensive tackles following the trade for Monroe," Wilson wrote. "If they're unable to move McKinnie, the Ravens could just have him back up Monroe."
Per the report, McKinnie still hasn't reached his prescribed target weight of 346 pounds, and hasn't earned any of the $100,000 from the weight clause in his contract that would pay him $6,250 for every week he meets his target weight. Instead he fluctuates between 355 and 357 pounds.
If the Ravens do keep McKinnie, some fans wonder if he will have any motivation to work hard and be ready to play if called upon.
"There is a concern about that because his salary is guaranteed this year," ESPN's Jamison Hensley wrote. "The only motivation for McKinnie is to show other teams that he can still play. But I'm not sure if there is another team that would want this headache."
Jaguars Paying HUGE Chunk Of Monroe's Salary
Many had assumed the Ravens would need to restructure or cut somebody on their roster in order to fit the remaining $2.91 million left on Monroe's contract this year. They reportedly had about $1.2 million left under the salary cap coming into the week.
But only one contract had to be reworked, and that was Monroe's.
The contract tweaking is one reason why Monroe didn't come to Baltimore Wednesday, according to CBSSports.com's Jason La Canfora.
To facilitate the trade – a reported fourth- and fifth-round pick for the 26 year old – the Jaguars converted most of Monroe's remaining salary into a bonus they will pay. Per La Canfora, Jacksonville is paying $2.45 million of his contract as a bonus payment.
That means the Ravens are only on the hook for $547,000 for the remainder of the year. That's a "very manageable" number.
That leaves $666,000 under the cap for the Ravens once the trade is finalized.
Once the trade is finalized, the Ravens will have two starting tackles with deals to expire at the end of the year: Monroe and Michael Oher.
There's plenty of talk about the Ravens extending Monroe, but could the Ravens keep both 2009 draft selections?
"I can't see the Ravens signing both offensive tackles this offseason," Hensley wrote. "Left tackle is the most important position on the line, so you have to try to keep Monroe. That makes Oher the odd-man out."
If Oher is gone after this year, Hensley says the team will have to come up with a backup plan. The ESPN blogger isn't convinced that either Jah Reid or Rick Wagner will be ready for the job.
Ranking the offseason resigning priorities, Hensley says the most important player is tight end Dennis Pitta, followed by Monroe, Daryl Smith, Art Jones, Oher, James Ihedigbo and Jacoby Jones.
The Real Issue In Running Game
That's what running back Ray Rice points to when talking about how the running game gets back on track.
"We have to match the other team's intensity when we go out there to even want to be able to be effective in the run game." Rice said. "I don't have one guy on my offensive line on this team saying, 'We're going to screw this play up.' But what we're doing is, sometimes a guy wants it a little bit more on the other side. That's what we have to do, we have to fight that."
Hey Jamison, how would you grade in his performance Sunday? "I was impressed with the way he was able to stretch the field, especially in his first game. I don't see him more than a No. 3 wide receiver. Thompson doesn't catch the ball with his hands. He lets it get to his body too often. That leads to too many drops. But he did flash a lot of potential."
‏@CliftonBrownCSN: Newest Raven #Eugene Monroe is youngest of 16 children. #RavensTalk [Twitter]
Joe Flacco knows how to bounce back. After throwing three or more interceptions in a game, Flacco is 3-0 the next week with a 123.9 passer rating. [ESPN]
@jeffzrebiecsun: As of now, 4 of the Ravens top 5 WRs - Jacoby Jones, Brandon Stokley, Marlon Brown and Deonte Thompson - are question marks for Sunday [Twitter]
@JasonLaCanfora: Thoughts and prayers are w/the family of Tom Clancy, a passionate and gifted Baltimorean and source of pride for Loyola Blakefield HS. RIP. [Twitter]
@RavensInsider: Bryant McKinnie's $7,875 fine for facemask against Texans overturned upon appeal, ruled inadvertent contact. [Twitter]
@CliftonBrownCSN: More Suggs, on his comments about Goodell and Super Bowl blackout. "Do I want to retract anything? No." #RavensTalk [Twitter]
@CliftonBrownCSN: Terrell Suggs, on if he received a call from Roger Goodell - "No, not yet. But I didn't say anything he didn't already know." #RavensTalk [Twitter]
@mattvensel: Joe Flacco after waiting to talk today: "I throw five interceptions and I'm like sixth on the podium?" Funny. [Twitter]
The Steelers also made a trade for a tackle yesterday, but it isn't being praised like the Ravens' move. … @edbouchette [Pittsburgh Post-Gazette]: Levi Brown taking heat in Arizona the way Mike Adams is here. Looks like a panic move by #Steelers.  … ProFootballFocus ranks Mike Adams tied for 69th among OT in NFL of 72 rated. They rank Levi Brown 60th. Not a big improvement there. [Twitter]
Suggs learned French because he thought it would help with impressing the ladies, but instead it backfired.  Listen to his explanation below. [E:60]