Why Flacco Makes Legitimate Case For MVP
For the critics who say Joe Flacco's historic win record can be explained away by a great defense and solid running game, ESPN Insider and analytics guru, Ben Alamar, defends why the Ravens quarterback makes a legitimate case for the Most Valuable Player so far this season.
"[Flacco] is regularly discussed as an overrated QB who has a great win total due to his defense, not his personal contribution to the Ravens," Alamar wrote. "As the Ravens defense has ranked third or better in each of the past three seasons (while the offense hasn't cracked the top 10), there is a certain validity to the argument – or at least there was."
With the defense ranked 23rd and the offense ranked second so far this season, critics can't use the defense excuse anymore. Alamar says the offense is running the show now.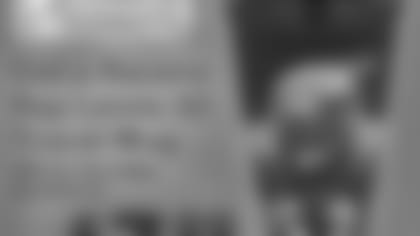 ](http://www.dunkindonuts.com)But what about Pro Bowl running back Ray Rice? Is he the reason for the offense's explosion this season?
No. In fact, Alamar says the passing game is driving the offense, gaining 8.2 yard per attempt (fourth in the NFL). He specifically points out that Rice is not the reason for those gains.
"Flacco's critics would probably suggest that the high yards per attempt is due to short screens to Rice, and that it is Rice who does all the work – except that the opposite is true," he wrote.
"While the league average for the length of a pass is 8.2 yards, Flacco's passes average 10.7 yards in the air. This is the longest average in the league, and he is still completing nearly 60 percent of his passes. To put the 60 percent completion rate in context, of the five teams that have the highest average length of pass, only Flacco has a completion rate of more than 50 percent -- and the completion rate for the entire league is only 56 percent. The accuracy on the long ball is a significant change for Flacco, who last year completed only 17 passes more than 20 yards in length, but has already completed 11 this season."
Flacco is also churning out the numbers despite the offensive line's protection, which allows the fastest average sack time in the league at 2.9 seconds. That compares to 3.9 seconds for Tom Brady and 4.0 seconds for Matt Ryan.
"The season is young, and the Ravens may yet revert to their previous ways of dominant defense and average offense," wrote Alamar. "But looking at the data right now, it's hard not to see Flacco as an elite level QB – and one who warrants MVP consideration."
Ravens Offense Ranked 2nd In NFL
I noted it above, but it bears repeating.
Despite complaints from a portion of the Ravens fan base about the offense and the run-pass balance, Offensive Coordinator Cam Cameron and Co. must be doing something right.
With a 3-1 record and a quarter of the season in the rearview mirror, Baltimore owns the second-ranked offense in the league, trailing only the New England Patriots. Additionally, the Ravens are ranked fifth in scoring.
Now if the defense can hold up its end of the bargain, and Ray Lewis said he thinks his unit will continue to improve, the Ravens will become even harder to beat.
Here's a look at the Ravens' stats and rankings in some the major statistical categories:
E:60 – Lewis Breaks Curse Of Abandonment
Even if you've followed Lewis for his entire 17-year NFL career, you've never heard about his childhood story of abandonment like this.
This 14-minute E:60 video explores Lewis' relationship, or lack thereof, with his father Elbert Ray Whitehead. Whitehead found out about his son's birth while incarcerated and didn't meet him until he was nine months old. He said he didn't stick around to be a father because he had gotten two other women pregnant and he was heavily addicted to drugs.
"What I went through as a child – a child shouldn't go through," Lewis said. "I would always get those phone calls. You're daddy's coming to town. You're daddy's coming to town. I didn't have much to pack. I would grab my stuff and sit by the front door, sit on the couch, sit on the curb and wait for a man that never showed up. It's the loneliest time ever. It's the loneliest and quietest time you ever find in your life. …
"How do I live life with no confirmation of a father?"
Lewis admitted he was bitter toward his father even after all his success in the NFL.
But after Whitehead got sober in January of 2006, Lewis learned something that allowed him to let go of all the pain and bitterness.
He learned of a five-generation cycle of father abandonment that cursed his family.
Lewis was determined to be the first to break the curse …
Cody, NFL's Big Men Say New Jerseys Make Them Look Fat
Count Ravens defensive tackle Terrence Cody, who weighs almost 350 pounds, as one of those big men who doesn't appreciate the new cut.
"I don't really care for the new jerseys. I feel like they should put different material in for the big guys," Cody said.
Mount Cody added that the uniforms shrink upon contact with water. With rain pouring down on M&T Bank Stadium in the Ravens matchup versus the Browns last week, Cody said the uniforms "kind of [got] ruined" and his jersey was "jacked up" after every passing down.
"It feels like it tightens up and stuff, it's hard to breathe, it constricts," he said.
Ravens offensive lineman Ramon Harewood, another big boy at 340 pounds, doesn't agree with the issues his teammate is pointing out. Harewood says those who are complaining "like to look pretty" and want to be "swagged up."
"They say you have to look good to play good," Harewood added. "I don't believe that."
Safety Ed Reed expressed his displeasure with the way the league is changing the game after he was fined $21,000 for his helmet-to-helmet hit on Patriots receiver Deion Branch. Said Reed: "You don't see the NHL changing the game. They're letting those guys play. You obviously need to police the injuries as far as head shots and stuff like that. But some stuff is just a given. I didn't think my [play] was that bad. I had a lot of people saying it was legal. … It seemed to me it looked like [Branch] dropped down. What do you do? He's dropping down, who's wrong there, him or me? It's just a tough situation." [CBSSports.com]
Replacement refs tell their side of the story. [ESPN]
A fan asked Hensley when we will see Jimmy Smith take over Cary Williams' starting role. "This move would have been made sooner if Jimmy Smith had played better himself," the blogger replied. "He had a great AFC championship game, but he hasn't stepped up this season. Smith hasn't come close to reaching the expectations of being a top corner in this league. He certainly has the physical tools." [ESPN]
Lewis is enjoying a more balanced team early in the season. [Sportsradiointerviews.com]
J. Michael appears confused by rookie offensive lineman Kelechi Osemele's explanation of the line's shaky protection of Flacco versus the Browns now that he's had a chance to review the film. K.O. said that the Browns' stunts were slow and sloppy, which made them harder to recognize. "So the Browns were effective because they didn't do their stunts in textbook fashion?" asked J. Michael.
The extra few days of rest did the Ravens some good as all 53 players participated in some form yesterday, including Torrey Smith and Flacco, who suffered minor ankle injuries last Thursday night. [The Baltimore Sun]
With the Ravens taking a trip out to Kansas City Sunday, Matt Vensel takes a look at the team's record outside of the Eastern timezone under Head Coach John Harbaugh. [The Baltimore Sun]