Pundits Debate the Ravens as Super Bowl Contenders
We're only five weeks into the NFL season and teams are far from finished products.
That didn't stop ESPN's First Take crew from debating the Ravens as Super Bowl contenders, and Max Kellerman is 'selling' the narrative.
"I'm selling them as contenders," Kellerman said. "I don't think [Lamar] Jackson is ready yet to call [the Ravens] Super Bowl contenders."
"When you watch him, you don't think of him as a very accurate passer, particularly down the field," he said. "... So in your age 22 season, do I believe a quarterback who needs work in that regard … is he ready to take an offense to a Super Bowl? No, I don't think he is."
ESPN's Ryan Clark went a step further to say the Ravens are "not even in the conversation."
"[W]e thought this team could compete to win the AFC North, which they still can because it's not as strong," Clark said. "But even looking at the AFC as a whole, this team doesn't win, this team doesn't cut it, and it's another year away from even competing to be an AFC champion."
After an up-and-down performance against the Steelers, Clark believes in Jackson more as a runner than a thrower at this point in his career.
"What happened with Jackson happens so often with quarterbacks who are considered, quote-on-quote, running quarterbacks," Clark said. "Now he's taking some of that athleticism away trying to show people that he can sit in the pocket and make throws. There were opportunities yesterday where if he uses his legs, which to me is still where he's still going to make his money, at least early on his career."
Jackson has said he hates running, and he's vastly improved as a passer in his second year. He's thrown for more yards (1,271) and touchdowns (11) in fewer attempts than last season, and his completion percentage is even up seven percent (65.4).
Still, pundits such as The Athletic's Jeff Zrebiec and The Baltimore Sun's Jonas Shaffer have acknowledged that the offense must improve going forward.
"The Ravens still rank first in the NFL in points per game (32.2) and third in yards per game (441.4)," Zrebiec wrote. "Those numbers are skewed, of course, by the 59 points they put on the lowly Miami Dolphins in Week One. Still, they've consistently shown an ability to move the ball. The onus now is on Greg Roman's group to do more, and to cut down on the mistakes that are keeping drives from the end zone."
Stephen A. Smith countered Kellerman and Clark's argument. He believes in Jackson's playmaking ability and that the Ravens' defense will improve as the season progresses.
"Regardless of what we saw a couple of weeks ago when they went up against Cleveland, the Ravens' defense is usually a defense to be respected, particularly as a season wanes," Smith said. "You combine that with the fact that you have a quarterback who is not a stationary target … and a guy that has the potential to move the chains because of what he can do with his feet, not necessarily as an elite thrower of the football.
"Then you couple that with what we're seeing from the rest of the NFL. My mentality is that I look at it and I say, 'Excuse me, could they beat the Patriots? Potentially. Could they give Kansas City a run for their money? Yes.'"
Ravens Stay Stagnant in Power Rankings
After falling in last week's power rankings, the Ravens remained stagnant despite a win against the Steelers. Baltimore stayed at the same ranking or moved one spot in five of the seven publications we looked at.
Their highest rise was three spots from No. 14 to No. 11 in CBS Sports' rankings, who gave credit to the Ravens for gutting out a win on the road.
"That was a tough, hard-fought battle on the road at Pittsburgh," Pete Prisco wrote. "They won a game even when Lamar Jackson struggled, which is a good sign.
"It wasn't pretty and real concerns persist, but you never take a victory at Heinz Field for granted, no matter the Steelers quarterback," Jones wrote. "We've seen backups win in this rivalry before."
But others remained unconvinced after a sloppy game from both teams.
Bleacher Report's main concerns center around the defense and Jackson's increased turnovers.
"The Ravens did allow just 269 yards of total offense to the Steelers," BR wrote. "But that number also comes with a major asterisk—after Steelers quarterback Mason Rudolph was knocked unconscious by a vicious hit from safety Earl Thomas, Pittsburgh spent the rest of the game with an undrafted rookie third-string quarterback in the game. And it still went to overtime.
"That's cause for a measure of concern. The play of Jackson is a much bigger one. After opening the season with three turnover-free games, the second-year quarterback has now thrown five interceptions over the last two weeks."
The biggest takeaway five weeks into the season is that the majority of national pundits remain unconvinced given the level of competition. Two of the Ravens' three wins have come from teams with a combined record of 1-9.
"Lots to like here, but they may also be AFC's version of Cowboys — fattening up on JV competition before struggling against varsity," USA Today's Nate Davis wrote.
While that stance is understandable for now, there won't be any argument with upcoming games against the Seahawks, Patriots, Texans, Rams, 49ers, and Bills.
All six teams are currently 3-2 or better.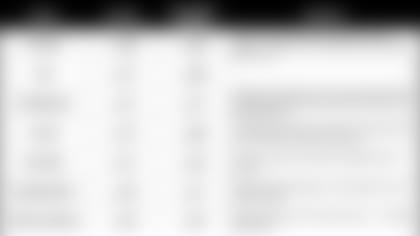 More Praise for Marlon Humphrey and Justin Tucker
Two of the Ravens' top performers from Sunday's win are continuing to receive recognition this week.
Hall listed Humphrey as his No. 2 cornerback in the NFL, only behind New England's Stephon Gilmore. Humphrey was ahead of Buffalo's Tre'Davious White, Green Bay's Jaire Alexander, and Chicago's Kyle Fuller.
"Humphrey is a young cornerback who's proving he loves to compete against the league's top receivers," Hall wrote. "... It often takes entire defenses to shut down top receivers, but Humphrey embraces the challenge and wants to be the player to lock his opponent up, play after play. In Week 4, he frustrated Odell Beckham Jr. the entire game and held him without a catch through three quarters. Then in Week 5, he showed up in a big spot against JuJu Smith-Schuster in overtime after getting beat by the Steelers WR1 earlier in the game for a touchdown ... His short memory, instincts and willingness to gamble in a crucial moment make him a guy any defensive coordinator would want."
Humphrey garnered hype heading into the season and is on pace for a career-high in tackles and passes defensed. It's fair to say he could be on his way to Pro Bowl or even All-Pro honors.
"What must drive coaches — many of whom are control freaks — nuts is how the bounce of the ball on one play can impact games and seasons," The Athletic's Sheil Kapadia wrote. "The punch was great, but look at the third bounce there. The ball was headed out of bounds but took a left turn, completely fooling two players. Great hustle by Humphrey to chase it down and help the Ravens secure a win."
"With the Ravens' offense struggling in Pittsburgh, they needed Tucker to bail them out and he did just that," PFF wrote. "He connected on all four of his field goal tries in the game, including a game-tying field goal late in the fourth quarter and a game-winning field goal in overtime."
Tucker, the most accurate kicker in NFL history, has missed just one field goal in his career at Heinz Field (24-of-25). As Hensley acknowledged, opposing kickers not named Tucker have a 79.3 combined percent success rate.
"Tucker has earned the right to speak in 'legendary' terms," Hensley wrote. "His greatness comes at a time when so many teams are still searching for competence at kicker."
Jackson's stiff-arm on T.J. Watt made "Good Morning Football's" angry runs for Week 5
With the trade deadline around the corner, FanSided's Joe Beasley suggested the Ravens should target Falcons wide receiver Mohamed Sanu.