Ravens In Prime Position To Make Trade
The three extra compensatory picks awarded to the Ravens Monday night can't be traded, but they put the Ravens in prime position to make a trade.
General Manager Ozzie Newsome now has a healthy 10 draft picks in his arsenal, including three in both the fourth and fifth rounds. Those newly added picks allow Newsome to loosen his grip on other tradable mid-rounders.
Fourth and fifth-round selections don't pique your interest? They should.
Remember, the Detroit Lions got perennial Pro Bowl nose tackle Haloti Ngata and a seventh-rounder for fourth- and fifth-round picks. Baltimore got wide receiver Anquan Boldin for a third and fourth from the Arizona Cardinals, and traded him away for a sixth. The Ravens recently added two starters to their offensive line, which is considered one of the Ravens' units of strengths, by acquiring center Jeremy Zuttah for a fifth and left tackle Eugene Monroe for a fourth and a fifth.
"It isn't a coincidence that the Ravens made those [Zuttah and Monroe] deals before ultimately landing compensatory selections in the same round of each of the surrendered picks," wrote WNST's Luke Jones.  "With 10 selections at his disposal for the draft set to begin on April 30, [Newsome] may have something else up his sleeve rather than simply selecting 10 young football players."
That something else up his sleeve could be a plug-and-play veteran that isn't even on Ravens Nation's radar right now.
"With obvious needs at wide receiver, tight end, and cornerback, Baltimore should follow its recent trend of dealing a draft pick or two for an established veteran contributor," Jones wrote. "The likelihood of being able to address all of their needs with young talent ready to contribute immediately isn't great, but the Ravens now have plenty of collateral to work out a trade while remaining very active in the draft."
So not only will the three new comp picks, as outlined below, give the Ravens a chance to find the next Rick Wagner, Pernell McPhee or Edwin Mulitalo (all selected with comp picks), they also allow the Ravens to find the next Monroe or maybe even Boldin (pending a salary that would fit the Ravens' cap space) with the four other mid-rounders below.
Round 4 
No. 122
No. 125 (from Detroit for Haloti Ngata)
No. 136 (compensatory)
Round 5
No. 158 (from Detroit for Ngata)
No. 171 (compensatory)
No. 175 (compensatory)
Round 6
No. 203 (from Dallas for Rolando McClain)
Head Coach John Harbaugh made it clear yesterday that the Ravens are not done in free agency. They are being "proactive" and monitoring and staying on top of it "every second."  They know who's out there, including ESPN's Jamison Hensley's best available at Ravens positions of need:
Wide receiver: Michael Crabtree, Greg Jennings, Denarius Moore and Hakeem Nicks
Tight end: Jermaine Gresham (injured), Rob Housler, Zach Miller and James Casey
Cornerback: Alan Ball, Tarell Brown, Kyle Wilson and Josh Wilson
Quarterback: Jason Campbell, Tarvaris Jackson, Michael Vick and Matt Schaub
But what if they don't like what's out there? Especially at tight end where the veteran talent pool is full of risky options and the draft isn't deep at that position? Our own John Eisenberg says tight end is a prime position where the Ravens could make a trade.
"No one would doubt Newsome's ability to come away with a productive haul if he keeps his allotment of draft picks, but the Ravens would be wise to pull the trigger on a trade for the right veteran addition with so many clear needs that have yet to be addressed this offseason," wrote Jones.
"And with a long list of departing free agents this offseason, the Ravens are once again looking like a good bet to receive three or four compensatory picks next year, further facilitating the potential for a trade."
Cass Taps Brakes On Flacco Restructure
Last month, I wrote about an expectation around town that the Ravens and Joe Flacco will restructure his $120 million contract next offseason.
Flacco's contract was back-loaded and has been generally cap-friendly the first three years when you consider what the going rate is for a franchise quarterback these days. His $14.55 million cap hit in 2015 is ranked No. 15 among quarterbacks, according to Spotrac. It reportedly balloons to $28.55 million in 2016.
The topic arose after Newsome told reporters at the season-review press conference last month that the Ravens brain trust has already looked ahead to next offseason while they were on their annual roster evaluation trip to Florida, and said "we'll be prepared to deal with Joe at that number when we get there."
President Dick Cass was asked by The Baltimore Sun at the owners meetings Monday whether key decisions next offseason, including having to adjust Flacco's contract, impacted this year's free-agent activity.
"Joe's still under contract. I wouldn't assume that's the case necessarily," said Cass. "We try to look ahead. When we meet in Florida, we always look at least one year ahead, where we're going to be, think about the players coming up, project cap room. We do look ahead, but we haven't made any decisions about next year."
Court Says Suggs Owes Money To Deceased Agent
A Virginia court ruled Tuesday that outside linebacker Terrell Suggs owes his former agent Gary Wichard more than $178,000 in commissions from his 2013 season paychecks, according to ESPN's Darren Rovell. Wichard died more than four years ago.
According to the report, Wichard was the man who negotiated Suggs' five-year contract (2009-2013), and Suggs paid him the first two years, and continued to pay his estate the next two years after Wichard suddenly passed away in March 2011.
"But Suggs filed a grievance with the NFL Players Association, which monitors player-agent conduct, after he failed to pay commissions for the 2013 season," wrote Rovell. "Although the contract he signed with Wichard said that the agent was entitled to a three percent commission, Suggs felt that Wichard obviously wasn't performing any services for him, which was included in the contract."
Due to a lack of certain services, Arbitrator Roger Kaplan decided to give Suggs a 10 percent discount on the commission owed, resulting in an amount due of $172,800.
"Suggs now owes the Wichard estate, whose widow Marie serves as the executor, $178,007, which is the interest that has accrued since the December decision by the arbitrator," wrote Rovell.
Best Selling Throwback Jersey In Maryland
Apparently people can't get enough jersey news.
Based on the popularity of Dick's Sporting Goods' U.S. map of top-selling NFL jerseys and then their recent map of women's favorite jersey sales by state, Mitchell and Ness released their own map highlighting the best-selling throwback jerseys.
I wanted to see if a Raven would be the top seller in Maryland – maybe somebody like Ray Lewis – but it makes sense that it goes to a legendary Oriole.
In the graphic below (mobile users tap "View in browser" at the top of the page), we see Maryland's top-selling throwback is the Cal Ripken, Jr. Baltimore Orioles 1993 authentic jersey.
"In April of 1992, the Baltimore Orioles opened their new state of the art facilities in Camden Yards," the Mitchell and Ness website wrote. "The following season the Orioles hosted the fan favorite midsummer classic and wore a patch throughout the season to denote its presence. Orioles iron man, Cal Ripken, Jr. , started the All Star game at his short stop position and helped the American League to a 9-3 victory. The late Kirby Puckett was awarded with the game's MVP Award."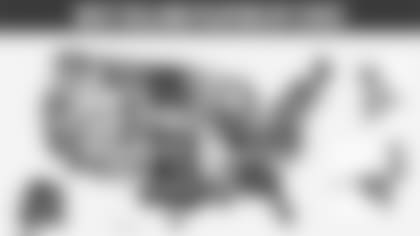 ](http://prod.static.ravens.clubs.nfl.com//assets/images/imported/BAL/news-articles/2015/03-March/04/25LFWMapLarge_instory.jpg)