Ravens In Good Position To Trade For WR
But some say the receiver free agent market isn't looking very fruitful right now.
With the Ravens in a promising position to get several more compensatory picks in next year's draft, The Baltimore Sun's Jeff Zrebiec sees the Ravens in a good spot to trade for a wide receiver.
"[W]ho is even out there that would help the Ravens at this point?" Zrebiec wrote. "Brandon Lloyd is talented for sure. But he brings off-the-field questions and you have to wonder why he couldn't make it work with Tom Brady and the Patriots. Austin Collie is injury prone, while Randy Moss and Braylon Edwards are too far removed from their best years.
"At this point, their best free agent options are probably guys like Early Doucet, Laurent Robinson and Brandon Stokley, and can anybody say for sure that they are a clear upgrade from what the Ravens already have?"
If Ravens brass feels the same way about the market, they could use a 2014 draft pick as trade bait, knowing they're currently in line to get a few compensatory picks.
Baltimore lost Dannell Ellerbe, Paul Kruger, Cary Williams and Ed Reed in free agency – all projected to start for their new teams. Meanwhile, the Ravens haven't yet signed a player that would count against them in the compensatory pick formula because they were cut by their former teams: Elvis Dumervil, Michael Huff, Rolando McClain, Chris Canty and Marcus Spears.
"This may not seem like a big deal, but it is," Zrebiec wrote.
"Because the Ravens had four compensatory picks in this year's draft, they were willing to sacrifice a couple of other picks to trade up in the second round and grab Arthur Brown. Knowing that they have several more coming next year also could allow the Ravens to sacrifice a middle rounder to add a piece  that they feel they lack in training camp."
The Ravens did just that in 2011 with Lee Evans and 2010 for Anquan Boldin. Even though the trades worked out differently in the long run, the Ravens sacrificed third- and fourth-round picks for Boldin and a fourth-rounder for Evans.
And just like in those two scenarios, if Baltimore does make a trade, it would have to fit the new receiver's salary under the cap. The Ravens are reportedly about $2.7 million (after signing draft picks) under the cap, but are expected to get $2.5 million more on June 2 for the Bernard Pollard release.
The Ravens still want to give current receivers on the roster – like Jacoby Jones, Tandon Doss, David Reed, Deonte Thompson and Laquan Williams – a chance to win the No. 2 receiver spot.
That's why Zrebiec doesn't anticipate a move until the team gets a good look at all of them this offseason.
"It seems that it's a matter of when, not if, in terms of the Ravens adding a veteran wide receiver," Zrebiec wrote. "Perhaps it makes the most sense for the Ravens to go into training camp with their current pass-catching group, and then if need be, try to make a deal with a team that has a surplus of receivers."* *
McKinnie Not A Lock To Start?
Zrebiec was full of interesting opinions yesterday, so let's grab one more before we move on.
Even though conventional wisdom says re-signed Bryant McKinnie will start at left tackle next season, where he excelled during the Ravens' Super Bowl run, Zrebiec isn't so sure he's a lock.
"I don't expect Ravens coach John Harbaugh to just hand McKinnie the starting left tackle job," he wrote. "[T]he Ravens understand that they need to keep McKinnie motivated, so I'd be surprised if they didn't mix some people in at that spot. I know Harbaugh got a lot of criticism last year for keeping McKinnie in his 'doghouse' for so long and not inserting the mammoth left tackle into the starting lineup until the playoffs."
If the Ravens don't start McKinnie, they risk weakening other positions on the line, says Zrebiec. They would move Kelechi Osemele to left tackle, or shift Michael Oher there while also moving Osemele to right tackle. Zrebiec doesn't see any of the potential replacements – Jah Reid, Ramon Harewood or Rick Wagner – playing as well as last season's playoff starters.
But there could be some benefits to making McKinnie wait for a starting role.
By waiting for so long (the entire season) to plug McKinnie into the starting lineup last year, he was fresh and in top shape for the playoffs. He was also motivated because he was playing for his future, says Zrebiec.
"Give McKinnie credit because he played so well in the playoffs, but those other things should be taken into account," The Sun reporter wrote. "McKinnie is clearly the Ravens' best option at left tackle, though he still needs to prove he can maintain a high level of play over a whole season."
Some Things Better Left Unshared
It's very early, but McKinnie is off to a good start in proving he deserves the starting nod.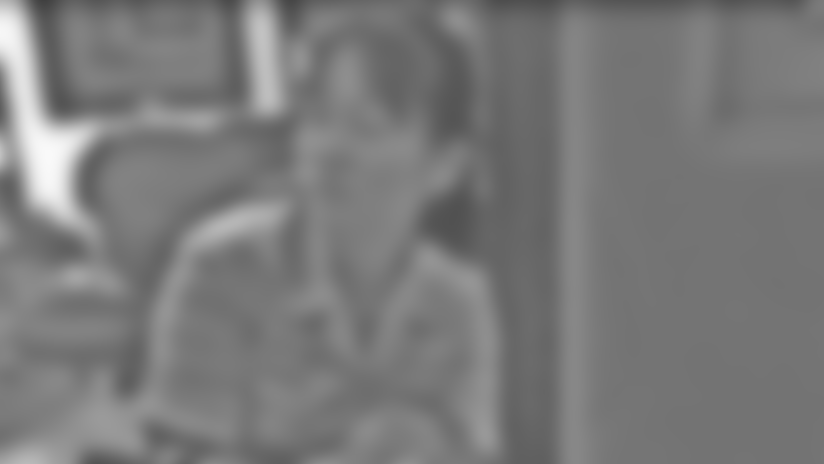 After he officially signed his contract yesterday, he participated in the voluntary workouts and committed to having a more regular presence at the offseason program.
"I'm going to be here more this year than before," McKinnie said. "I agreed to play lower than last year, and last year I was at 352. … That's been my goal for the last few seasons of my career, just to play at a real high level and dominate. If that's what I got to do to play at that weight to do it, then that's what I'm going to do."
There are consequences to all that working out.
And (unfortunately) McKinnie let us in on his post-workout world with the Instagram picture to the right.
Yes, but did you have to share it with the rest of us?
"Why her face like that lol," Instagram follower kimmymonique asked of the unlucky woman rubbing McKinnie's ginormous foot.
Good question, kimmymonique. But, I think we all know the answer.
Ravens WR Corps Ranked Third In Division
ESPN's Jamison Hensley continued his AFC North positional rankings, and he's on to the receivers.
Hensley listed the Ravens receiving corps at No. 3 behind the Steelers – even without Mike Wallace – and Bengals.
1)      Steelers: Antonio Brown, Emmanuel Sanders at the starting positions. Jerricho Cotchery, Plaxico Burress and rookie Markus Wheaton are all options at No. 3.
2)      Bengals: A.J. Green is "the best" in the division. Rookie Mohamed Sanu slated for the No. 2 spot with good depth behind them in Andrew Hawkins and Marvin Jones
3)      Ravens: They will "regret" trading Boldin, but Torrey Smith is the "second best" in the division. Lots of questions after Smith, but Jones, Doss and Reed have "a shot at making an impact."
4)      Browns: Josh Gordon and Greg Little are the top two with potential. There's established depth in Davone Bess and David Nelson.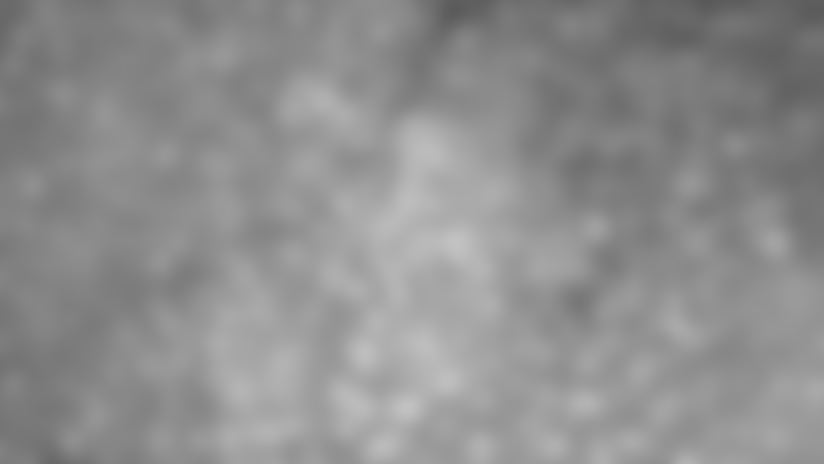 Holy moly, is Bryan Hall completely submerged in that ice? … @BryanHall95: Enough said... #Burr [Twitter] * @RavensInsider: Ravens reach deals with rookie defensive backs Moe Lee, Gary Walker [Twitter] * Is fourth-round pick John Simon's impact for the Ravens this year only going to be on special teams? "Simon will only get on the field for special teamsthis year," Hensley wrote. "The Ravens are two-deep at both outside linebacker spots with Suggs-McPhee at rush linebacker and Dumervil-Upshaw on the right side. I still think Simon has a future in this league." [ESPN] * Ravens rookie offensive lineman Rick Wagner anticipates a versatile role.* *[The Baltimore Sun]@Ravens: John Harbaugh being interviewed today by @DancingABC about @TheRealJacoby12. #Ravens #DWTS #VoteJacoby #TeamBaltimore [Twitter] * The Steelers' Ryan Clark ranked his own teammate, Troy Polamalu, as the third best safety in the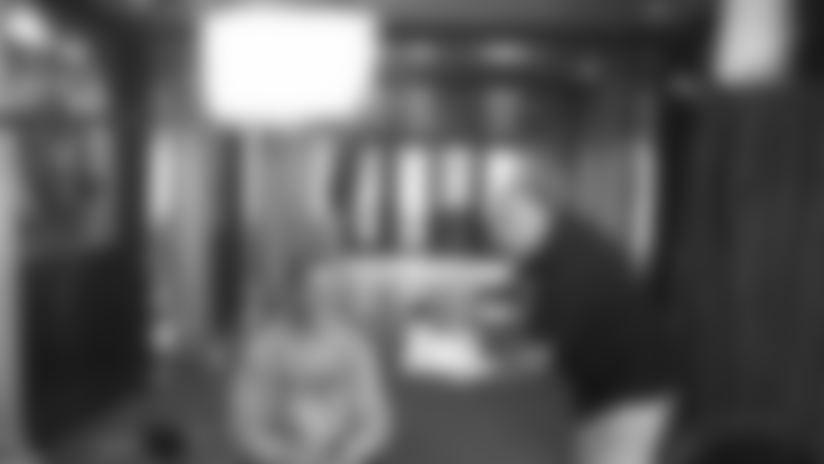 league, after Seattle's Earl Thomas and Tampa Bay's Dashon Goldson. "This was a decision for me," Clark said. "Here is a guy I really want to put at No. 1, but he's had some injuries over the past few years and hasn't been as effective. He's a guy I feel like can be No. 1 if we get him back fully healthy." [The Pittsburgh Tribune-Review] * @JasonLaCanfora: If you are in the Baltimore area, you can check out @RayRice27 football camp at Calvert Hall, 8-noon sat. Great event for 600 kids ...This year it is open to the public to watch at the glistening stadium on campus. Event filled up in 3 mins with online signups. [Twitter]