Jackson Tabbed as a Franchise Building Block
Lamar Jackson was the last of five quarterbacks taken in the first round of the 2018 NFL Draft, but if you asked pundits who they would want to build a franchise around, he's one of the overwhelming answers.
NFL.com had five analysts pick between 10 of the first and second-year quarterbacks they'd want to build a team around, and three chose Jackson.
The list was comprised of Jackson, Browns' Baker Mayfield, Bills' Josh Allen, Dolphins' Josh Rosen, Steelers' Mason Rudolph, Titans' Luke Falk and Panthers' Kyle Allen from the 2018 class; and Cardinals' Kyler Murray, Giants' Daniel Jones and Jaguars' Gardner Minshew from the 2019 class.
Mayfield was the No. 1-overall pick and was regarded as the best quarterback by a long-shot last season. But he's gotten off to a tougher start in 2019 with a lower completion percentage, 805 passing yards and five interceptions to three touchdowns in three games.
The Ravens know Mayfield is plenty talented enough and motivated to turn that around this Sunday at M&T Bank Stadium, but pundits are siding with Jackson.
"Jackson and Baker Mayfield might have been on an equal playing field entering the 2019 season, but Jackson is the guy trending in the right direction right now," DeAngelo Hall wrote.
"He clearly progressed as a passer over the offseason and continues to be a major problem in the run game. Jackson still has a ton of upside that we have yet to see, whereas I'm not sure what we'll see from Mayfield down the road."
Through three weeks, Jackson ranks ninth in passing yards (863), tied for fourth in touchdowns (seven), and has yet to throw an interception. Pundits have seen a noticeable progression as a passer from Year 1 to Year 2.
"Jackson is a dynamic runner and he's improving as a passer, making him extremely difficult to defend," LaDainian Tomlinson wrote. "Others on this list may be more skilled in one area than Jackson, but the Ravens' QB1 is the best overall player on this list by far."
"He threw the ball 43 times, did he not?" Smith said. "Didn't he barely complete 50 percent of his passes? That's a problem. That is not going to fly."
But it's easy to forget some of the throws Jackson has made this season, including two pinpoint passes to Marquise "Hollywood" Brown. One game doesn't define an entire season.
Jackson has completed 16 passes of 20 yards or more this season, and he's incorporated the deep ball into his game as much as any quarterback. Under Offensive Coordinator Greg Roman, Jackson's net yards per attempt has increased significantly.
"When a QB is a dual-threat player, defenses have to put another guy in the box in case he escapes the pocket, thus changing the pass-rush equation," Willie McGinest wrote, who picked Jackson and Giants' rookie Daniel Jones. "When a play breaks down, defensive backs must plaster and can't leave their receivers because those guys can throw accurately on the run.
"That is the kind of stuff we've seen Jackson do since he became the starter in Baltimore midway through last season. And the Ravens' starter has shown significant improvement in his throwing this year."
Ravens Drop in Power Rankings, But Pundits Remain Optimistic
After suffering their first loss of the season, the Ravens dropped in most power rankings, but pundits remain optimistic.
"[That the] Ravens didn't adequately measure up to arguably the AFC's best team on its home field in September doesn't mean that they won't be able to in January," The Athletic's Jeff Zrebiec wrote.
Baltimore remained inside the top 10 in most rankings and didn't see much of a drop following the loss. The Ravens didn't move back more than two spots in five of the seven publications we looked at.
"The Ravens came down to Earth a little bit in their first loss of the season, looking like a team that wasn't quite ready to fight it out for four quarters against a conference superpower," Hanzus wrote.
USA Today's Nate Davis disagrees, and even moved the Ravens up two spots from No. 5 to No. 3 in his rankings. The optimism stems from Sunday's performance and a favorable division schedule.
"They'll face each of their AFC North rivals over the next three weeks — quite an opportunity to run away with this division and hide," Davis wrote.
"The Ravens reminded us that their personnel losses make for a unit that isn't as good as their usual defense, especially when facing a team like the Chiefs," Sporting News Vinnie Iyer added. "They're still the best, most complete team in what has become a weak AFC North."
The Steelers and Bengals are both off to 0-3 starts, and the Browns come off a loss to the Rams. But Ebony Bird's Richard Bradshaw still believes Sunday must be treated as a "must-win" game.
"Despite a 1-2 record, Baltimore must treat Cleveland like a 3-0 squad worthy of claiming the AFC North crown," Bradshaw wrote. "This will be a hard-fought battle that Baltimore can ill afford to lose and may determine the fate of the AFC North."
As Zrebiec cited, the middle patch of the schedule won't provide any favors.
"Both the 49ers and Bills, who the Ravens meet in back-to-back weeks in early December, are 3-0," Zrebiec wrote. "So are the Patriots and Rams, who the Ravens face in November. Throw in games against good Seahawks and Texans teams, and the annual tight, physical affairs in the AFC North, and the Ravens' road back to the playoffs is a tough one."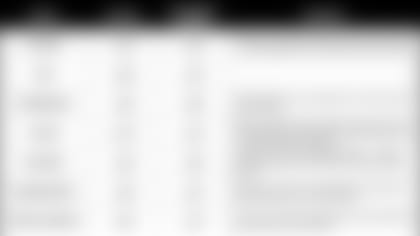 Pass Rush Struggles a 'Defining' Trend
Sunday's divisional clash will feature a physical AFC North matchup, with a chance for the Ravens to extend their division lead by two games.
The Browns have gotten off to a slow start this season after receiving plenty of offseason hype, and their struggles on the offensive line allow Baltimore the chance to kick start one of its early-season woes.
"The Ravens' biggest long-term concern remains their pass rush," Zrebiec wrote. "They have seven sacks over three games, and only 12 teams have fewer. This despite playing the Cardinals and Dolphins, two teams with extensive offensive line woes."
"Every defense looks bad against the Chiefs, but on Sunday, this group missed offseason departures Terrell Suggs and Za'Darius Smith, in addition to former linebacker C.J. Mosley," Rosenthal wrote. "The lack of pressure has exposed a few coverage busts in the Ravens' secondary, and the generally lackluster play defending the slot. … Even without left tackle Eric Fisher, the Chiefs' offensive line gave Patrick Mahomes all the time he needed against a defense that has a long way to go to live up to the organization's standards."
"We need to get more pressure, more sacks from those guys," Harbaugh said. "They'll probably tell you they need more reps. I would say earn more reps by doing something about it."
The contributions of Tyus Bowser, Tim Williams, and rookie Jaylon Ferguson will be crucial against a loaded offense with plenty of talent.
PFF: Ravens' O-Line a Top-10 Unit This Season
The Ravens currently have the NFL's No. 1-overall offense, and while the success is centered around Jackson, the big men up front deserve credit.
PFF graded the offensive lines for all 32 teams, and the Ravens are a top-10 unit (No. 9) through three weeks. Guard Marshal Yanda is the team's highest-graded offensive lineman (81.5).
"[E]ven at 35 years young, Yanda is dominating on the football field once again," PFF's Michael Renner wrote. "He's allowed only two pressures so far and has the third-highest grade among guards."
The rushing attack is averaging 216.7 yards per on the ground and the blocking up front has made the backfield one of the most successful position groups this season.
"Baltimore's running back corps, led by Mark Ingram and Gus Edwards, earned 82.7 and 87.2 rushing grades, respectively, both of which warranted a top-five mark at their position," PFF's Connor Price wrote. Ingram touted a league-high eight first downs and six forced missed tackles … Though in a more diminutive role, Edwards contributed 53 yards — 33 of which came after contact — four first downs and two forced missed tackles en route to a 7.6 yard-per-carry average."
Left guard was one of the biggest offseason question marks heading into the season, but Bradley Bozeman has secured the role. He's allowed one sack this season, according to PFF.
"The offensive line wasn't perfect against Kansas City, but Bozeman has rarely been mentioned over the first three games," WNST's Luke Jones wrote. "That's good news for a left guard position that was scrutinized all spring and summer."