Tucker Dons Cover Of Baltimore STYLE Magazine
"He's smart. He's suave. He sings opera."
That's the caption next to a close-up of Justin Tucker looking dapper in a black bowtie tuxedo and polka dot pocket square, with slicked back hair and piercing eyes, on the cover of Baltimore STYLE Magazine.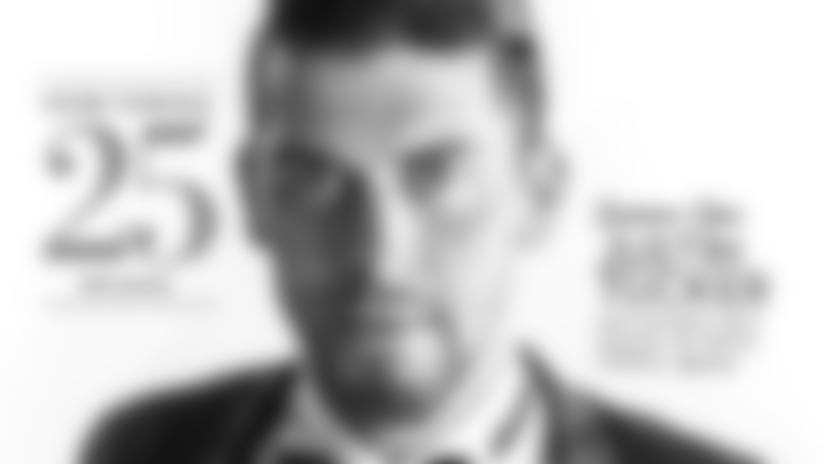 Tucker, and his "lovable weirdness" (a term coined for Tucker by our own Ryan Mink), is featured in the October 2014 issue. And why wouldn't he be?
He sings opera in seven different languages, raps in a Dr. Pepper commercial and admittedly turns Ravens cafeteria TVs to Bravo and E! for entertainment news. At the age of 24, he's won a Super Bowl, broken the record for the longest kick in a domed stadium (61 yards) and delivered the commencement speech at his alma mater, the University of Texas.
The Ravens Renaissance Man sat down with STYLE's Jessica Bizik to peel back the curtain on his unique personality. The full Q&A can be found here, but below I've pulled a few of my favorite responses, including when Tucker called the Pope a "baller" and said he knows he looks good when wearing pants that are "a little too tight to be comfortable."
STYLE: You're just a few months shy of age 25, but you've already delivered the commencement speech at your alma mater, the College of Fine Arts at the University of Texas. How was that?
JUSTIN TUCKER: Such a huge honor. There's definitely a parallel between kicking a ball through the uprights in front of thousands of people in a football stadium and preparing yourself to go onstage and perform a piece of music or express yourself through fine arts.
Would you consider a post-NFL career in music? 
Absolutely. It would be great to find a way to combine a business component and a fine arts component, so I could work every part of my brain—left side, right side, cerebral cortex.
So what's that dream job? 
I'd find some land, build a recording studio and manage a record label. Kind of do the Pharrell [Williams] thing, where I'd produce, then hop on a couple tracks, and one will magically blow up, and before you know it, we will be flying off to the Maldives on a G6.
What's your personal style? I know you love your custom Indochino suits. 
I do. When the pants are just a little too tight to be comfortable, that's when you know you look good. Around town I like to wear good, clean, raw denim with a white T-shirt and some sweet sneakers. But when we travel with the team, there's a quiet competition to see who can dress the best.
Do you guys 'Fashion Police' each other? 
We'll say stuff like, 'Yo dog, that's a sick pocket square.' Or if somebody's rocking a mean elbow patch during a game, you let them know. But if one of your teammates is looking real whack, then you've got to put it out there, like, 'Bro, you need to get that suit tailored. You don't need to wear your daddy's suit. You're in the NFL. Buy something that fits.'
And you admittedly watch 'Botched' [the plastic surgery nightmare show] and follow all the 'Real Housewives' on Twitter. 
Yep, I'm confident enough to own it. Here's the thing: we're around football so much at our facilities, right? We meet and practice for hours. The TVs in the cafe-eria are always set on the NFL Network or ESPN—and it's the same stories recycled over and over throughout the day. Sometimes the specialists will go in there and eat lunch together. And when it's just a few of us, we change all the channels. Put on Bravo or E! and catch up on our entertainment news.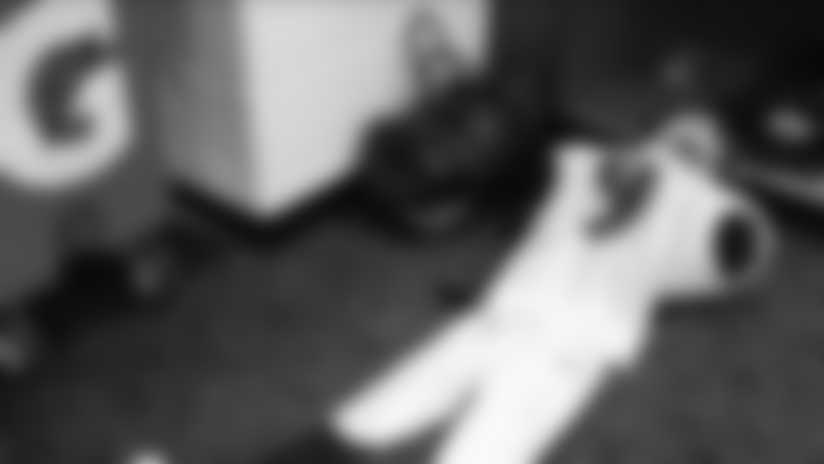 I saw an Instagram photo of you doing a headstand. Are you into yoga?
Yeah. I started doing yoga this offseason—and I actually quite enjoyed it. Just another way to take care of my body.
Do you have any pregame rituals for good luck?
Ever since my rec soccer days, I lay out my uniform in front of my locker—helmet, shoulder pads, jersey, pants, socks, shoes, everything—in the shape of a man on the floor. It's something I borrowed from Deion Sanders, Prime Time. I grew up watching the Cowboys and Prime was one of my favorite players.
OK, last personal detail. What's the tattoo on your back?
It's a cross with wings. It has my Catholic confirmation saint name, which is Cephas—that's what Jesus called Peter—and a reference to the Bible verse where Jesus says to Peter, 'You are the rock upon which I'll build my church and the gates of the netherworld shall not prevail against it.'
I'm a retired Catholic, but I do like the new pope. How about you?
He's a baller! Pope Francis is the coolest. But I also liked Pope Benedict and Pope J.P.2. But whatever religion you identify with—whether it's Judaism or Islam or something else—there's always a unifying component. We were all made by the same guy upstairs. To steal a line from 'Bill & Ted's Excellent Adventure' we should all just 'Be excellent to each other. And party on, dudes.'
And just because it's awesome, let's "party on" by taking another look at Tucker's awesome rapping/opera commercial:
Ravens Brought In CB Jamell Fleming For Visit
The Ravens signed cornerback Derek Cox to their roster yesterday, but not before they took a look at another potential option.
The team also brought in cornerback Jamell Fleming for a visit, according to The Baltimore Sun's Aaron Wilson. Fleming was a Arizona Cardinals 2012 third-round pick out of Oklahoma, where he had 168 tackles, seven interceptions, two touchdowns and a sack.
Flemming played for the Jacksonville Jaguars last year, playing in eight games, but was cut over the weekend during the roster cut-down to 53 players. 
Biggest Roster Surprise Reacts To Making Team
Undrafted rookie linebacker Zach Orr was dubbed the "biggest roster surprise" to make team, but he was obviously special enough that the Ravens were willing to part ways with the respected and hard-working Josh Bynes.
"While not many reporters or fans noticed Zachary Orr, the Baltimore Ravens were worried that other teams did," wrote ESPN's Jamison Hensley. "The Ravens did their best to hide Orr throughout the preseason, but they still didn't want to risk losing him if they tried to sneak him on the practice squad. 
"So, the Ravens kept the undrafted rookie linebacker out of North Texas after the final major cut down on Saturday."  
In the CSNBaltimore.com video below, Orr's beaming smile stretches from ear to ear as he reacts to making the squad from the Ravens locker room Tuesday.
Turns Out, Ravens Needed Webb's Restructure
Eyebrows raised across Baltimore when the Ravens front office reportedly restructured cornerback Lardarius Webb's contract. There was thought that GM Ozzie Newsome could be positioning himself for a big signing or trade.
Says The Sun's Wilson, the Ravens needed that extra cash because Baltimore – along with the other 31 teams – is now subject to regular-season salary cap rules. That means all 53 active contracts, players on injured reserve and practice squad salaries count against the cap now. A different set of rules govern the offseason with 90- and 75-man rosters.
"Even after creating $3 million in salary cap space by converting $4 million of Webb's $7.5 million base salary into a signing bonus, the Ravens are just $3.321 million under the NFL salary-cap limit of $133 million."
Ozzie Ranks No. 1 In GM Rankings
We already knew this was true, right?
"Newsome, the only GM the Ravens have had during their 19 years in Baltimore, has produced two Super Bowl champions, drafted future Hall of Famers with his first two picks ever (Jonathan Ogden and Ray Lewis), has had only two head coaches in the last 16 years (Brian Billick and John Harbaugh), and has either employed or mentored front-office personnel all over the NFL," wrote Sporting News' David Steele. "A franchise literally couldn't ask for more than he's done."
After Newsome, the next five GMs in order are Ted Thompson (Packers), Jerry Reese (Giants), John Schneider (Seahawks), Bill Belichick (Patriots) and Trent Baalke (49ers).
Hensley Makes Game-By-Game Predictions
Prediction season continues …
With the Ravens' season opener just four days away, Hensley makes his game-by-game predictions. He thinks the Ravens will finish with a 9-7 record.
Where do you agree/disagree?
Week 1: Cincinnati Bengals – WIN
Week 2: Pittsburgh Steelers – LOSS
Week 3: Cleveland Browns – WIN
Week 4: Carolina Panthers – WIN
Week 5: at Indianapolis Colts – LOSS
Week 6: at Tampa Bay Buccaneers – WIN
Week 7: Atlanta Falcons – LOSS
Week 8: at Cincinnati Bengals – LOSS
Week 9: at Pittsburgh Steelers – LOSS
Week 10: Tennessee Titans – WIN
Week 12: at New Orleans Saints – LOSS
Week 13: San Diego Chargers – LOSS
Week 14: at Miami Dolphins – WIN
Week 15: Jacksonville Jaguars – WIN
Week 16: at Houston Texans – WIN
Week 17: Cleveland Browns – WIN
Quarterback Keith Wenning says he'll make the most out of the Ravens practice squad. "Yeah, it's tough," Wenning said. "I'm going to keep working and just be around and I'm grateful for that. … I'm a rookie; I'm working for the future. I just keep learning and looking to grow." [The Baltimore Sun]
Tight end Owen Daniels said he's fresh and ready to go against the Cincinnati Bengals after sitting out with fatigued legs. But how much he will play is still a question mark. [ESPN]
When it comes to returners, the Ravens have options. [CSNBaltimore.com]