Mike Duffy's Live from the NFL Combine Blog:  DAY 1  |  DAY 2  |  DAY 3  |  DAY 4 4:10 p.m.
Also, the Media Center is beginning to clear out, but the last player to hit the podium was Wake Forest linebacker Aaron Curry.
He held court for about 30 minutes and really had some interesting things to say, like how he was a high school teammate with current Kansas City Chiefs defensive tackle Tank Tyler in Fayetteville, N.C., how he scrapped plans to go to law school after his junior season when he decided he wanted to try collegiate coaching after his playing days were over, and how he and his family were evicted from their house when he was in school and he had to stay with friends when he went home for breaks.
He noted how he called upon those memories of poverty when he was a kid to muster up strength in the fourth quarter of games. Curry even welled up and got a little glassy when he reminisced about his mother and how hard she worked for the family.
That's going to do it for today's blog.  Thanks again for reading.  It's been another busy one.  Stay tuned for more coverage throughout the day and tomorrow, too.
4:00 p.m.
I have to write about South Florida linebacker Tyrone McKenzie, who had reporters in stitches when he ended his media time with a story from his childhood.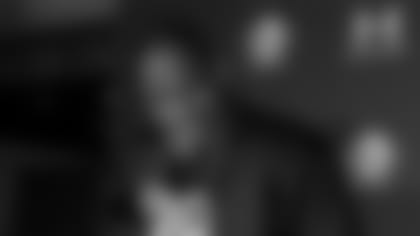 McKenzie, who is a first-day prospect after totaling 230 tackles over the past few years for the Bulls, was talking about how pro coaches will love the way he intensely studies film and how much of a student of the game he is.
He loves the game so much, his mother could not keep him off the field as a kid.
"That's one thing I feel is an advantage because before I started playing the game, I was a fan of the game," McKenzie said. "My first year, I was a waterboy for my Pop Warner football team. And then after my mom how dedicated to the game, she let me play the following year. I've always been a fan of the game and going out there is my dream and something I've always wanted to accomplish."
He continued his story about the early days of the Brandon Broncos as a 9-year-old.
"My best friend from elementary school, he was put on a team and he told me about it. So when I went out there one day, I was like, "This is awesome, you've all got helmets and everything. What is this?' It was fun, going out there getting a chance to do it. It really helped me."
When he finally got out there, McKenzie never looked back.
"Some guy walked up to me and asked for water. I said, "I'm playing now.
3:04 p.m.
If you're like me, you grew up loving WWF wrestling in the mid-80s, so this post will delight you. If you're not, I apologize.
Ohio State inside linebacker James Laurinaitis recently took the podium for his shot in front of the cameras. He was fairly reserved compared to what is typical of his father. You might remember Joe Laurinaitis, otherwise known as "Road Warrior Animal" as a member of the legendary tag team Legion of Doom.
That's right; perhaps the best inside linebacker of the draft is the son of a professional wrestler.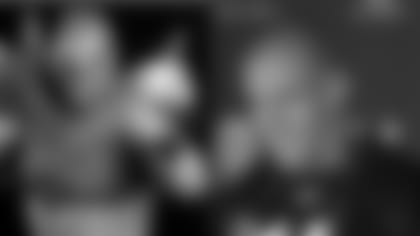 The younger Laurinaitis is a stellar prospect that is a three-time All American and has a trophy case that is chock full of brass.
He's got 366 career tackles, and in 2008, he won the Butkus Award for the nation's best linebacker.
In reference to his father, Laurinaitis was asked about what life was like in the locker rooms of WWF (now WWE) events.
"It helped a little bit, to be honest," said James. "I don't get shy around a lot of cameras. When you're backstage with dad and seeing him cut promos and all that stuff, that was just life as a kid. I got to see guys like Hulk Hogan, Brett Hart and Shawn Michaels was my favorite wrestler. It was an awesome childhood."
He also noted how his father was a big influence on his life.
"He did a great job of being a role model," he continued. "He taught me two great lessons. The first was, the day you become satisfied as a player, you should walk away. You can't ever think you're good enough. The second thing was that no matter how hard you're working, there is someone else out there working harder.
"As far as physical style goes, I've got great genetics with my dad being a wrestler and my mom being a fitness model."
Also of note, Laurinaitis has not seen the movie The Wrestler starring Mickey Rourke yet.
2:14 p.m.
Just had the pleasure of talking with Aaron Maybin from Penn State. The defensive end/outside linebacker is from Baltimore and grew up a big Ravens fan, but chose to head to Happy Valley instead of College Park.
How did Ralph Freidgen let him slip away?
"I don't think it was a thing where they let me get away," Maybin said. "The whole recruiting scene is a process, just like college and the pros. You have to go through a process to decide what it is that is best for you, and I thought Penn State was the best fit for me."
Maybin redshirted his first season at Penn State and was a spot player his second. Last year, he didn't even start the first two games of the season, but when Maurice Evan was suspended, Maybin stepped in with a bang. He made 49 tackles, 20 for loss, had 12 sacks and forced three fumbles to become a finalist for the Bednarik and Hendricks Awards.
During his press conference, Maybin also name-dropped Ray Lewis as a mentor.
That perked my ears, so I had a chance to catch the probably first-round draft pick for a one-on-one in the hall outside of the media center. He told me that he and Ray and LaVar Arrington have spoken, and that Ray always helped him game plan for Saturdays.
Check back to BR.com for that later today.
Maybin's only listed at about 250 pounds, prompting some people to say that he needs more bulk to become a true defensive end, but I think he could really be a great hybrid in a 3-4 defense.
12:46 p.m.
Texas Tech wideout Michael Crabtree, whom many consider to be the best player in the entire draft, is going to miss up to 10 weeks with a stress fracture in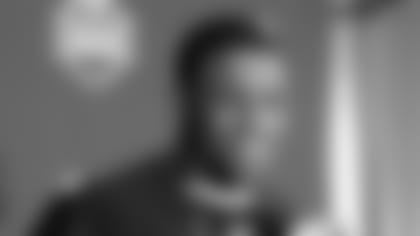 Crabtree wasn't planning on running the 40 here at the Combine, and said he would do everything at his scheduled Pro Day when he spoke to the media yesterday. That day will now be cancelled.
"After doctors found the slight stress fracture on Friday they conducted more testing on Crabtree, including a bone scan that revealed that the injury happened only recently, possibly during training for the combine. Since finding it, Crabtree has been investigating the best and smartest way to treat the injury."
This is bad news for Crabtree, as he also measured in at 6-foot-1 3/8 yesterday after he was listed at 6-foot-3 during his college career.
It's good news for Hakeem Nicks and the other wideouts looking to move up in the draft, however.
12:14 p.m.
Ravens general manager Ozzie Newsome spoke to the media just about 20 minutes ago, and I'm working through the transcript. But, the highlight came right from the top.
Newsome was asked how contract negotiations were going with the Ravens' prominent free agents, namely linebackers Ray Lewis, Terrell Suggs and Bart Scott, center Jason Brown and safety Jimmy Leonhard.
His answer: "We are involved in active negotiations with Ray, Bart, Suggs and Jason at this point."
That's right. No Leonhard. When asked to clarify later in the press conference, Newsome pointed to the expected full return of safety Dawan Landry, who started out 2008 on the first team before suffering a spinal cord concussion, and the play of Tom Zbikowski and Haruki Nakamura as rookies last year.
Leonhard will likely be allowed to test the waters of free agency and check to see how much he can get. As a guy that stepped up and showed that he is a big-time playmaker, Leonhard can cash in. Entering his fifth season, this is probably the biggest contract Leonhard can expect to get, so go get it, Jimmy.
"My philosophy has always been right player, right price," Newsome said of Brown. "We do a good job of putting a value on what we think that player is worth for us. We always feel like we're willing to pay more for our players than other people will, but over the past few years, we have lost players because they've had the opportunity to help their families by making a lot of money.
"I always tell the players that we put a value on it, and if there is a chance for them to go out and help their families, then go do it. I'll see them four or five years from now, and we can still be friends."
More to come as I finish the transcription.
10:45 a.m.
Right now, Seahawks coach Jim Mora is speaking to the media, but he's really not saying much.  Basically, everybody's waiting for the start of drills, which are always intruiguing.  The bench press is about to take place, with longtime Arizona Cards strength coach John Lott overseeing.  He's done that for as smany years as I can remember.
What does overseeing mean?  Well, that means being the motivator and spotter to get the prospects to squeeze out every rep they can.  It's kind of funny to watch, because he really gets into the guys.
Tom Zbikowski told me that when he was here last year, Lott called him "Rudy" in reference to his Notre Dame pedigree.  Now, Zibby didn't like that very much, so he stopped mid-rep and told Lott to never call him that again.  Tommy was one of the best DBs on the 225-pound bench with 24 reps, but he claims he could have done about 29 if Lott hadn't made that statement.
Check out the action on NFL Network, and I'll post results here when I can throughout the day.
9:34 a.m.
Welcome back to BR.com for Day 3 of the NFL Scouting Combine in Indy. Right now, I'm set up in the Media Center waiting for a few things.
1) The first linebackers/defensive linemen/defensive ends to come in today. That's who's speaking to the media.
2) Asst. offensive line coach Andy Moeller to call me when he's finished running the drills for offensive linemen at Lucas Oil Field. Andy is going to do an interview with BR.com for the media player about his experiences.
3) Ravens GM Ozzie Newsome is going to speak at 11:30, so that's going to big.
4) Ravens dir. of player personnel Eric DeCosta is going to join us again for a scouting update today. Check out yesterday's edition of the Scouting Report by clicking here.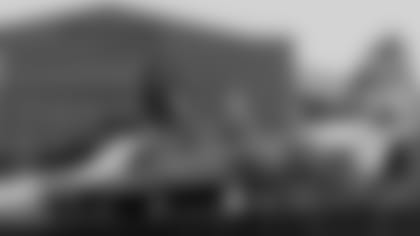 5) The RCA Dome rubble to be cleaned up. Well, that's probably not going to happen soon, as the imploded stadium lays in the shadow of the brick behemoth of Lucas Oil Field. Construction crews are working on it, but that's going to be a long project. Check out this pic…
Oh, and wow. Tyrell Sutton, the diminutive running back from Northwestern is the first player to enter the Media Center this morning. We weren't supposed to get any RBs on Saturday, as they all came in fast and furious yesterday, but here he is. Reporters actually swarm him, but I don't think he'd get his much attention if he wasn't the only interview subject we've got here.
Sutton is listed at 5-foot-8, 211 pounds - very Ray Rice-esque. When asked about it, he responds, "I'm a little bowling ball."
Actually, NFL Network Draft guru Mike Mayock said yesterday that Sutton could be a playmaker for a team at the next level. He's got rushing and receiving skills - 890 rushing, 305 receiving yards, eight touchdowns last year - but was hampered in 2008 by a broken wrist.
Hey, if football doesn't work out, Sutton said he graduated with a degree in communications. From Northwestern, that's pretty big-time (I'm going to say it doesn't rival the UNC School of Journalism and Mass Communication, but that's splitting hairs).
"You know, I might be here one day doing your job," Sutton joked to the media, eliciting laughs.
Mike Duffy's Live from the NFL Combine Blog:  DAY 1  |  DAY 2  |  DAY 3  |  DAY 4