The bus hadn't even pulled into Bill Bateman's yet and there were people crowded around outside waiting for us. One word: dedicated. The fans of Baltimore love their Ravens unabashedly, and it shows even in everyday environments. The place is packed, and we've just seen Channel 2's live broadcast of our rallies on the 6 o'clock news. A gentleman came up to me just a few minutes after we arrived to say a simple "Good luck." Jason Brown and Adam Terry just arrived, too, as a surprise for the crowd. Oh boy.
Everyone is working hard, but having fun. I can't help but remember how we got here to begin with. Our Ravens are in the playoffs. If they're the better team on Sunday, we'll get to do this again next week. But regardless of how this season ultimately turns out, the fans will always be there. They stayed with the team through a 5-11 campaign, and have been rewarded with a 11-5 team that is playing in January.
You often hear players, coaches and fans talk about how their team has the best fanbase in the world. And they believe it, which is good. Well, I believe Baltimore has the best fanbase in the world, for one simple reason: their love never waivers. The boobirds never come out. They always come out to meet and greet a team that always puts forth the extra effort, and tonight shows it. Well done, Baltimore.
This blog might be over, but this night isn't. We're still going to the Bill Bateman's in Reisterstown until 9pm, so come out and see us! Let's have some fun, and show everyone what the Baltimore Ravens are all about. They'll know our name soon.
The "What's Our Name?" slogan is catching on. Sports Steve led a chant of it similar to Harbaugh inside Smyth Jewelers, which by the way, is a sea of purple, black and white jerseys. Just as with everywhere else we've been today, the people at Smyth have been extremely gracious and helpful, and the Ravens certainly appreciate it.
I initially thought Smyth was an odd place for a football rally; there isn't really a correlation between jewelry and pigskin. Not the case here. Lots of fans are here, eager get some merchandise, autographs, photographs and so on. As soon the bus was unloaded, the cheerleaders, playmakers and Poe posed for a photograph in front of a Lutherville Volunteer Fire Department Fire Engine.
Sports Steve is here at Smyth as well, and has insisted that he would be following us until the end of the day."This is only going to get bigger," said Steve, referring to the number of fans who have showed up here today. He expects more as people start getting off work. His prediction for Sunday: 27-10 Ravens.
I couldn't help but notice all the cheerleaders gazing at all the jewelry in the store. One cheerleader, Jaime A., was even so lucky to get a proposal from Poe himself! She accepted, of course, and Jaime told me they plan to get married at the Super Bowl.
All kidding aside, the cheerleaders and playmakers are doing a great job. Everyone always loves to talking to them, and I'm sure it can get overwhelming at times. But these ladies are always approachable, will sign as many autographs as they can and are also very friendly. They even did a short routine inside the store!
It's been a successful day so far. We're heading to the Bill Bateman's in Glen Burnie now. Hope to see you there!
Updated at 2:35pmI caught up with Poe here at Hightopp's, who is playing a big role in pumping everyone up.
"These fans have been with me since 5am this morning," he said with pride. "There isn't a better way to spend a day off from work then to get hyped up for Sunday's game. They're going to feel this energy all the way to Miami."
Poe has played a huge role this season in promoting the team and everything the Ravens organization does and represents. The fans have all gone nuts seeing him, giving him hugs and getting their photgraphs taken with him.
Sports Steve LaPlanche has played a large role as well. An official "superfan" and arguably the most famous of Baltimore sports fans, he gave BR.com some love by touting a sign highlighting our "You Said It!" feature. So we're giving him some love back. Thanks, Sports Steve.
We're heading to Smyth Jeweler's in Timonium next, on 2020 York Road. Come see Poe, the Ravens cheerleaders and playmakers, and have a chance to win an autographed Joe Flacco jersey! We've also got a limited number of "What's Our Name" T-shirts, as well. They're a hot item this postseason!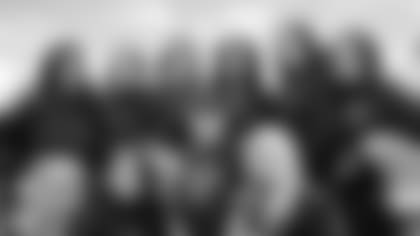 Updated at 1:42pm**We've arrived at Hightopp's, and the place is packed with Ravens fans. There have been a few special guests along the way. Baltimore Mayor Sheila Dixon was at Miss Shirley's this morning to give a "Purple Friday Proclamation." Sports Steve LaPlanche arrived at the Shoppers in Perring Plaza with about 30 friends, leading the fans in cheers and bringing them with him to Hightopp's now. He's here now with Poe himself, posing for photos and getting everyone pumped up for the game.
Stash from 98 Rock has been among the media to come cover the rallies. All four major news outlets in the area, including WBAL, WJZ, WMAR and FOX 45 have made appearances and will continue to cover Purple Friday throughout the day. There's plenty of autographed merchandise to win here, signed by players like Bart Scott and Chris McAlister and coaches like Rex Ryan.
There's plenty more Purple Friday coverage to come. Stay tuned.Updated at 10:58am
Geoff Peckham here, your friendly-neighborhood New Media Intern for BaltimoreRavens.com. Today is Purple Friday, and the city has been buzzing all week as the Ravens prepare to kick off their postseason this Sunday against the Miami Dolphins. Ravens cheerleaders, playmakers, front office staff , 98 Rock staff and Poe himself will be around Baltimore all day to pump up the fans with giveaways, special discounts and offers and even a raffle. I will be joining them shortly to blog about the day's happenings, so if you can't come out, be sure to check back today to see how the day is going. If you can come out, what are you waiting for? The rallies will be at the Shopper's Food & Pharmacy in Perring Plaza from 11 AM to 12 PM today, before heading to Hightopp's Backstage Grille in Timonium. Below is the list of other locations we'll be at today, so try to make it if you can, Baltimore fans, and be sure to wear your purple!