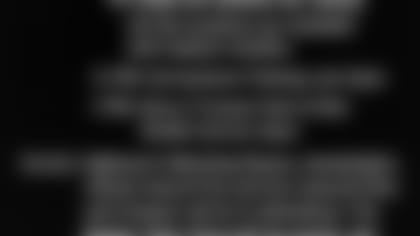 ](/gameday/season-schedule.html)
Programming Note: Due to WBAL's Olympic coverage, the Ravens preseason game against Atlanta will air on WMAR (ABC) locally. The game can also be seen on WBAL Plus, WJLA-TV and WHTM-TV and heard on the radio at 98Rock.
The Ravens first-team offense has been the star of training camp.
But will that continue in live game action?
That will be the primary question and story line heading into the Ravens' first preseason game tonight in Atlanta.
"My expectations will be we get the ball, whether it's to open the game or once they turn the ball over on downs or whatever happens, and we go down and score a touchdown," quarterback Joe Flacco said.
"And then that'll be a good day."
The Atlanta Falcons had the 12th-ranked defense last year and can bring a lot of pressure. Defensive end John Abraham notched 9.5 sacks last year. It should provide a good test for the Ravens' offensive line, which has been under the microscope in training camp.
Head Coach John Harbaugh said it's all about seeing where his offense's "timing and execution" is at this point of the preseason.
"How crisp do we play?" Harbaugh said. "How do we execute under pressure? How do the guys take that execution from a practice environment and take it to a game environment against another team in a live-type situation? It's all about executing our offense."
Flacco is expected to see about a quarter of play, so the first-team offense will only likely get a few series to make a good first impression.
Thus, Flacco stressed that too many judgments shouldn't be made because it's such a small sample size.
"I'm not excited to see where we stack up; I'm excited to get out there and play a football game," he said. "I feel pretty confident about our group … and this game's not going to have anything to do with how we'll play the rest of the season."
QB Curtis Painter: It's unknown whether the Ravens will keep a third quarterback, and how Painter performs in preseason games may go a long way. Painter has been up and down in limited snaps in training camp practices, but should get more of a look in games.
WR Deonte Thompson:It appears that the Ravens want to get a good feel for Thompson, as they had him running with the first team at times in practice Tuesday. Thompson flashed potential in Organized Team Activities and minicamp, and needs to continue to show his wheels in games.
K Justin Tucker: If Tucker is going to win the starting job, he's going to have to be flawless in preseason games. He's been very accurate in practice, missing just three kicks thus far. But those were all in simulated games, not the real thing. Seeing how the rookie stands up under pressure is key.
3 Things For The Ravens To Win
1) Offensive line protects the quarterback
The offensive line is the unit under the most scrutiny in training camp. It will be interesting to see how left tackle Bryant McKinnie holds up compared to rookie tackle Kelechi Osemele against a strong Falcons pass rush. The Ravens are still figuring out what they'll do at the tackle spots heading into the regular season.
2) Prove they can still stop the run
The Ravens are without three of their big run stuffers from last year: Jarret Johnson, Cory Redding and Terrell Suggs (Achilles). This will be the defense's first chance to prove they can still do what Baltimore's defense prides itself on most while facing one of the league's best backs in Michael Turner.
Probably the most important task of Thursday night is to emerge as unscathed as possible. While the Ravens have an 11-5 record in preseason games during the John Harbaugh era, nobody really cares much about that stat in Baltimore if players are lost. Harbaugh said players still have to go 100 percent to avoid injury, but starters and key veterans will get little or no time.
What Have They Done Lately?
The Falcons posted back-to-back double-digit win seasons for the first time in franchise history last year, but still can't get over the playoff hump.
Atlanta went 10-6 and once again lost in their first post-season game, this time to the eventual Super Bowl champion New York Giants in the wild-card round.
Quarterback Matt Ryan takes much of the heat for the early playoff exits. But he and the Falcons still own an offense that can be quite powerful. Ryan has weapons on the outside in receivers Roddy White and second-year wideout Julio Jones, veteran tight end Tony Gonzalez in the middle and Turner in the backfield.
Former Ravens coach Mike Smith leads Atlanta's coaching staff.
RavensTotal Defense - 288.9 (3)
Rush Defense - 92.6 (2)
Pass Defense - 196.3 (4)
Points Allowed Per Game - 16.6 (3)
Total Offense - 338.7 (15)
Rush Offense - 124.8 (10)
Pass Offense - 213.9 (19)
Points Scored Per Game - 23.6 (12)
FalconsTotal Defense - 333.6 (12)
Rush Defense - 97.0 (6)
Pass Defense - 236.6 (20)
Points Allowed Per Game - 21.9 (18)
Total Offense - 376.6 (10)
Rush Offense - 114.6 (17)
Pass Offense - 262.0 (8)
Points Scored Per Game - 25.1 (7)