Through "A Crucial Catch" campaign, and in partnership with the American Cancer Society (ACS), the Ravens continue to raise awareness about breast cancer and the importance of regular screenings and early detection. While breast cancer is the second most common form of cancer in women, the good news is that many cases can be treated if found early.
Early detection drastically increases the chances of survival – or becoming a survivor – and thus Breast Cancer Awareness (BCA) month is a time to celebrate life and give hope to those who are fighting the disease.
At the Ravens vs. Browns game earlier this month, approximately 25 women – a combination of breast cancer survivors and those currently undergoing treatment – were honored during an on-field ceremony.
"Having the moment to be honored on the field made us all feel loved and supported," explained Dawn Geigan, breast cancer survivor and member of Ravens Team Purple. "Then, to top it off, when we left the field and before returning to our seats, we were all given a gift bag from the Lady Ravens. It was full of goodies and personal, handwritten notes. It was just incredible and really helps us on our journey."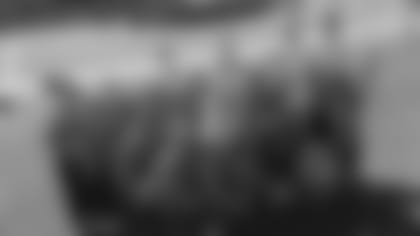 Following the tribute, the women were all given gift bags on behalf of the Lady Ravens Association, who have dedicated their time and service to helping better the Baltimore community, and assist with many of the team's charitable initiatives.
"Andrea Guy, wife of defensive end Lawrence Guy, came up with the gift bag idea," explained Lauren Cox, wife of long snapper Morgan Cox, and member of the Lady Ravens Association. "She asked us to pull together personal favorite items of ours, something you love and would appreciate getting and then to also write a letter to accompany the gift. I included my favorite brand of socks."
Cox went on to say, "You may not realize it at first, but you find out later that you have a connection with one of the ladies, and at the time you showed them support you were a complete stranger. Those acts of kindness are special. So to give those women that, it personally meant a lot to me."
In addition to the on-field experience, the Ravens looked to create a more intimate event where those who have been affected by the disease could come together in a fun environment, away from hospitals and cancer centers, and have the opportunity to chat with others who are facing the same challenges.
On Monday, Oct. 19, the team hosted "Sip & Paint Night" at M&T Bank Stadium for women who are currently battling,or have overcome breast cancer. The evening included refreshments, hors d'oeuvres and a Ravens-themed instructional painting session, provided by Trevino Paint. Ravens defensive end Chris Canty, long snapper Morgan Cox and tackle Eugene Monroe were also in attendance to offer their support.
"The players chatted and painted with us like they've known us for years," explained Marva Williams, who was diagnosed with breast cancer this year and is now in remission. "The mental challenge in my cancer survivorship journey is that when I feel a pain in my body, I worry that the cancer has come back or that it has spread. Being at 'Sip & Paint Night' allowed me to have fun, relax and put cancer on the back burner. I was too busy concentrating on trying to paint my pink Raven!"
The Ravens will continue their support of BCA month this Friday, Oct. 23 at the Ravens RISE High School Showdown when the Winters Mill Falcons host the Century Knights. Both varsity teams will sport pink gear, and the field will be decorated with breast cancer awareness goal post wraps and banners, all donated by the Ravens. The ACS will be on hand to accept donations, while Zeta Tau Alpha will distribute pink ribbons to fans as they enter the stadium.