RAVENS RISE HIGH SCHOOL FOOTBALL SHOWDOWN
For five weeks during the 2019 regular season, the Baltimore Ravens will recognize one local high school football game as their Ravens RISE High School Football Showdown.
At each contest, a current or former Ravens player will be in attendance for a pre-game visit with each team, to help administer the opening coin toss and then to mingle with fans around the stadium. Ravens Cheerleaders and Poe will also attend, and both teams will be awarded apparel to wear during the game. Each participating school will receive a monetary donation from the Ravens, with the home team earning $1,500 and the visiting team $750 to help enhance their respective programs.
The Ravens will also bring elements of their iconic pre-game introductions from M&T Bank Stadium to the high school for student-athletes to run through the glowing red Ravens' eyes, a billowing smoke curtain and pyrotechnics. Following the matchup, each Showdown will be highlighted with a detailed game recap and photo gallery by The Baltimore Sun.
The second of five Showdown's takes place Friday (9/20) and features the Winters Mill (Westminster, Md.) Falcons at the Francis Scott Key (Union Bridge, Md.) Eagles. Kickoff is scheduled for 7 p.m. Both teams enter the game 1-1 on the season, as Francis Scott Key aims to extend their four-game winning streak against their Carroll County foe.
*What:                            *Ravens RISE High School Football Showdown (second of five)
Who:                              Current or Former Ravens Player, Cheerleaders and Poe
Where:                            Francis Scott Key High School
When:                             Francis Scott Key Eagles vs. Winters Mill Falcons
Note: The Ravens RISE High School Football Showdown winners were selected based on voting polls conducted through The Baltimore Sun and Twitter, which ran Aug. 14 – Sept. 6. Eighty (80) Maryland high schools were included in the voting process and placed into one of five 16-team brackets based on the school's geographic location. The winner of each bracket was awarded a Showdown for the season.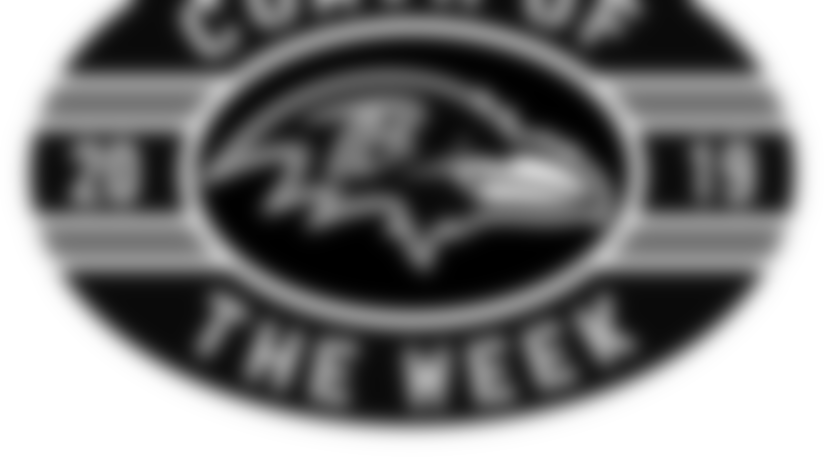 Chad McCormick, varsity head football coach of the Old Mill (Millersville, Md.) Patriots, has been named the Ravens High School Coach of the Week. Now in its 23rd year of existence, McCormick is the second recipient of the award in 2019. This marks his third time receiving the honor, including once in 2012 and again in 2016.
Last Friday, the Patriots (1-1) hosted the Broadneck (Annapolis, Md.) Bruins in each school's first Anne Arundel County conference game of the season. Racing to an early 14-0 lead, Old Mill went on to defeat the visiting Bruins, 28-12.
After falling in three-consecutive contests to Broadneck, McCormick's squad utilized a methodical rushing attack and opportunistic defense to help earn the victory. Leading 14-12 in the third quarter, the Patriot defense forced a turnover, which their offense turned into a touchdown, extending the lead to 21-12.
"With this being a rivalry game, there's not much that needs to be said to motivate our kids to play Broadneck," McCormick stated. "Going into the game, we knew we had an opportunity to get the win with our experienced offensive line and rushing attack. They all stepped up for us Friday night, and we were able to control the ball and get the win."
Old Mill travels to the Meade (Ft. Meade, Md.) Mustangs this Friday (9/20). Kickoff is slated for 6:30 p.m. The Patriots have not lost to the Mustangs since 2012, most recently defeating their crosstown rival last season, 39-6.
Each week during the season, the Ravens honor a high school coach who has made a significant impact on his student-athletes. All 10 Coach of the Week winners receive a $2,000 donation to their school's football program and an award from Ravens head coach John Harbaugh. In addition, each coach will attend the Ravens-Jets game at M&T Bank Stadium on Dec. 12 for an opportunity to be named the Ravens High School Coach of the Year.
These initiatives are just one piece of Ravens RISE, the team's football outreach program presented by MedStar Sports Medicine. Ravens RISE impacts a range of area football players from youth to high school, providing them with a year-round opportunity to "Play Like A Raven" through clinics, tournaments, grants, ticket donations and exclusive opportunities to play at M&T Bank Stadium and interact with Ravens players and coaches.