A year ago at this time, the Ravens were in the midst of a 9-game losing streak, and the Patriots were coming to town with a 12-0 record. New England's players and coaches were being asked weekly about having letdowns against so-called weaker teams like the Ravens.
That's what happens in the NFL. Winning teams are asked by media about not giving 100% against teams not in the playoff hunt.
The reality is that the competition is so close in the league that the have-nots regularly beat the haves. That's why we took the Patriots down to the final seconds of last season's game before dropping a thrilling 27-24 disappointment. They didn't take us lightly. We played well that night.
Are there players who won't play as hard if they aren't in the playoff race? I guess so. But, how do you tell? I've been in the NFL for almost 30 years, and I can honestly say that I've never seen a player give less than his best in a game. The game is too fast, too big and, frankly, too scary to play without going full blast. You'd get hurt if you slowed down.
(Now, I have seen players who I thought could play late in a season, but opted to be injured instead. But, even that's an unfair assessment because no one can judge another person's injury or pain.)
So, to my friends and fellow workers (non coaches and players) who have asked me if I'm worried about a letdown this week against the 1-9-1 Bengals, the answer is an emphatic "No!"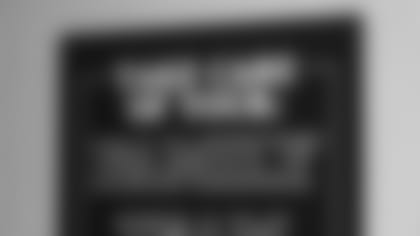 I believe the Bengals will get the best we have to offer, and I'm expecting that we will get the best of the Cincinnati's. Which, by the way, is not that bad – in their last 2 home games they have tied the Eagles (13-13) and beat the Jaguars (21-19.) (Hey, did any of you see how well the Eagles played against the 1st-place Cardinals Thursday night?)
One of the strengths of the current Ravens is the focus to the task at hand. When John Harbaugh was asked by a reporter earlier this week if he was flattered that our game against the Redskins had been moved to prime time and would be telecast nationally, John responded: "We play the Redskins? When is that? I know we play the Bengals this Sunday."
"Harbs" was making the point he makes to his players and assistants all the time: It is the task at hand that is the most important thing we do to prepare to win. Coach Harbaugh has signs around the building that the players see multiple times every day. The signs say "W.I.N." The letters W – I - N stand for "What's Important Now?"
A key to our success this season has been this focus to give attention to whatever we are doing at the moment. It's making the team meeting the best we've had all year. It's striving to make Wednesday's practice as good as it can be. This constant stress on the temporary is working.
I also know the players have great respect for the skills on the other team, whether it's the players in Cincinnati, or the Redskins a week from Sunday. And, the coaches get our players' attention easily – they just put on the video and show the Bengals players in their games. They see that Marvin Lewis has his players hustling, hitting and scrapping on every play. Our players are told that if they don't meet that intensity the Bengals bring, we will get beat.
Here's what I believe: if the Bengals find a way to beat us, they will have earned it. It will not because we "let down." And, if we win, which would make all of us very, very happy, it won't be because the Bengals are mailing it in. We will have earned it.
THANKSGIVING WORK
There are many people who have to work holidays like Thanksgiving. Many are in the service industry like travel, restaurants or hotels; or, they are in public service like police, firemen and hospital staff. NFL teams work on Thanksgiving. Coach Harbaugh went to key veteran players and asked them if they would like to start the day earlier, and they did.
So, by 6:30 a.m. on Thursday, the parking lot was filled, the weights were clanging and video was being watched. By 7 a.m., there was a full-team meeting, and the players were on the field at 10:20 for the start of a 2-hour practice. The normal post-practice meetings were re-scheduled for Friday morning.
One of the best things about Thanksgiving is to see how players and coaches make sure each player has a place to eat. Veterans like Ray Lewis
invited "orphaned" young players for Thanksgiving feasts, and coaches do the same thing. A rookie like Oniel Cousins, who is from Fullerton, CA, received multiple invites for Thanksgiving dinner. He ate twice. "Ray Rice
's Mom came down from New Jersey and made a great meal for some of us. After that, I went to a coach's house for a second meal," Cousins said with a smile.
GOOSE IS DISAPPOINTED
The Goose (Tony Siragusa) called. He was disappointed that the NFL moved our game against the Redskins on 12/7 to Sunday night on NBC-TV. Tony and his FOX-TV crew had been scheduled to broadcast the game when it was scheduled at 1 p.m.
Goose, who said he is doing well and following the Ravens closely, offered a couple of comments on the Ravens: "They're (the players) obviously listening to John (Harbaugh.)Love the rookie quarterback – it doesn't seem too big for him. Rex (Ryan) has the defense flying around. What a monster Haloti is! Tell Ray (Lewis) he's playing like a kid and to keep it up."
FLACCO FINALLY ADMITS SOME WIDE-EYED
The one constant you hear regularly about Joe Flacco
is how calm he seems to be in the eye of the storm. Nothing seems too big for him. Nothing seems to get him rattled. Cam Cameronwent to him before the preseason game in St. Louis and told him he had to start because Troy Smith had become ill and Kyle Boller was having trouble in warm-ups with his throwing shoulder. The big reaction from the rookie: "Okay."
Playing at Pittsburgh in a Monday nighter – no problem. Dog Pound in Cleveland and crazy schemes from the Eagles' defense – just another day(s) at the office.
In production meetings with the network TV crews broadcasting our games, I've seen Joe open up a little about his mindset. When he was asked by CBS-TV's Dan Dierdorf, a Hall of Fame player, if Joe had an "I'm-in-the-NFL moment," Joe gave this answer. "Yes, when we played at Indianapolis. I was warming up before the game, and I saw Peyton Manning come out to start his routine. I did think that was pretty cool. I mean, I've watched him for 10 years. He's Peyton Manning, and I'm warming up on the same field he is. That was exciting."
Last week, FOX-TV's Tim Ryan, who played defensive tackle for the Bears after an outstanding collegiate career at Southern Cal, commented to Joe that he had not seen him celebrate on the field, even after big plays. Joe replied: "I have done a couple of things, but every time I do, someone from my family makes fun of me. It's like they watch everything I do, and they have fun with it. I'm one of 6 kids, and we all give each other a hard time. So do my parents for that matter. It's all in good fun. You just don't want to give them something they can get you with."
FAVORITE THANKSGIVING DAY STORY
When I worked for the Cleveland Browns and our head coach was Sam Rutigliano, some players thought the Thanksgiving Day practice was a little too physical and too long. At the end of the session on a brisk, blustery afternoon, Sam brought the team together for a post-practice huddle. Finishing his sermon, the head coach said: "And, I want to wish all of you a great Thanksgiving. Enjoy, but don't eat too much."
With that, one of the team captains, left tackle Doug Dieken, stepped up and offered: "Coach, by a vote of 23 to 22 with a couple of abstentions, we wish you a Happy Thanksgiving, too."
Hope your Turkey weekend has been filled with good relatives, friends and food. Hope we can make it even better by winning in Cincinnati. That's what's important now.
Kevin Byrne is the Ravens' Senior Vice President – Public and Community Relations. He has worked in the NFL since 1977, when he was the then-youngest public relations director in the league (for the then-St. Louis Cardinals), except for the two years he was the Director of Public Affairs for TWA (Trans World Airlines). He has been with the Ravens since they began, and before that was a vice president with the Cleveland Browns. He has won a Super Bowl ring with the 2000 Ravens and an NCAA basketball championship with Al McGuire's Marquette team in '77. He was on the losing end of historic games known for the "Drive" and the "Fumble." He has worked closely and is friends with some of the best in the game: Ozzie Newsome, Brian Billick, Ray Lewis, Bill Cowher, Marvin Lewis, Mike Nolan, Marty Schottenheimer and Shannon Sharpe to name a few.