Head Coach John Harbaugh wore his old powder blue workman's shirt, adorned with his first name stitched into the chest, to Ravens practice Tuesday.
And yes, it was the same blue-collar shirt he wore in his* *younger days – oil splatter and all.
The shirt was from a job working at a transmission plant in Michigan.  But that wasn't the only blue-collar work Harbaugh did growing up.
The best story came from his time working at a gas station, tending to the pumps.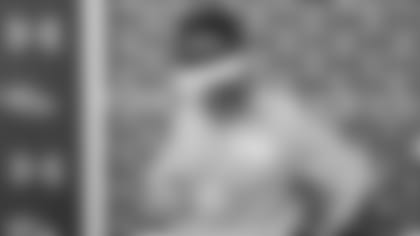 One day, Harbaugh was pumping gas for four cars at once, including an older lady in a long, yellow Cadillac. Harbaugh received her payment and went to tend to another man's car, a beautiful Lexus convertible.
The only problem was Harbaugh forgot to take the pump out of the Cadillac – an easy mistake to make because the pump was hidden behind the license plate. As the woman pulled away from the pump, Harbaugh saw the hose stretching.
"I'm just thinking, 'Dear God, please fall out!'" Harbaugh remembers. "I couldn't run. I just froze. It stretched, and finally it snapped."
The hose went flying, spewing gas in every direction. Harbaugh recreated the moment nicely.
"The guy got drenched, the convertible got drenched, everything got drenched," Harbaugh said. Needless to say, he did landscaping the next summer.
Another summer job was with his brother and now 49ers Head Coach Jim Harbaugh painting numbers on the seats at Stanford's football stadium.
After all that work in the sun, the two ended up taking a little siesta in the back of a 1965 Comet (color brown) following lunch. That was until the boss came knocking at around 3 p.m., and he wasn't happy.
"We got in trouble for that," Harbaugh said.
Harbaugh gave similar blue-collar shirts to every player that made the team a couple years ago. He broke it out Tuesday presumably to send the message of still working hard during these final days of training camp.
Harbaugh asked every single reporter and photographer at the podium session what blue-collar job they had. Rookie wide receiver Michael Campanaro had moseyed over to the microphone by that point and said he once used to wash dishes in a restaurant.
I told Harbaugh about my high school job working in the kitchen at Calvert Manor Nursing Home. I didn't have a grease-splattered shirt, but I did unfortunately have to wear a hair net.