Sam Koch is doing his best to help turn Rich Eisen's "punters are people too" catch phrase into a movement.
For background, Ed Reed said those words when asked about Koch's thunderous spike following his touchdown run against the Oakland Raiders on Nov. 11. It was a reference to punters being able to celebrate just like anybody else.
I decided to have some fun with Koch and ask for his thoughts on the phrase and, quite frankly, what makes him a human. Koch liked playing along, and shared a couple funny stories.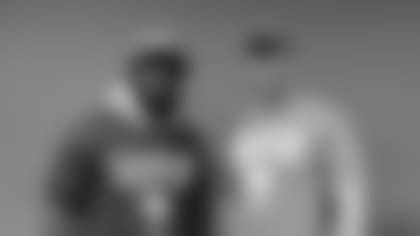 He didn't really make a strong case for punters being part of the human species (other than they are bigger than kickers, and thus built more like a "real" football player), but he did explain how he's often treated like a non-person.
For example, when the Ravens broke the huddle at the end of Wednesday's practice, they yelled in unison, "Dominate!" Right guard Marshal Yanda turned to Koch and said, "What do you guys dominate?"
Also on Wednesday, ESPN The Magazine had a photo feature on the Ravens' obsession with cornhole, and referred to Koch (the locker room's best player) as "The Great Cornholio."
"If it was Haloti Ngata and they called him 'The Great Cornholio,' they would think that's the greatest thing," Koch said. "As a punter, not so much. I got made fun of."
Basically, Koch is an easy target for jokes.
"People think punters are worthless individuals, except for on Sundays," Koch said with a laugh. "We're at this part of the scale where they do whatever they can to make fun of us or make us seem not as much of a human as they are."
But thanks to the T-shirt, Koch may see the tide shift.
On Wednesday, wide receiver/return specialist Jacoby Jones said he wanted one of the T-shirts. On Thursday, Koch got requests from so many other players that he's trying to get Eisen to send one for everybody on the team.
"It's becoming a trend now," said Koch, who is proudly wearing his shirt around the Under Armour Performance Center and plans to do so from here out.
Even a big guy like defensive tackle Ma'ake Kemoeatu has heightened respect for Koch. Generally the big guys aren't so keen on, by comparison, bite-sized punters.
"They are people," Kemoeatu said. "In Sam's case, he can run the ball and score a touchdown. He's extraordinary people."