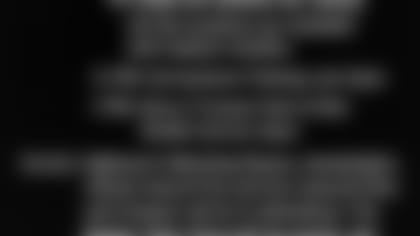 ](/gameday/season-schedule.html)
Programming Note: Due to WBAL's Olympic coverage, the Ravens preseason game against Atlanta will air on WMAR (ABC) locally. The game can also be seen on WBAL Plus, WJLA-TV and WHTM-TV and heard on the radio at 98Rock. **
Practice can only show so much.
Some players have already started to shine during the first two weeks of training camp, but now the coaching staff is looking to see if they can carry those performances into a game.
"How do the guys take that execution from a practice environment and take it to a game environment against another team in a live-type situation?" Head Coach John Harbaugh said earlier this week, when referencing what he's looking for in a preseason game.
When grading players to determine the final 53-man roster and position battles, coaches always have to balance preseason games compared to practice performances. Both are valuable, but strong showings in game action can help players get over the hump.
"The preseason games are a full game of live football, so it's the next step, and it's really important," Harbaugh said.
Here is a look at some of the players who have stood out in training camp practice and want to carry that momentum into game action:
C Gino GradkowskiThe rookie may get the start with veteran Matt Birk ruled out because of back spasms. Gradkowski has been running with the first team during practice and performed well, and now the fourth-round pick will face a live defense for the first time. He is looking to beat out other contenders like Justin Boren or veteran Tony Wragge to be the clear No. 2 option at center.
TE Davon DrewDrew's playing time has increased since Dennis Pitta went down with a broken hand, and he is fighting for the third tight end roster spot with recently-signed free agent Billy Bajema. Drew has made some nice plays in the last week, but he has also dropped some balls he should have caught. He will likely get some reps with the first-team offense and Harbaugh said that Drew's performance in the preseason will weigh heavily on his final assessment.
WR Tandon DossThe second-year receiver is coming off a rookie season where he didn't register a single catch and saw limited action on offense. He is currently working his way back from a tweaked hamstring, but is looking to earn more playing time and show the coaches he deserves to get on the field. Doss has flashed his great hands in practice, and now he will have to bring that with him to the preseason to beat out LaQuan Williams for playing time.
WR Tommy StreeterThe sixth-round pick has been up and down throughout training, but he has tremendous potential that makes him an attractive prospect. He played well in last weekend's practice at M&T Bank Stadium, and he may relish the chance to shine on a bigger stage during the preseason games.
LB Nigel CarrThe rookie linebacker is hoping to join the likes of Jameel McClain, Dannell Ellerbe and Albert McClellan as being an undrafted linebacker to make the roster. He has shown a knack for the football during training camp and will get plenty of reps during the preseason to state his case for a job.
OT/OG Jack CornellThe undrafted free agent out of Illinois caught the attention of General Manager Ozzie Newsome, and now he's hoping to show in preseason games that he deserves a spot on the line. Cornell has worked with the first team at both tackle spots and both guard positions, making him a versatile player that carries significant value.
OLB Sergio KindleKindle has generated plenty of buzz throughout training camp, as he is regaining his form as a dangerous pass rusher. Kindle has come a long way after suffering a fractured skull before the 2010 season, and now he will have a chance to show in the games exactly how much he has developed.
RBs Anthony Allen, Damien Berry, Bobby RaineyAt this point, nobody has emerged as the leading candidate to be the No. 2 running back behind Ray Rice. But with Rice only expected to play a quarter or less, that means Allen, Berry or Rainey will have a chance to distinguish themselves. Allen is listed ahead of Berry and Rainey on the depth chart, but the race is still wide open. Also, with rookie third-round pick Bernard Pierce out because of a hamstring injury, these running backs can make the most of additional game reps.