M&T Bank Stadium Directions & Parking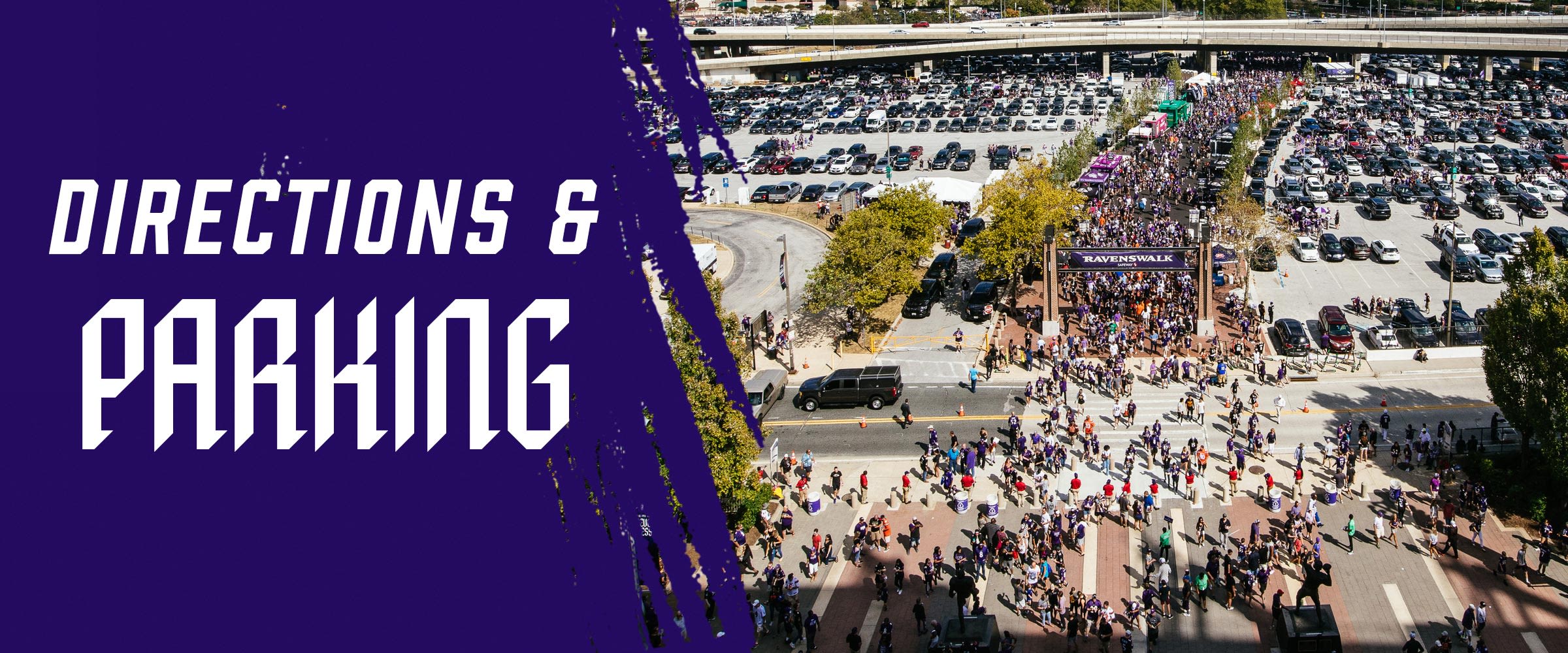 M&T Bank Stadium Direction & Parking Information
Parking Availability
Non-disabled parking for M&T Bank Stadium events is typically sold in advance and is by permit only. For Ravens games, all stadium lots are sold out to permit holders. If you do not have a permit for a stadium lot, purchase parking with Parking Panda or view a map of downtown parking options. Also, think about public transportation, it's a great option! Call the MTA at 410-539-5000 or 1-866-RIDE-MTA. For additional information visit https://mta.maryland.gov/
DISABLED PARKING: Parking spaces for fans with disabilities are available on a first come, first served basis in Lots B, C & R (Lot R is located under the Russell Street bridge). No permits are issued in advance for disabled parking spaces. An appropriate state issued disabled placard or license plate is required to gain access to available disabled parking spaces and the registered owner must be in the vehicle. We recommend that guests requiring disabled parking arrive at the lots as early as possible, as spaces fill up quickly.
Stadium lots open four and a half hours prior to kickoff.
Horseshoe Casino Garage Parking
To order a parking pass, please call the ticket office at 410-261-RAVE (7283) or download the form and return it by fax to 410-468-1340 or by mail to Ravens Ticket Office, attn: Horseshoe Parking, 1101 Russell St, Baltimore, MD 21230.
There are two options available exclusively for PSL Owners in the Horseshoe Casino garage:
Reserved – Guarantees a space in the garage levels 3-6 for all 10 Ravens games.
Valet – Guarantees a space in the garage levels 1 & 2 via Horseshoe valet parking staff for all 10 Ravens Games.
From I-95 Northbound:
Exit 52 Russell Street
Right on Bayard St
Cross Warner St
Garage entrance on left
From Downtown:
Lombard St West
Left on Greene Street (turns into Russell St)
Left on Bayard
Cross Warner St
Garage Entrance on left
From I-95 Southbound:
Exit 53 for I-395 to MLK Jr. Blvd. (right lane)
Exit at Russell St. Ramp (first exit)
Left on Lee St
Left on Russell St
Left on Bayard St
Garage entrance across from Warner St on left
*No tailgating
Reserve Ravens Parking In Advance
For fans without permits for M&T Bank Stadium parking lots, the Ravens have partnered with SpotHero, the nationwide leader in online parking reservations, to allow fans to purchase guaranteed parking at several convenient locations within easy walking distance to M&T Bank Stadium.
Once purchased, parking passes are emailed instantly and can be printed at home or redeemed by mobile phone, and entry to your selected location is 100% guaranteed. Parking inventory is limited and many locations will sell out prior to game day, so it is strongly recommended that you purchase your parking pass for Ravens games in advance if driving.
Lots J & O are now available for advanced purchase via SpotHero. Passes are available for full-season purchase and do not renew year to year.
To view real-time parking options and prices, click below.
MTA Service to M&T Bank Stadium
Visit mta.maryland.gov or call 410-539-5000 for schedule and construction information related to Light Rail service or local bus information.
Game Day Transportation: Park & Ride Options
Throughout the regular season Park and Ride service to Ravens games will be provided by a consortium of private charter bus operators. The operators are Academy Bus, Woodlawn Motor Coach, Huber's Charter Bus Service, and AS Midway. The Park and Ride pick up locations will be:
Pick Up Location:
White Marsh Park and Ride
Season Cost: $200
Single Game Cost: $25
Carney Park & Ride
Season Cost: $200
Single Game Cost: $25
Southwest Park & Ride
Season Cost: $200
Single Game Cost: $25
Westminister Target
Season Cost: $200
Single Game Cost: $25
Hyatt Place, Owings Mills
Season Cost: $200
Single Game Cost: $25
General Directions to M&T Bank Stadium
From the South (Airport) 
I-95 North towards Baltimore. Take Exit 52 - Russell St. At the bottom of the ramp veer onto Russell St. M&T Bank Stadium will be on your right.
OR
I-295 North towards Baltimore. I-295 becomes Russell Street and the stadium will be on your right.
From the Northwest 
I-83 South (Baltimore) to Lombard Street and make a right. Then make a left (South) onto Greene Street, M&T Bank Stadium is on your left.
From the Northeast 
I-95 South through Ft. McHenry Tunnel. Take Exit 53 (I-395) North to MLK Blvd./Russell Street (right lane). Take first exit ramp (follow lighted signs). At the bottom of the ramp make a left onto Lee St. and turn left at the light onto Russell St. M&T Bank Stadium will be on your left.
Directions to Stadium Lots