Ravens third-string quarterback John Beck said he felt rusty at the start of Thursday's preseason finale against the Atlanta Falcons.
It would be understandable considering he hadn't started a game since his rookie season in 2007, didn't see any regular season game action all last year and played only four series for the Ravens this preseason.
Understandable, that is, if he showed any rust.
Beck made the most of his opportunity to start and finish Thursday's game, throwing for 232 yards and two touchdowns in a 20-3 win over the Atlanta Falcons. In the process, Beck showed that the Ravens have much more than just a clipboard holder on their roster.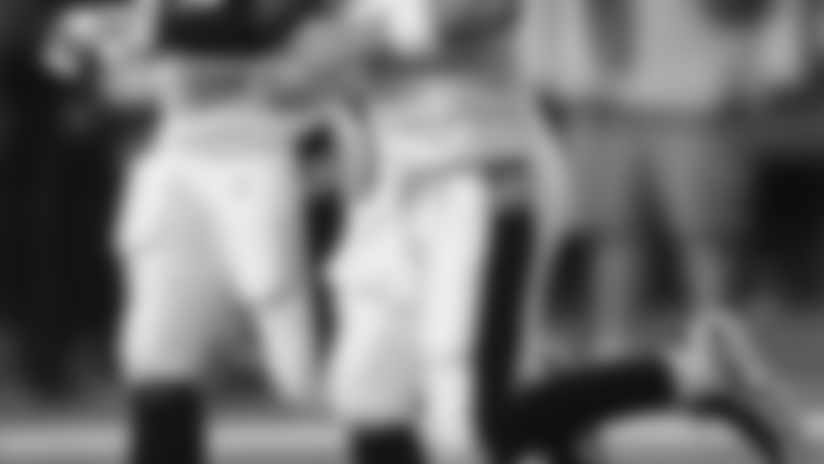 "John Beck played really well," Ravens head coach John Harbaugh said. "John can throw the ball, I think you saw that. We have three really good quarterbacks."
Beck couldn't have scripted a better start. Just after Falcons starting quarterback Matt Ryan stalled in his only game appearance, Beck drove the Ravens 91 yards for a touchdown in their first drive against Atlanta's first-team defense.
Beck completed all five of his passes for 50 yards on the drive, including a 19-yard beauty to wide receiver Demetrius Williams and a 5-yard touchdown pass to rookie fullback Jason Cook in the flats. It marked the Ravens' longest drive of the preseason.
In the third quarter, Beck hit Williams for a 39-yard gain on third-and-16. In the fourth quarter, he engineered the Ravens' second touchdown drive with a 47-yard pass to Eron Riley* *down the sideline that set up a 15-yard touchdown strike, again to Riley.
"Coach Harbaugh asked the whole offense to have that mindset all week long – to believe that we were going to march down the field and put the ball in the end zone," Beck said. "I believe our entire unit thought that, and that's what we did."
Beck, a third-year player and former second-round pick, spent his first two seasons with the Miami Dolphins. He saw action in five games as a rookie under then-head coach Cam Cameron, including four starts, but was cut after this year's draft.
Cameron, having moved on to become the Ravens' offensive coordinator, landed Beck this offseason and slid him into the team's No. 3 spot behind Joe Flacco
and Troy Smith entering training camp.
That position was seemingly put in jeopardy, however, after Beck suffered a shoulder injury in the Ravens' first preseason game against the Washington Redskins. The Ravens swiftly signed two quarterbacks in case Beck couldn't get back on the field – veteran Cleo Lemon, who also has experience under Cameron, and Drew Willy, who practiced with the Ravens during summer organized team activities.
Beck didn't play at all against the New York Jets in the Ravens' second preseason game and threw just one pass – a completion of three yards – against the Carolina Panthers in the Ravens' third game.
Despite that, the pressure behind Beck melted away. The Ravens waived Willy on Monday and Lemon on Tuesday, the final day to get the roster down to 75 players. Just like that, Beck had essentially secured a job past Friday's cuts and seen the coaches' confidence in him.
Harbaugh told Beck a few days ago that he would start and finish Thursday's game. Immediately excited, Beck went to work on getting a rhythm with the backups he's accustomed to playing with in practice.
Then he went out and showed why he deserves a spot on the Ravens roster.
"It felt good to play the whole game," Beck said. "It's been a while since I have been able to play a whole game. I wanted to make the most of it."