I have to say, it must be pretty cool to see a likeness of yourself digitally remade as a video game character. Joe Flacco is one of a select few that have made it to the digital stage.
When I was a kid, I don't know anyone that wouldn't want to battle Koopa Troopers with two mustachioed plumbers, and collect shiny rings with a blue, spinning hedgehog. I'm sure a lot of people would jump at the chance to maneuver their virtual selves across Halo's battlefields or through the dangerous corridors of Bond.
Of course, none of us are future soldiers or secret agents (I don't think…), let alone hedgehogs or super plumbers.
And not many of us are professional football players either, so dropping back from center to hit a receiver down the right sideline in the Madden realm is fairly improbable.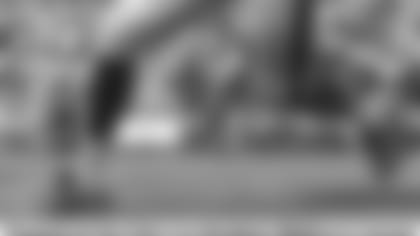 ](/assets/images/imported/mediacontent/~/media/ff35f74c330c4da7ac9e3d4cf7eb30dc.jpg)Flacco is now a part of that world.
As each pick fell off the board in the first round, fans could track the selections on Madden's official Web site and watch a **"virtual pressing"** of each rookie's trading card.
All 31 picks are represented, although last time I checked, San Diego Chargers rookie Antoine Cason isn't an offensive tackle like it says on his card.
Flacco's card has him sporting a purple No. 5 Ravens jersey at M&T Bank Stadium. If you click on the full view, you can see there is no pass rush closing in. I'm guessing that means the offensive line is holding up pretty well…
Now, as mentioned before, I'm willing to bet that the majority of people out there would be thrilled to see themselves in a video game.
I don't know how true that is with players. We joke with them about what their "Madden rating" is, especially when they get short-changed in the speed or strength departments from the game's developers.
I know a lot of the guys play Madden. Mark Clayton is one avid video game enthusiast. He's even got an XBOX 360 in his locker and frequently battled Derrick Mason in EA Sports' NBA Live last season.
Heck, I even saw Willis McGahee **win the Madden '08 Bowl** at the EA Sports party in Scottsdale, Ariz. during Super Bowl week, playing fellow footballers like Patrick Willis of the 49ers, Buffalo's Marshawn Lynch and Cincinnati wideout Chad Johnson.
But I don't think that those guys really like playing themselves in these games. At least not their own teams.
Who knows if Flacco will insert himself into the starting lineup once he fires up the XBOX (or whatever console he owns). From briefly speaking with him during his family's quick visit to Baltimore last Sunday, he's more intent on starting in real life.
Hailing from the small suburb of Audubon, N.J. and attending the University of Delaware, Flacco possesses a humble demeanor. Not "Aw-shucks," but more like he's flabbergasted at all the attention that surrounded him leading up to the draft.
"I have to admit, sometimes you get sick of hearing about yourself," he told me. "You just want to go out and play football. You want to prove to people that you can play. You don't want people to just *talk *about how good you are. You want to show them."
After all, Flacco is a football player. A former Blue Hen, even. Sounds like a far cry from a blue hedgehog.
Comment on this Big Board blog entry.