After 38 years in the NFL, longtime Ravens Head Athletic Trainer Bill Tessendorf has a lot of fond memories, but Baltimore's Super Bowl XXXV win would have to take the cake.
The gregarious "Bill T" was reminded of a story about that win over the New York Giants in 2001, when former Ravens Defensive Coordinator Rex Ryan – currently the head coach of the New York Jets – called this week to check in.
"My fondest memory of the Super Bowl was about three-minutes out. Rex came over to me on the sideline and said, 'Hey Tess, we're about to be Super Bowl champs,'" Tessendorf said.  "It kind of hit home there.
"I worked 27 years to get to the Super Bowl, and some of my colleagues have never been.  But, there are a lot of memories of working with people over the years. I've been in it long enough to see some of my players' kids come through as players.  There are too many to count."
Beloved by players, revered by coaches, respected by media, there isn't much that Tessendorf, 61, hasn't seen throughout his career, which began in 1973 as an assistant trainer for the Cleveland Browns while working towards his master's degree at Kent State.
Tessendorf made the move to Baltimore with Art Modell's Browns franchise in 1996 and has remained ever since.
! From day one, Bill brought to his work amazing energy and dedication. His commitment to his work and the Ravens was unmatched. He has treated and helped hundreds of players as well as countless staff members. He has earned the respect of people in this building and many others throughout the League. It is not an exaggeration to say that he is retiring as the dean of the NFL's athletic trainers. – Dick Cass & Ozzie Newsome
Along the way, he recalled dealing with Pro Bowl linebacker Clay Matthews, Jr. in Cleveland, while current Green Bay Packers linebacker extraordinaire Clay Matthews III was running around the locker room as a child.
"Tess" worked on former Pittsburgh Steelers Head Coach Bill Cowher as a player (1980-82), and then worked with Cowher as a Browns special teams coach (1985-86).
The list of double-dipping in families or seeing the player-coach transition over the years is long, for sure.
"You've got to be a people person in this business," said Tessendorf.  "I've gotten to work with some Hall of Famers and some soon-to-be Hall of Famers when they decide to retire. There's been a lot of guys who are now head coaches.
"They're all special people to me."
That's why it was a tough decision for Tessendorf to finally hang up his clipboard.
He admits that retirement was something he had thought about for a while.
On one hand, it's a job he that readily admits "was enjoyable to go to work every day."  Plus the Ravens advanced to the playoffs for the third consecutive season in 2010 and are in a good spot to repeat this year.
There are also the relationships Tessendorf has built over his many years in the league.
At the end of the day, the call to family was too much.  Tessendorf is looking forward to spending more time with his wife, Nan Jean, and daughter, Amy.
"I've been thinking about it for a while, and for me, the timing is there," said Tessendorf. "I've told a lot of people that I've admired athletes that retire at the top of their game rather than the decline, and I think I'm still at the top of mine.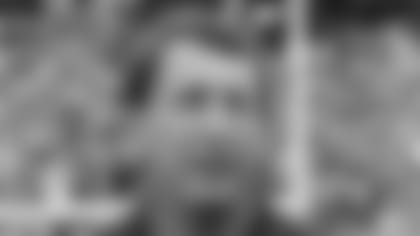 Title: Head Certified Athletic Trainer
Year Joined Ravens: 1996
Years with Ravens: 15
Years in NFL: 26
College: Ball State University
High School: Lewiston Porter HS
Hometown: Lewiston, New York
Birthday: 4/19/1956
"It's time to spend some time with family."
Tessendorf's final day at the Ravens' training facility in Owings Mills, Md., was last Friday.
His space in the Ravens' staff locker room is cleared out, and former Assistant Trainer Mark Smith has already moved into Tessendorf's office.
But Tessendorf's marks are all over the Ravens' franchise, from Cleveland to Baltimore, and wherever any player has moved on.
Bill T joked that the first thing he has planned this offseason is to figure out what to do with all the stuff from the office (which is now stored in his home garage), but he looks forward to watching Ravens games from afar.
"Right now, my plan is to adjust every day," said Tessendorf.  "That's what they tell you with retirement. There's nothing pressing, so I'm looking forward to it.  I like Maryland.  I enjoy where we live and I've still got my season tickets.
"I talked to my colleague from Pittsburgh [trainer John Norwig].  We kid each other, because for three hours, twice a year, we hate the hell out of each other.
"Now, I'll be chatting with him if I'm watching the Steelers, but I'll have a beer in my hand."
With a hearty laugh, it's hard to think of what the halls at Ravens headquarters will be like without Tessendorf on patrol.