PLEASE NOTE:The opinions, analysis and/or speculation expressed on BaltimoreRavens.com represent those of individual authors, and unless quoted or clearly labeled as such, do not represent the opinions or policies of the Baltimore Ravens' organization, front office staff, coaches and executives. Authors' views are formulated independently from any inside knowledge and/or conversations with Ravens officials, including the coaches and scouts, unless otherwise noted.
From his first season with the Tennessee Oilers in 1997, he has embodied a competitive nature and an exceptional work ethic. He has played in a Super Bowl, two Pro Bowls and is one of the toughest players on the field. Remember when he did not miss a game, barely a snap, while suffering through a difficult and painful shoulder injury in 2008?
Now in his 14th year, **Derrick Mason** has accomplished great things on the gridiron.
He's the only player in NFL history to produce at least 5,000 total return yards and 11,000 receiving yards. Last season, he also became the 23rd receiver in NFL history to reach the 11,000-yard milestone. Entering the 2010 season 14th all time in receptions, he continues to climb the league's receiving charts.
It's a real wonder that he didn't begin playing football until his junior year at Mumford High School in Detroit.
"Well, I did play little league for probably about a couple of practices, but after that, it just wasn't for me. I just didn't enjoy it at the time," Mason recalled. "I was a track runner and a basketball player, and I only played football with my brothers in the neighborhood.
"At Mumford, my track coach, Robert Lynch, was also the football coach, and he said, 'Come out and see how it goes.'"
Helping influence him to pick up the pigskin were his three older brothers. They had always wanted him to play football like them.
"My oldest brother, Willie, would make me and Jackie (the brother only two years above him) play football against each other. We would play one-on-one football across the street from the house, and he was always bigger than me, and I couldn't stop until they said, 'Game's over.' I guess it helped me build up my mental toughness. We all fought [amongst ourselves], but nobody messed with us, nobody messed with me, because they'd have to deal with my older brothers."
As the middle child of seven (five boys and two girls), Mason had a pack in his corner. His siblings weren't his only support, however.
His mother, Glennie, remarried when Derrick was young, and his stepfather, Albert "were two hard-working parents. My father was stern. He was an Army guy. He made sure we did what we were supposed to do. He taught us how to be a man, and we couldn't get away with anything with him.  My mom had to juggle the kids and working. She did whatever she had to in order to support us. I appreciate now what they went through then. Now it all makes sense."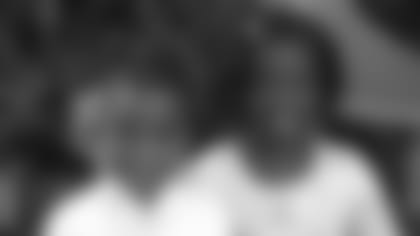 It's the family support with which Mason was blessed that has helped mold this football warrior and father of two. That will to win, and the will to outwork the player across from him is rarely matched. They are traits he hopes to pass on to his children, daughter, Bailee (11), and son, Derrick, Jr. (7), who have quite different personalities, according to their dad.
"He's quiet. He's very reserved and just goes about his business," Mason explained about his son, "D.J." "He's just a sweet kid. That's what the teachers always tell us. But Bailee, she's totally different. She's outspoken, and everybody takes to her because she has that quality, that type-A personality. But she always wants to help people in their time of need.
"But I think the best part about them is that she protects him, and they take care of one another."
Mason really enjoys being a father and has used the life lessons his parents taught him to help guide his own children. He has thought about helping coach D.J., who plays basketball and baseball, but says he wouldn't want other parents or his teammates to think his son might be getting any preferential treatment because of Mason's stature.
"If I was ever to become a coach in a little league level, the first thing I would do is bring all of the parents in, and I would tell them, 'Everybody's playing. I don't care if your kid is the best. We're not here to win. We're here to have fun and play. We might win some games, we might not, but that's not my main objective. We're here to have fun.'"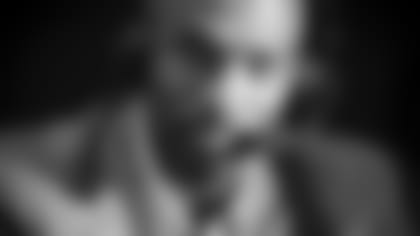 For someone who has seen it all and has been mentored by a number of well-respected coaches, including current University of Alabama Head Coach Nick Saban (Mason's final two years at Michigan State), Tennessee Titans Head Coach Jeff Fisher, and of course, Baltimore Head Coach **John Harbaugh**, Mason clearly has the credentials to coach at any level, but his heart seems to be elsewhere.
Now in the fourth quarter of his illustrious career, the proud Detroit native has not only thought about life after the NFL, but has already gained experience in the field he hopes will be the next stage of his life: broadcasting.
*The Derrick Mason Show *airs every Wednesday at 6 p.m. on WBAL AM-1090 live from The Greene Turtle in Owings Mills. It's the fifth year Mason has hosted his own show.
"I like doing radio. [After football], I think my strength would be to host a pre- or post-game radio show. I'd also love to do television, be on CBS or ESPN, doing a pre-game show, but my dream job would be to be a host on HGTV. I love HGTV! I'm intrigued with homes being built, homes being refurbished, just the whole process. 'House Hunters' is my show. So if you're out there, that's my dream."
But for now, Mason's on-field dream is playing in another Super Bowl.