Todd Heap: "You Got Me With 'Hard Knocks'" 
The Ravens hosted the first-ever "Hard Knocks" on HBO during the 2001 offseason, which, of course, followed our Super Bowl XXXV championship over the Giants. It was good television and a ratings hit.
The reason it worked so well that year was because we were the hottest team as the defending champions, and we had dominant, entertaining personalities: Ray Lewis, Tony Siragusa, who is here today as part of the FOX-TV crew preparing to broadcast Sunday's game against the Seahawks, Rod Woodson, Shannon Sharpe, Brian Billick, Jonathan Ogden and our rookie tight end and No. 1 draft choice, Todd Heap.
"You got me on that one," Heap said recently. "I didn't know what I was getting into. You just kind of said, 'We're doing this thing with HBO, and they want to feature 10 players in it, and you have to be one of the guys, because you're our No. 1 draft pick."
Truthfully, that's kind of what we told Todd. "Then, they had TV crews coming to my house, following me around with my new wife [Ashley], putting a mic on me. Whew, I was naïve. I would have never said 'yes' if I knew what was going to happen," Heap chuckled.
Heap survived "Hard Knocks" and his first training camp. He became one of our stalwarts and leaders, finishing his career with the most touchdown catches in Ravens history and the second-most receptions and receiving yards.
Our season ticket holders voted Todd, who is in the Ravens' "Ring of Honor," as one of the 10 best players in our history, and he agreed to answer 20 questions to help us celebrate our 20th season. Here are his answers:
What comes to your mind when you hear "Heeeeeap"?
"That's very special to me and think it's so cool. The fans have been very good to me and I look forward to every time I come to a Ravens' game and hear it."
"I watch it now, and I look and act like the youngest 21-year-old in the history of the NFL. It's hard for me to watch, because I don't look at myself as a TV guy. As a team, we had fun with it. Brian [Billick] showed us how not to treat it as a big deal. I think it kind of made us a closer team."
"A great mentor to me and one of the best tight ends to ever play. There was not a bigger personality in the league, and I enjoyed every minute with him. A true professional in every way."
Your first-down catch against the top-seeded Titans in the 2008 playoffs?
"I was in a lot of pain that day, and I was fighting through it. We were not supposed to w
in there, and we loved that. We needed a first down to get in position for the winning field goal. I don't think it was a spectacular catch, but they ripped my helmet off when I did catch it. That made it look better than it was. We were able to kick the field goal and win after that."
"He is the calmest, most confident guy I've ever been around – and he's a friend."
Your touchdown catch against the Chargers in 2006?
"That was one of my favorite plays in M&T [Bank Stadium]. You dream when you're a kid of making a play like that – catching the game-winner in the last seconds. That was fun. The play wasn't meant for me. Wasn't even the second or third read, but [quarterback] Steve McNair had a knack for finding the open guy. I was kind of the last resort. I dove and was across the goal line, and we beat a good San Diego team."
"He ran our team like a family, and I was so fortunate to come to a team like this. He did not treat us like commodities. We had an unbelievable relationship. I would sit with him. He got to know my wife and kids. It was special, and I cherish that."
"He's the best owner in the NFL. The passion he has to compete, and he brings that to the Ravens. His business skills have made us better, but he has kept the family way that Art [Modell] established. He's a great manager who knows how to put people in the right spots to succeed and then lets them do their jobs. He's a good guy, too, and fun to be around."
"It's special. Every time I come there and see those names, and to think I'm one of them. … [I'm] just honored to be there, among that group of people. And, we all have different stories in how we got there. We were all standing there with Ed Reed when he went in a few weeks ago – the caliber of the people and athletes. It's humbling. To be accepted that way by the fans and the organization, special is the word that keeps popping up."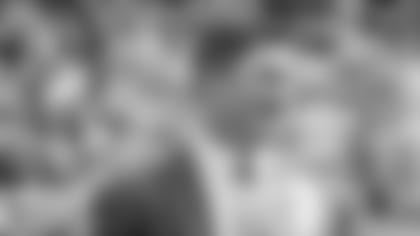 What does family mean to you?
"Family has always been the most important thing in my life. And, now with my own, it's even more important. It's the most important calling in my life, to be a husband and father. I look at how my parents raised me, and I hope I can be as good as they are. Family was always ahead of football. I would place God first, family and then football. Football was a huge part of my life, but family is always bigger."
What makes Todd Heap smile?
"I just got done jumping on the trampoline with my 2-year-old daughter, and it's hard to get a bigger smile than that. I took all three of my boys golfing this morning. That was a lot of fun. [My wife] Ashley makes me smile every day. Family and all of the events we do, that regularly makes me smile."
"One of the things that gets me is when I see people who are not humble. They forget where they came from and who helped them get there. They forget why they are there and forget the reason they are doing what they are doing."
What was your "This is my NFL moment?"
"We had all of those Pro Bowl players on defense when I first got here. It was my first training camp practice, and I caught a nice, easy pass over the middle – pretty routine play. Then Ray Lewis, who dropped pretty deep in a 'Cover 2,' came flying up and hit me just as I made the catch. I remember flying face first into the turf, and felt like I had whiplash. I caught it, but remember looking at Ray and thinking, 'This is different from the college ball I played.'" 
Best basketball player in Ravens history is…
(Laughing) "There's no question, I have to put myself there. I don't know who else it would be. Name somebody else. Can't think of anybody?" (Heap was recruited to Arizona State as both a football and basketball player – until the football coach told him "No basketball" after Todd's freshman football season. Heap had been a starter on one of the top AAU basketball teams in the country.)
Your favorite holiday and why?
"Thanksgiving is great, but Christmas is my favorite. Just what it represents with the birth of Jesus Christ, which is a huge part of my life. Celebrating that is a big part of our family's lives. And, our kids just light up with that and all the other stuff that comes with Christmas with the lights, the gifts. There's a lot of joy in December in our house."
"I have a couple, but none bigger than my Dad. I think of the countless hours he sacrificed of his own life for me, my brothers and sisters. I'm at a loss for the right words to tell how I think about him. He coached me in all of my sports: football, basketball, baseball. He took us when he did things. He's my real hero. … Both of my grandfathers are heroes, too. They both served in the armed forces and served our country. I respect them very much."
What does it mean to be a Raven?
"Wow, it's about being hard-nosed and doing whatever you have to do to win. We've always been perceived as kind of a bully, and we don't mind that reputation. But, it's more about being relentless. We play within the rules, and we have fun doing it. You look at our best players through the years, they all had that spirit."
The team you most loved to beat?
"No question, the Steelers. I've run into Steelers fans all around the country, and some have come up and said, 'Todd Heap, oh, we hate you.' I usually tell them, 'Hey, the Steelers are my second favorite team.' Then they say, 'Oh really? That's awesome. I might like you a little bit now.' Then I respond, 'It's because I had all my best games against the Steelers.' And, then they go right back to being Steelers fans."
The best place to win on the road?
"No question, no question, it's Pittsburgh. First, it's the best rivalry in football. There is not a better game to watch with the physicality. It was the ultimate competition. You knew how you'd feel in the days and weeks after playing them. And, winning over there, with that crowd, now that was fun."
Where will Todd Heap be in five years? 10 years?
(Laughing) "I don't know where I'm going to be tomorrow. [My oldest daughter] Brooklyn will be graduating from high school and off to college. [The] boys will be going into high school. Guess it will be like now, going to lots of our kids' events and games. … In 10 years, wow, guess we could have grandkids. I hope I'm doing something I love to do. There are things in business and sports that intrigue me. I hope I'm involved with one of those."
Todd will be our "Legend of the Game" this Sunday when we host the Seahawks. We can all chant "Heeeeeap" when he is introduced in the first quarter. Let's surprise all those folks who believe Seattle will come into Baltimore and win. Let's beat the Seahawks.
Talk with you next week, Kevin