Around Ravens headquarters in Owings Mills, Md., the offseason conditioning program is three weeks old, and momentum only continues to build.
A large contingent of players came to the Ravens' training facility this week, making the atmosphere nearly as bustling as it is during the regular season.
Walk through the weight room, and it is a flurry of clanging weights and shouts of encouragement over blaring Van Halen guitar riffs or T.I. hip hop beats.
Head to the indoor fieldhouse, and players profusely sweat as they run sprints back and forth on the green artificial turf.
Work obviously continues in earnest.
"With all the things were doing throughout the day to improve our team during the offseason in free agency and the draft, the most important thing we can do at home is to help every single player on our current roster to improve as a football player," said head coach **John Harbaugh**. "That's what the offseason program is about.
"We want to get bigger and stronger, do the agility drills and study football. Those are all things we can do to help our guys be the very best."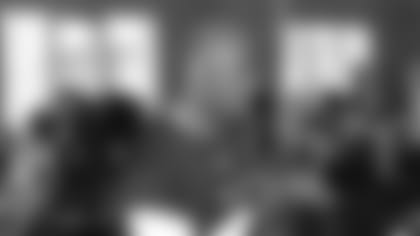 The program, which is 100 percent voluntary, has seen great success in attendance numbers. And, it's not just how many, but also who.
Pro Bowlers Ray Lewis![](/team/roster/ray-lewis/1c6d5ed3-fe49-4a89-a6b5-9e358e906ae7/ "Ray Lewis"), **Le'Ron McClain** and Brendon Ayanbadejo![](/team/roster/brendon-ayanbadejo/0e939635-1a76-4e0f-a8e4-525731af352f/ "Brendon Ayanbadejo") have participated. Wideout **Derrick Mason** is a staple. Quarterback Joe Flacco![](/team/roster/joe-flacco/3e20766f-6520-4ca1-9901-44389aaea8b8/ "Joe Flacco") practically lives at the facility.
Ravens strength and conditioning coach **Bob Rogucki** attributes the positive turnout to his charges' stellar work ethic, and he is trying to keep the session fresh to feed their desire to train.
On Thursday, the players ended the conditioning portion of the day by pushing ground-level sleds from sideline-to-sideline in a final burnout.
"It starts with the leaders of the team, and that goes for every position," Rogucki said of the high energy-level. "If they come out and participate, that sets a standard. The thing that you have to do is make it exciting for them. It has to be different, and we've tried to change the things that we do.
"This week, we included the sled push to our program. We've built on what we do from Week 1 to Week 3. Eventually, we'll be able to push those sleds five or 10 times. Looking down the line, we'll add a pulling method after they finish their leg press."
Rogucki also has a game he calls "trash can basketball," somewhat of a hybrid between hoops and Ultimate Frisbee. Players split into two groups and pass the ball to a teammate, who can run until he is tagged by the opposition. The next ballcarrier then must find another teammate and so on, until someone can get the ball into their designated trash can.
It's an interesting kind of exercise, but all in an attempt to keep things competitive and engaging.
"We've brought in different equipment, used different things on the turf," explained Rogucki. "You have to make it interesting, because once you get into the grind of the season, it can get repetitive. There isn't a different approach on their part as far as the effort goes, but in our area, we're maintaining what they've done in the offseason.
"So, we want to get the most out of them now."
Building camaraderie is another benefit of participating in the offseason program, especially when a new face joins a position group.
For example, the Ravens had a very close-knit offensive line last year, but lost center Jason Brown when he signed a lucrative free agent contract with the St. Louis Rams.
Baltimore brought in six-time Pro Bowler Matt Birk![](/team/roster/matt-birk/f7490078-5e55-4d88-adfc-334ae2919b31/ "Matt Birk") from the Minnesota Vikings to replace Brown, and he's already begun to fit in with his teammates.
"We're bringing it all together," said left tackle **Jared Gaither**. "I'm happy all of us are here [at the facility], because we have a new piece to the line and we can continue to build as a whole group. Matt's a professional and a great guy. It was tough to see Jason leave, but Birk can step in for him.
"We're all just working together."
Even though Gaither is only talking about the offensive line, his statement works for everyone involved.