More than 6,600 fans came out to Training Camp on Friday morning to witness the Ravens' first full-squad practice of 2008. At the end of the two-hour session, a number of players, including Ray Lewis, Ed Reed, Willis McGahee and Derrick Mason, obliged hundreds of these purple and black-clad faithful by signing autographs for almost an hour.
With near-record crowds expected again in Westminster for Saturday's two-a-day session, I decided to make the pilgrimage up Rt. 140 to watch practice, mingle with fans, get some autographs and experience just what it's like to be a Ravens fan at Training Camp.
I was out of bed when my alarm sounded at 6:45 a.m. After throwing on a purple Ravens t-shirt and white Ravens hat, I packed a backpack with a few essentials for the day. The temperature was supposed to hit 90 degrees by noon, so I loaded my bag with three bottles of cold water, along with a snack in case I got hungry. Since clouds were not in the forecast, I also threw in a bottle of SPF 30 and my sunglasses. And knowing that there would be an opportunity to get some autographs after practice, I also packed a football and a few 8"x10" photos of several players that I had printed off my computer the night before.
Shortly after 8:00 a.m., my car was one of many in the caravan on Main Street headed to McDaniel College. (And it seemed as though every sedan and SUV in this convoy was adorned with a Ravens bumper sticker, birdie head car magnet or helmet window cling.)
Despite having a special Training Camp parking sticker on my vehicle, I fended off the urge to park in the employee lot and instead processed into the Visitor Parking area. Hundreds of cars were already parked in the paved spots and many of the grassy areas reserved for parking were full. I was directed to a spot overlooking Bair Stadium, just a few hundred feet from the entrance to Ravenstown.
My first taste of Ravens camp on this day came after I walked underneath the "Welcome Fans" sign and entered the Ravenstown Fan Zone. Full of interactive games and football information, I heard one parent ask his child if he wanted to watch practice or play all morning. The Bounce House, Up & Over Slide, Gatorade Junior Training Camp, various passing and kicking games and—my personal favorite—the Gladiator Joust are just some of the games in which children can participate for free when they visit Training Camp.
As Bob Marley songs blared from large speakers, I continued to explore Ravenstown. In addition to a souvenir truck and refreshment stand, there are several other tents that offer fans information about Ravens Roosts and Nests, as well as an area to sign up for a Ravens Rookies Kids Club membership (which grants children access to a special autograph area after practice). Had I forgotten to bring items for autographs, I probably would have also stopped by the tent selling a Ravens poster, paper and a signature card for just $2.00.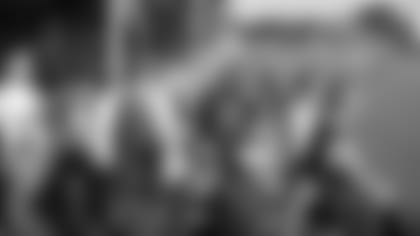 Before heading up to the main fields, I decided to check the daily practice schedule that is prominently posted by the main entrance. I also made sure to grab a complimentary roster (which is extremely helpful in identifying some of the lesser known players) as well as a map of McDaniel College.
I proceeded to the upper fields and, to my surprise, practice was already in full swing despite it being 20 minutes until the official 8:45 a.m. start time. Hundreds of fans had already picked out the spots they would man for the next several hours.
A large group of people stood in the designated autograph section, mostly leaning against the metal barricades. The intentions of these fans were clear. Black, silver and gold Sharpies stuck out of their pockets. Duffle bags full of footballs, helmets, photos, Wheaties boxes, and trading cards sat at their feet with the hopes that they would be lucky enough to get their favorite players to sign some of the memorabilia in a few hours.
Next to this spot was the bleacher area positioned underneath six large tents—probably the most popular location to view practice. At 8:30 a.m., there were still empty seats scattered throughout the metal benches, but these shady spots would fill up quickly as the sun rose higher in the sky.
Just in front of the bleachers (and the protection of the tents) sat many fans in folding chairs and low stools. These people arrived early to ensure themselves an up-close view of the Ravens players and a front-row autograph spot at the end of practice.
At the far end of the field, past the tents, a number of fans preferred to lay beach towels on the ground and sit in the grass while watching the Ravens prepare for the season.
In walking around and talking with fans, I discovered that most people had been camped in their spots for two to three hours. Eventually, I bumped into Kevin Keyton from Glen Burnie, Md.
"We left at 3:00 in the morning and got here at 4 a.m.," Kevin told me, noting that there was only one other car in the parking lot when he and eight other members of his family arrived together. The family said they passed the hours by playing football, sitting around talking and just waiting.
Keyton, whose family ventures out to Training Camp once or twice each year, continued by explaining his dual intentions of watching practice and getting autographs. "I like when the players practice on the upper fields because you can get a good autograph spot and still watch practice all morning."
A short while after talking to the earliest arrivals, I was able to find the youngest fan present at Saturday morning's practice. Clad in a baby outfit covered with purple birdie heads, 11-week old Hunter Benedict of Hagerstown, Md. watched practice from the arms of his parents, Harvey and Jodi.
Hoping his son would be able to obtain his first autograph at his very first Ravens Training Camp, Harvey proclaimed, "We'll take anybody we can get."
Added Jodi, "He's been to an Orioles game, the aquarium and now Training Camp. This has been the best 11 weeks of his life."
When 8:45 a.m. rolled around, a long air horn sounded and the pace of practice picked up a notch. People who had set up their chairs and left to explore Ravenstown rushed back to their spots to get an up-close view of the new-look offense.
Despite the early Saturday morning hour, fans shouted words of encouragement to the players throughout the morning.
"Boller! Nice throw, Boller!" yelled one fan.
"Get it Ray!" another roared as Ray Rice fielded a punt.
And although it wasn't as loud as the chants you hear on a Sunday afternoons at M&T Bank Stadium, a throng of fans serenaded Todd Heap with a sustained, "HEEEEEAAAP!" as he and the other tight ends ran off to do a blocking drill.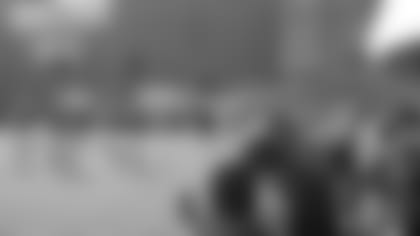 One of the best parts about Ravens Training Camp is the opportunity for fans to be so close to their sports idols. While standing at one end of the field, Willis McGahee and the other running backs conducted a running drill a mere 20 feet from spectators. Before Boller, Troy Smith and Joe Flacco took snaps, everyone in attendance could hear the quarterbacks shout out calls to the offense. People pulled out cameras (and camera phones) and snapped pictures that you can only get during the season by standing on the sidelines.
"There's your guy. See, No. 23," a father pointed out to his young son (wearing a McGahee jersey) who gawked at his favorite player from about 50 feet away.
The experience also lets fans realize how hard some of the drills are, as one man commented, "You know what the amazing thing is? They make it look so easy on Sunday, but during the week they work hard!"
Personally, I enjoyed being able to get a good sense of the players who might make the team and their skills that you can only learn about by watching them. For example, you might read in the paper that a wide receiver made a nice grab, but unless you're here, you can't know about the beautiful move that receiver put on a defensive back or his incredible burst of speed he used to get open.
And BR.com might report about which quarterback had a good day, but if you're at Training Camp, you can witness the decision-making ability of each QB and watch them throw the deep ball when they have a chance or be smart and throw short when everyone else is covered.
The other unique opportunity fans get at camp is the chance to talk with other fans. Spectators seemed to analyze each play of the morning's practice—every throw, every tackle—as if they were guest hosts on NFL Countdown. In between plays, the discussions were ongoing and the topics were limitless. Some people jotted notes and grades next to players' names on their roster sheets. Others argued about the young offensive line. And of course, everyone seemed to have an opinion about the trio of quarterbacks.
"I was a little bit skeptical, coming out of D-II. But this kid has got a cannon…He wowed me," said one fan of Flacco after seeing him for the first time.
"Kyle Boller needs to be our starter. Experience is more important than anything," chimed in another fan.
Clearly, Ravens fans all seem to have an opinion about everything regarding their team, and most are more than willing to offer it to whoever is willing to listen.
Around 10:15 a.m., the autograph section near one end of the field began to get a little more crowded as people began to pull out footballs and Sharpies. Some Training Camp veterans even discussed their autograph strategies with the newbies.
I struck up a conversation with the guy standing next to me as he sounded as though he'd done this before.
Doug Myers from Baltimore, Md. told me he's come to Westminster every year since 1998. Doug usually visits McDaniel on the first day of camp because that's when the more popular players like Ray Lewis and Ed Reed will sign the most autographs, but said, "We've never gotten snuffed," on any day he's ever come. "The players are all very nice. They sign a million autographs," he added.
On this day, Myers carried a Notre Dame mini helmet he hoped to get signed by rookie Tom Zbikowski. However, he said the best autograph-seeking advice is, "Don't come wanting one guy," since there is no guarantee that a particular player will be signing on that day.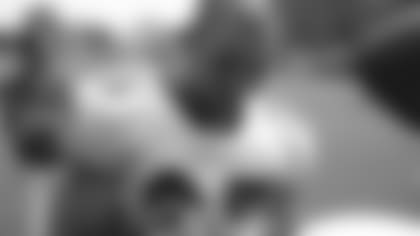 Myers and several other fans pointed out that 8"x10" photos are good items to have because they catch players' attention and are easy to sign if you have them on a clip board.
Shortly after our conversation, Zbikowski was the first player to approach our area. (Myers was able to get his golden mini helmet autographed by the Ravens' third-round draft pick.) Following the rookie safety, a group of players that included Yamon Figurs, Corey Ivy, Dawan Landry, and Derrick Martin all took turns chatting with, signing items for and taking pictures with fans in our area. Kicker Matt Stover also came over and took the time to sign autographs and socialize with spectators.
Throughout the half hour after practice, the fans standing around me were extremely polite to the players and friendly to each other as well. Everyone waited patiently and some fans standing in the front even helped others in the back get their items signed. Most people walked away with at least 10 players' signatures.
And that was it. Several fans lingered around to take pictures with Captain Defense and Sports Steve, but by 11:30, most of the parking lot had cleared out. There was no doubt that many fans would return for the afternoon practice in a few hours, but once practice was over and the players were done signing autographs, people did not wait around in the 90-degree heat.
Regardless of the temperature though, most fans seemed to have smiles on their faces as they exited camp.
Maybe Myers best summed up the whole Training Camp experience when he said to me, "This is why football is the sport in this town. [No one else] does anything like this." Whatever your intention for making the trek to Westminster—whether you're there to watch practice, talk to fellow fans, get autographs or just sit in the sun on a nice summer day—as Myers put it, "It's just fun to go."
Linda Howell from Owings Mills, Md.—sporting a purple McGahee jersey to her first Ravens Training Camp—agreed.
"I don't care much about practice or autographs," Howell commented. "I'm not much of a Ravens fan, actually, but my husband is a big fan and it's just fun to come."