PLEASE NOTE:The opinions, analysis and/or speculation expressed on BaltimoreRavens.com represent those of individual authors, and unless quoted or clearly labeled as such, do not represent the opinions or policies of the Baltimore Ravens' organization, front office staff, coaches and executives. Authors' views are formulated independently from any inside knowledge and/or conversations with Ravens officials, including the coaches and scouts, unless otherwise noted.
Joe Flacco continued his torrid streak since Week 2 with one of his best performances of the season in the Ravens' 26-10 win over the Miami Dolphins (4-4).
The third-year quarterback completed 20 of 27 passes for 266 yards and two touchdowns under blustery conditions at M&T Bank Stadium.
In the face of intense pressure from Miami's relentless pass rushers – Flacco was sacked four times and hit five others – he still managed to post a 129.6 quarterback rating, his highest mark of the season, with a big tip of the cap to running backs Ray Rice and Willis McGahee.
All told, the Ravens logged 402 total yards of offense, the second time in 2010 they've surpassed 400 yards.
"Joe was very patient in the pocket. It may have led to a sack or two, but you know what? Sometimes we can live with that," said Head Coach John Harbaugh, who improved his record after the bye to 3-0. "Because I thought Joe did a good job of keeping his poise, keeping his eyes downfield, looking to make plays.
"That gave us an opportunity to get the ball to the backs and let Ray run with the ball after the catch. I think his patience in there set that up."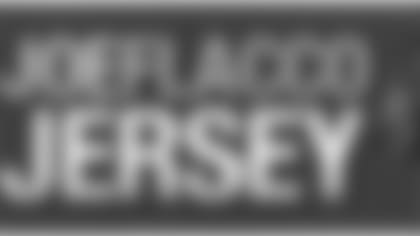 ](http://baltimoreravensstore.com/Joe-Flacco-Home-Replica-Jersey-p-16790.html) [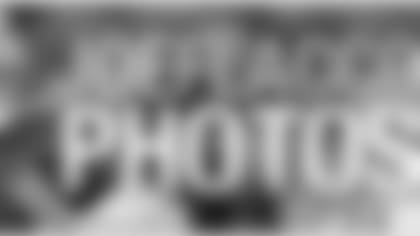 ](http://www.replayphotos.com/baltimoreravensphotostore/players-pictures/joe-flaccoPLYRSJFLAC__0001024.cfm)
With a fellow 2008 draft class member, Chad Henne, throwing three interceptions and generally getting harassed all game, Flacco led the Ravens to a 6-2 record and helped them remain among the AFC's leaders.
Flacco, the former 18th-overall selection, entered Sunday's contest with the highest passer rating in the NFL since Week 3, boasting a 105.0 mark.
And he kept his name on the leaderboard utilizing both of his backs underneath Miami's coverage.
Outsiders had criticized Flacco for checking down to Rice too often in recent games, yet that was the Ravens' bread and butter for the large part of the day.
Rice had seven catches for 97 yards, leading the team with 180 total yards from scrimmage (83 rushing). In addition, McGahee's three grabs went for 42 yards.
Eluding Dolphins defenders, breaking tackles and relying on solid downfield blocking, the Ravens were able to keep Miami on their toes when the deep ball was taken away.
"We were looking downfield, and they did a good job of covering it up," said Flacco. "Ray did a good job of kind of breaking away from the underneath guy. The linebacker's not going to be able to cover him with his quickness."
It was McGahee who kicked off the scoring, taking a short screen pass on the left side through several defenders to a 32-yard touchdown on the Ravens' opening drive.
The seven-play, 76-yard march was the first time the Ravens scored a touchdown on their opening series all year.
Both Rice and McGahee struck in the second quarter when they took short dumpoffs for 12 and 8 yards, respectively, en route to a 39-yard field goal by Billy Cundiff that put Baltimore up 13-7.
And in the third, the shifty Rice put on a clinic, hauling in passes in the flat and juking his way for 15-, 12- and 34-yard gains. All Rice's catch-and-runs set up a 12-yard touchdown dart to wideout Derrick Mason, which gave the Ravens a 20-10 lead.
](http://baltimoreravensstore.com/Ray-Rice-Home-Replica-Jersey-p-16918.html) [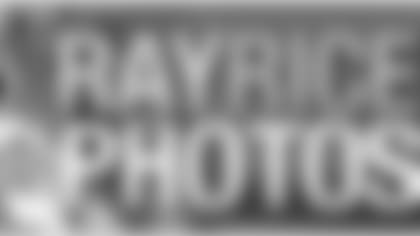 ](http://www.replayphotos.com/baltimoreravensphotostore/photo-store-setup-print/-_252729.cfm)
"Even if I'm last in the progression, if I'm able to win, if Joe hits me with the pass, I can turn that five yards into 15 yards as long as I'm in space," Rice explained. "Joe was seeing me today, which is great. The offensive line held up in protection against a great pass rush. We just did a great job of getting the points that we needed."
A physical Dolphins squad hung around for much of the game – at least the first three quarters.
Running back Ronnie Brown rushed six times for 45 yards on Miami's opening march, eventually crossing the goal line and tying things up at 7.
Dan Carpenter nailed a 19-yard field goal in the second quarter and pulled the Dolphins within 13-10.
But in addition to Mason's distancing touchdown following halftime, the Ravens' defense clamped down.
Brown only posted three more carries and gained 15 more yards after his initial outburst, Henne was sacked once each by defensive tackle Haloti Ngata and linebacker Terrell Suggs in key third-down situations, and Carpenter missed a 46-yarder in the fourth quarter that would have made it a one-touchdown ballgame.
The fact that safety Ed Reed and cornerback Josh Wilson both intercepted Henne – the former second-round pick – in the fourth quarter put things out of reach.
For a Ravens defense that allowed 514 yards of offense to the Buffalo Bills in Week 7, a pass rush looking to raise its sack numbers and a secondary that heard many of its own players citing poor tackling, Sunday was a solid beginning to the second half of the season.
"I wouldn't say we struggled, but a lot of teams had success against us early in the season, and it's rolling in our favor now," said Suggs. "It's just that time of the season. We knew we didn't want to have another Buffalo game and scare the hell out of our fans and family at home, so we just got it corrected early and had the day we did."
Now, the Ravens must turn their attention quickly to the Atlanta Falcons. Baltimore has a Thursday night showdown with the NFC South-leading Falcons this week at the Georgia Dome.
"We're going to enjoy this one for about two hours, and then we're going to go to work on Atlanta," Harbaugh said.  "We have a new challenge next week."