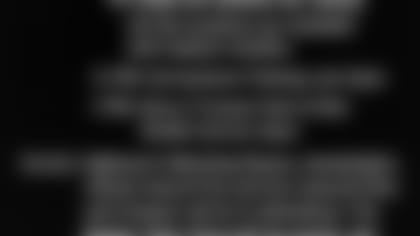 Programming Note: Due to WBAL's Olympic coverage, the Ravens preseason game against Atlanta will air on WMAR (ABC) locally. The game can also be seen on WBAL Plus, WJLA-TV and WHTM-TV and heard on the radio at 98Rock.
Haloti Ngata grabbed rookie center Gino Gradkowski by his shoulder pads, tugged him to the left, then tossed him to the right.
Gradkowski, who was running with the first team in Tuesday's training camp practice, was badly beaten. He walked back to the huddle frustrated.
"Marshal [Yanda] just reminded me not to get too down because he's probably the best player I'll face all year," Gradkowski said with a laugh.
With veteran Matt Birk scratched from Thursday's preseason opener in Atlanta, Gradkowski and second-year guard/center Justin Boren are in the running to get the starting nod.
They'll finally get to face somebody that isn't an All-Pro.
"If I do get that opportunity it's going to be very exciting," Gradkowski said. "Either way, I'm just looking forward to facing somebody new."
The fourth-round pick out of Delaware has had quite an adjustment to the NFL.
He said learning the playbook hasn't been a problem, and he feels good in run blocking. But pass protecting is where Gradkowski said he needs the most work with technique and consistency.
Earlier in camp, Head Coach John Harbaugh said Gradkowski is a "young guy, physically." At 6-foot-3, 300 pounds, he is outsized in practice against the likes of Ngata, Terrence Cody and Ma'ake Kemoeatu.
Gradkowski dominated at the Division 1-AA level, but he's facing a major leap in size and skill against the Ravens' defensive front.
"That's the great thing about football. As soon as you get on your high horse, it'll knock you right off," he said. "It will keep you humble. You just have to keep working, keep grinding."
Gradkowski was originally drafted to be groomed behind Birk. With Birk missing almost all of training camp practice, Gradkowski's development has been accelerated.
Same goes for Boren, who signed as an undrafted rookie free agent last year and spent all of the regular season on the practice squad. He was pulled up for the playoffs.
"They are progressing very well – probably a little quicker than we expected mentally," Harbaugh said. "They both are very athletic, have very good feet. The question with those guys, because they are not the biggest guys ever, is how they are going to hold up physically. We have a pretty big front, and they have held up fine."
On Thursday night, Gradkowski and Boren (6-2, 315) will line up opposite Atlanta's pair of 6-foot-2 defensive tackles Peria Jerry and Jonathan Babineaux. They are 295 and 300 pounds, respectively, and both smaller than the men Gradkowski and Boren see in practice.
Evaluators will finally get the chance to see how Gradkowski and Boren fare when faced with players closer to their own size.