After a debut performance that didn't exactly get rave reviews from the judges, Jacoby Jones went to his bread and butter.
The New Orleans native rocked a high-flying, high-energy jazz routine – the first of its kind this season – in his second performance on ABC's "Dancing With The Stars" Monday night.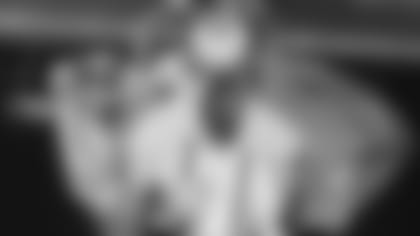 He scored a 23 out of 30, the third-highest score of the evening. For the second week in a row, 16-year-old Disney Star Zendaya Coleman finished on top, this time with a 26.
Here's the judges' take on Jones' performance:
Carrie Ann: "That, my friend, was rocking! You took it to the roots of jazz, you brought it back to where it came from and you represented. That was really fantastic. Jacoby, man, your lines are fantastic. I'm blown away."
Len Goodman: "I'm not bothered about your posture tonight, to be honest with you. This was fun, it was full of razzle dazzle and razzmatazz. I thoroughly enjoyed watching it. But this is a dance that's going to suit you. It's one of those dances that's going to go with your strengths, which is to come out and perform, go a little bit crazy. I want to see that same attitude, but with a more refined movement when you're doing the more classical ballroom and Latin dances. But I've got to say, great entertainment and I loved it!"
Bruno Tunioli: "Oh yes Jacoby and all that jazz! You've got it. It was like watching a headlining star at the Cotton Club. Stylistically, it was just spot on. It had wit, charm, energy. The moves were just outstanding. You're a performer man."
Now that we've got their assessments out of the way, here are my notes:
It was interesting that, after being prodded by partner Karina Smirnoff, Jacoby admitted in a pre-dance interview that he was nervous for Week 1. I believe him. He just didn't seem like the same lovable Jacoby that we're all used to in Baltimore. "I wasn't nervous in the Super Bowl. You think I was nervous in this?" Jacoby says. Then he got a hard shove from Karina. "OK, I was nervous," Jacoby said. !
To continue with the third-grade behavior, Karina targeted Jacoby's man parts at one point during the rehearsal taping. Jacboy was flirtingly pulling her pony tail when Karina quickly whipped back with a playful slap. She definitely could have had him rolling on the ground if she wanted. Being a guy, that ain't funny. !
The start with Karina sitting on top of Jacoby's shoulders under a huge trench coat was really creative and awesome. I thought Bryant McKinnie might be under there for a second.
Jacoby had a problem with his pigeon toes and posture last week. I didn't notice that this time around, which is shocking considering he was born with those toes. This gives hope to people like me who weren't born with his 4.3 speed.