The Baltimore Ravens' stifling defense is predicated on imposing its will on the opponent.
Sometimes, meeting that goal – no easy task at the NFL level – requires a few clear-cut moments that set the table for what transpires the rest of the game.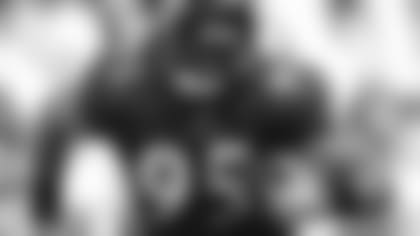 On Sunday, **Jarret Johnson** provided two of those tone-establishing plays that primed the unit to pressure the Philadelphia offense into five turnovers and led to a 36-7 Ravens victory.
In all, Johnson's six-tackle effort included 1.5 sacks, a quarterback hurry, a tackle for loss and an athletic sack/forced fumble/fumble recovery combo play.
On the Eagles' first offensive possession of the day, an opportunity for the visitors to strike early loomed. Quarterback Donovan McNabb led his team into Baltimore territory, but faced a third-and-8 situation.
Lining up on opposite ends of the Ravens' defensive line were Johnson and **Trevor Pryce**. From the left end, Pryce motored around the offensive lineman to flush McNabb from the pocket while Johnson bull-rushed his way into the backfield.
They met in the middle, bringing down the quarterback to snuff out the scoring threat.
"We know how dangerous a quarterback McNabb is," Johnson added. "But we knew that if you make him run around, he's not as accurate. That was something we wanted to do early, make him run around, and we were able to do that."
With the game still stuck in a scoreless deadlock as the second quarter commenced, Johnson once again provided the needed spark in the pass rush, forcing the first of five eye-grabbing takeaways. side," linebackers coach **Mike Pettine** described, "so he just had a one-on-one. That's a key for us. We say, 'When you get single blocked, you've got to win.'"
Johnson sped around the Eagles' offensive tackle as McNabb stepped forward into the pocket and found himself behind the passer. Not in position to tackle McNabb, Johnson reached ahead to smack McNabb's arm as he began his windup. In doing so, Johnson sent the football sailing skyward, then plucked it out of the air before rumbling 22 yards down field.
"I've never seen a play like that before," head coach **John Harbaugh** said. "It's as good a play as you're ever going to see. Our guys, within the structure of the defense, playing a very disciplined style of football, made plays. That was the difference in the football game."
After making his presence felt early on, Johnson again stepped up in a crucial moment late in the game.
With just over six minutes remaining in the game, the Eagles sorely needed a touchdown to stay within striking distance. Johnson combined with **Ray Lewis** to flush Philadelphia signal-caller Kevin Kolb – who relieved McNabb following halftime – from the pocket on fourth-and-2, forcing an errant incomplete pass that all but sealed the game.
"Their offense is so good, and they have so many different weapons and different ways to attack you," Johnson reflected. "We were worried about this game defensively because of how explosive they can be. It was a good win for us."
And the Ravens well know that their win was made possible in no small part due to the outstanding performance by Johnson, who often flies under the radar playing alongside the likes of Suggs, Lewis and **Bart Scott** observed. "I think some guys underestimate him. They don't think he has enough speed or is athletic enough to make plays. You saw today that, if you don't block him, he's going to make those plays."
Pettine concurred: "He's not a flashy guy, but he's our kind of guy. When we say [someone] 'plays like a Raven,' Jarret's the definition of that.
"We give him a lot of the thankless jobs. We don't scheme up a lot of things for Jarret to be the free runner. We usually give him the job of spying the back and chipping the tight end first and then get into the rush. He gets a lot of the thankless jobs, and he just eats it up."
So as the Ravens defense celebrated Thanksgiving early by feasting on the Eagles offense, one fact remains certain: a feast doesn't happen unless someone sets the table. And on Sunday, Johnson brought the silverware.