The last time Jimmy Smith was part of a Ravens playoff push was in 2012. We all know how that ended – with Smith standing tall on the goal against the San Francisco 49ers in Super Bowl XLVII.
In 2014, Smith was knocked out at mid-season by a Lisfranc foot injury. In 2016, it was a high-ankle sprain. In 2017, it was a torn Achilles with a four-game suspension thrown on top.
Now, finally, Smith has a chance to be a difference-maker down the stretch instead of the "what-if" when fans look back for reasons why the Ravens missed the playoffs.
That's part of why Sunday's win in Atlanta was so special for Smith. He was a big part in holding the NFL's leading receiver, Julio Jones, to just two catches for 18 yards. Afterwards, Smith got a game ball from Head Coach John Harbaugh in the celebratory locker room.
"That was my first game ball, so it was great," Smith said. "It's going right next to my Super Bowl ball and the one ball I got when I beat Megatron [Calvin Johnson] – that ball, too."
Smith was the Ravens' first-round pick in 2011, a prototype "shutdown corner" who was only still available at No. 27 because of some red flags – smoking marijuana and partying, he says – from college at Colorado.
A stunning half of the players drafted in Jimmy's 2011 first-round class have gone to the Pro Bowl. There are names like Cam Newton, Von Miller, A.J. Green, Patrick Peterson, Julio Jones, Tyron Smith, J.J. Watt and Cameron Jordon. But not Jimmy Smith.
"I haven't reached things in my career at this point that I wanted to and need to and should have," Smith said. "That's on me. It's not anybody else's fault. Some of it is just nature and my body."
Smith has generated Pro Bowl buzz a few times during his now eight-year career only to fall short or be struck with an injury. Smith has played in all 16 games just twice in his eight seasons.
Last year was the latest example, when Smith was playing at an elite level despite dealing with Achilles soreness all season. Then it finally popped on Dec. 3, 2017 – a year and three days ago.
"There's no question I knew it was coming. Every step felt like it was going to tear," Smith said. "But even if I knew it was going to pop, I probably wouldn't have done anything different. I was holding out hoping I could make it."
The day after his Achilles rupture, the NFL announced it was suspending Smith four games for violating the league's performance enhancing drugs policy. It wouldn't matter in terms of on the field, because Smith could serve it during his injury, but it was yet another gut check.
"I thought about my career for a minute with all these injuries and stuff," Smith said. "But I was mostly thinking about the team. I felt confident that we were going to make it in [to the playoffs] anyway. I had no idea the Bengals would put us out."
When Smith went down last year, the Ravens were 7-5 – the same record they have right now. Without him, Baltimore faltered down the stretch and missed the playoffs, giving up 39 points in a loss in Pittsburgh, then falling in heartbreaking fashion to Cincinnati in the season finale when Tyler Boyd scored a 49-yard touchdown on fourth-and-12 with 44 seconds left.
Smith had just had surgery on his Achilles when he watched that Bengals game. He sat on his couch at home with his leg propped up and a lot of pain killers shooting through his veins. The loss just added to the pain.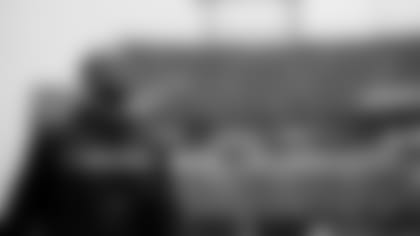 "It sucked. It really sucked," Smith said. "I'm not saying I would have been in that game and would have won it, but having a team healthy always changes the outcome."
It was a long road for Smith to come back this offseason. Miraculously, and a testament to his freakish athleticism, Smith was back on the practice field on June 13, just more than six months after his injury. But, emotionally and personally, Smith was still far from 100 percent.
A rocky relationship with his former girlfriend hung over his head. And on Aug. 21, the NFL suspended Smith for another four games, this time for violating the NFL's Personal Conduct Policy.
According to a statement released by the Ravens, the NFL found "evidence of threatening and emotionally abusive behaviors by Jimmy toward his former girlfriend that showed a pattern of improper conduct."
Smith had, as stated in the release, "a long-running and difficult custody dispute with his former girlfriend and mother of his son." The Ravens consulted with relationship and domestic violence experts. They convened a group of Ravens women and men executives, not directly involved with our football operations, to review the matter.
"That was huge for me in my life for so many different reasons," Smith said. "It was something that made me grow up and realize a lot of things. It made football so small at that point – so small."
"The last four years, 3 ½ years, my life off the field has grown exponentially compared to any other time, just because of what I went through, how I had to go through it and walking down that dark tunnel by myself. It gets lonely and puts a lot of things in question."
The Ravens could have moved on from Smith, but after reviewing his situation, a clinical evaluation and follow-up treatment, they allowed him to return to the team on Oct. 1 following his suspension.
He was still shaking off the physical rust from his injury, but he returned a renewed person. Smith focused on being the person he knows he is and the player he's always supposed to become.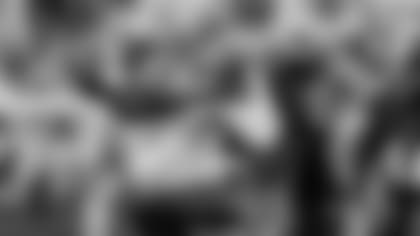 Smith had a couple rough games not long after his return. The Ravens gave him a shot to prove himself against Michael Thomas and the New Orleans Saints, but Smith was beaten for a couple long gains and a touchdown. He struggled some more the following week in Carolina.
Before the Ravens' Nov. 18 game against the Cincinnati Bengals, Smith delivered the final message to the defense during their Saturday night meetings. He told his teammates he felt he was letting them down, and he promised things were about to change.
Over the past four weeks, Smith has given up just 12 receptions for 103 yards, per Pro Football Focus. He's showing signs of his dominance, and was on top of his game against Jones.
"He's followed what he said," Defensive Coordinator Wink Martindale said. "I think we're getting the dividends from it now.
"I think that gets into the old Pop Warner parent deal. I'm just so proud, because of the adversity that each guy goes through. ... It's really cool to see Jimmy step up and play the way that he's playing. He's playing like Jimmy."
Smith will be pivotal down the stretch against top pass catchers such as the Chiefs' Tyreek Hill/Travis Kelce, Buccaneers' Mike Evans, Chargers' Keenan Allen and Browns' Jarvis Landry. It's a gauntlet that will say a lot about the player that Smith is now at 30 years old.
He sees a lot of younger cornerbacks emerging around the NFL, and even on his own team with Marlon Humphrey and Tavon Young, and Smith still wants to be seen among the best.
"Inside, I know what type of player I am, and my teammates know, but I do want the T-shirt that says I am," Smith said with a smile.
"Honestly, I'm just excited to be healthy at this time, our defense being able to play at this level at this time. It's a good feeling to be out there and not watching on TV. I guess everybody can't say I wasn't there this time."
It remains to be seen what happens with Smith after this season. The Ravens can save $9.5 million against their salary cap if they were to release Smith this offseason, per Spotrac. Smith said he's had great conversations with General Manager Ozzie Newsome and Head Coach John Harbaugh, but he knows it's a business.
"All I can control is trying to play strong these last games and whatever happens, happens," Smith said.
"I'm not blind to how my career has gone, or the injuries, or some of the off-the-field situations that have occurred. I just know that I'm here today and could be gone tomorrow. Take it as it comes. I can't be worried about stuff I have no control over. I've learned that."