It was a late August practice and the Ravens were hours away from making their final roster cuts. Justin Tucker's roster spot was, of course, safe.
But as he missed a couple of long field-goal attempts while working alone on a side field, Tucker cursed himself. This is the perfectionist that Tucker is, constantly pushing himself to remain the G.O.A.T. kicker.
While it has been kicker trade-a-palooza this week in the NFL, the Ravens are blessed to have another year with Tucker. And he's not planning on going anywhere soon.
"I just want to go until it's embarrassing for me to be out there. I want to kick until the wheels absolutely fall off," Tucker said recently on "The Lounge" podcast.
"If I have to go out there and Jordan [Stout] has to help me out onto the field, or I have to take a walker out there, I'm going to do it. I'm going to go to the bitter, bitter end."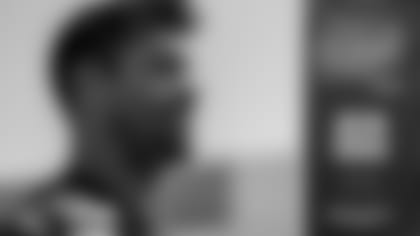 500: Justin Tucker Joins The Lounge for Episode No. 500
Our insiders, Mink and Garrett, talk to Justin Tucker about his 60-yard preseason bomb, the analytics of kicking, his legacy, and more. Plus, they look back on the very first episode of The Lounge and share some of their favorite interviews.
Tucker is the only remaining player from the 2012 Super Bowl champion Ravens team. But as he enters Year 12, the five-time first-team All-Pro is still just 33 years old. That's practically a baby in kicker years.
One of Tucker's idols, fellow Texas Longhorn Phil Dawson, retired when he was 44 years old, after 21 years kicking in the league. Adam Vinatieri retired in 2021 at age 48 following 24 seasons. Hall of Fame kicker/quarterback George Blanda holds the record for being the oldest player to ever suit up in an NFL game at 48 years and 109 days old.
A potential Hall of Famer himself someday, Tucker doesn't even want to start talking about his longevity for a while.
"Ask me again in like 15 years and maybe my tune will change," he said. "But that is just not even a thought in my mind right now, truly."
Tucker had a career-high 43 field goals attempts last season. He made 37, with five of his six misses coming from 50 yards or beyond. The year before, Tucker made 94.6% of his field-goal attempts.
There are zero signs of slowing down, so when a reporter asked Special Teams Coach Randy Brown during training camp whether the time had come to start curtailing Tucker's practice reps to preserve his leg strength, Brown called over to Tucker.
"Justin, they're talking about your leg strength here, and I said you have the strongest leg in the National Football League," Brown said. "There we go. Any other questions about Justin's leg strength?"
Tucker proceeded to hit a 60-yard field goal, with room to spare, in the preseason opener.
The perfect ending in Tucker's mind would be his son, Easton, supplanting him someday as the Ravens' kicker.
"That would be pretty lit," Tucker said. "Are the kids saying that? Lit?"