Predictions for Ravens vs. Titans
The majority of pundits are picking the Ravens to leave Tennessee on Sunday with a victory. Of the 56 analysts listed below, 36 of them predict a Baltimore win. That's 64 percent.
A win against Tennessee would give the Ravens a 4-2 mark at the outset of what is expected to be the most difficult part of their schedule. Including the Titans, Baltimore's next four games are against teams that made the playoffs last season.
"Don't know what happened last week, but it better not happen again," The Baltimore Sun's Peter Schmuck wrote. "If the Ravens win this game and take two of their three consecutive road games, all is still well. If they look anything like the team that stumbled out of Cleveland, then who knows?"
Here are a few predictions that pundits see happening on Sunday that will lead to a Ravens victory:
1. Tennessee's offense, which is averaging 17.4 points per game (No. 29 in the NFL), will find points hard to come by against a Baltimore defense that currently owns the lowest average points per game allowed in the NFL (15.4).
"The Titans haven't scored more than 20 points in regulation this season, and they'll probably need to against a Ravens offense familiar with Dean Pees' scheme," The Baltimore Sun's Jonas Shaffer wrote.
"This Ravens defense is the best situational defense in the NFL, in my opinion. Third down, red area, you know those types of things they do so well. Wink Martindale, the defensive coordinator, the Ravens will win on defense," ESPN analyst Tedy Bruschi said. 
2. Both teams possess excellent defenses. But the Ravens' well-roundedness as a whole team will lead to a victory.
"Tennessee has a sturdy defense under the direction of Dean Pees, but their struggling offense won't produce enough to keep up with the better-rounded Ravens," The Baltimore Sun's Childs Walker wrote.
"The Ravens have been a mixed bag on the road this season, but on paper, they have the better defense — and the better offense," Shaffer wrote.
"Both teams have top-10 defenses and offenses that haven't been firing on all cylinders lately…. The Ravens offense is better than it showed in Cleveland, and that will be just enough," PressBox's Bo Smolka wrote.
3. In a matchup of two quarterbacks that played below their usual standard in Week 5, Joe Flacco has the better game than Marcus Mariota.
"Both Joe Flacco and Marcus Mariota have been far better all season than they were last week. Assuming the Ravens remember how balanced their offense can and should be, expect Flacco to bounce back faster," Sporting News' David Steele wrote.
Funny enough, Steele's fellow writer at the Sporting News, Vinnie Iyer, also believes the game will come down to whether Flacco or Mariota recovers better from Week 5. Iyer is just picking the Tennessee quarterback to rebound more quickly.
"Once 'retired' former Ravens defensive coordinator Dean Pees works for the Titans now, and he'll take advantage of Baltimore being pass-happy with a good cadre of edge-rushers," Iyer wrote. "Marcus Mariota is a better grinder than Joe Flacco is, and that will make the slightest difference late in the game."
Indeed, it seems as if some pundits are buying more into Flacco's down game in Cleveland than others are. Pro Football Talk's Michael David Smith has the Titans beating the Ravens by a touchdown, and his reasoning is Flacco.
"Flacco is playing a little better this year than he did last year, but I'm not really sold on this idea that he has improved significantly thanks to the presence of [rookie quarterback] Lamar Jackson," Smith wrote. "I think he'll have a rough outing in Tennessee."
For some analysts, the presence of Pees, who was Baltimore's defensive coordinator from 2012-2017, also gives the Titans the edge.
Many believe this will be a close contest. NFL.com's Elliot Harrison even wrote this is the "toughest game to pick this weekend." In fact, Harrison picked the Ravens to win the game on a Justin Tucker field goal as time expires.
"The Titans will keep it close, as they always do," Pro Football Talk's Mike Florio wrote. "This time around, the Ravens should be able to find a way to score a few more points than their foe does."
"The Ravens are playing a third straight road game, which is brutal," CBS Sports' Pete Prisco wrote. "They didn't play well on offense against the Browns last week and the Titans do have a good defense. This won't be easy. But I think the Ravens are the better team and will pull out a tough, physical road victory."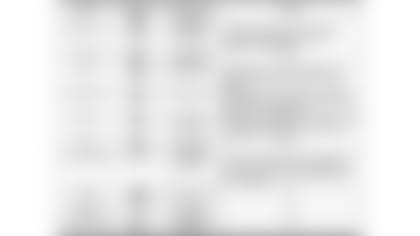 Can Ravens Win with Historically Pass-Heavy Strategy?
Flacco is on pace to throw a lot this season. Actually, an historic amount.
If Flacco keeps throwing as much as he has thus far, he'll pass it 726 times, which is just one attempt shy of the NFL's record for most passes in a season set by Detroit Lions quarterback Matthew Stafford in 2012.
While using this strategy, Baltimore is 3-2 and sits one game out of first place in the AFC North. If the offense is scoring points and the Ravens are winning, who cares how the job gets done?
"The optimum pass attempts and run attempts are really whatever the hell gets you the win," Flacco said.
But is this a strategy that puts the Ravens in the best position to win? ESPN doesn't think so.
"League history and Flacco's track record suggest that Baltimore can't win with Flacco averaging 45 throws per game," ESPN wrote.
This has been a popular topic in Baltimore this week after Flacco attempted 56 passes during Sunday's loss to Cleveland. It's one more attempt than Flacco had against the Cincinnati Bengals in Week 2, Baltimore's other loss of 2018.
The magic number that many pundits are pointing to is 49 pass attempts. In games when Flacco throws at least 49 times, his mark is 3-15. However, that record is skewed because teams traditionally throw a lot when they're already down by a significant margin.
The strategy also deviates from what the team did effectively early in Flacco's career. Granted, Flacco is a more experienced quarterback and able to handle more of the load on offense now, but the more balanced approach still proved to be an effective game plan.
"Flacco never threw 50 passes in a game over the first three years of his career," Associated Press' David Ginsburg wrote. "The Ravens reached the playoffs in each of those seasons behind a stout defense and an efficient running game. These days, however, passing seems to be the way to go."
The Athletic's Jeff Zrebiec doesn't completely buy the theory that a team has to run the ball to score points. He looks at teams like the Green Bay Packers, Minnesota Vikings and Tampa Bay Buccaneers as groups that are scoring plenty of points this season without running the ball much. Zrebiec also noted that in Week 4 against Pittsburgh, the Ravens were very aggressive in the passing game and the strategy worked. That strategy worked against the Buffalo Bills in Week 1, too.
Still, he thinks the Ravens should've run the ball more than 25 times against Cleveland.
"Last week, though, it was pretty clear that Flacco wasn't sharp and the receivers weren't creating a whole lot of room," Zrebiec wrote. "It's times like those when the Ravens need to lean on the run game more."
This Sunday's matchup does seem to be one where the Ravens will want to rely more on the run game because Tennessee's pass defense has been stingy. The Titans are a Top 10 defense in completions allowed, passing yards and yards per pass attempt. They've also allowed just six touchdowns through the air.
Meanwhile Tennessee's defense has struggled against the run, allowing 4.4 yards per carry and 123.2 yards per game, both of which are seventh-most in the NFL.
In a 13-12 loss to the Bills last week, the Titans allowed just 82 yards through the air, but also conceded 144 yards on the ground. It's something Titans defensive lineman Jurrell Casey assumes their opponents have noticed, and it's why he thinks the Ravens will be attempting a lot of runs on Sunday.
First Down Strategy for Ravens
Now, with all that about Flacco possibly throwing too much being put out there, Russell Street Report's Carey Stevenson believes the Ravens should be aggressively throwing it on first down against the Titans this Sunday. Why? Because Tennessee's defense struggles most against quarterbacks on first down.
"Opposing quarterbacks have a 109 quarterback rating when throwing on first down versus the Titans (No. 24 in the NFL)," Stevenson wrote. "That rating drops to 74 on second down (No. 4 in the league) and 79 on third down (No. 14 in the NFL)."
As Stevenson put it, "For a team that suddenly hasn't reached the end zone in the last seven quarters, it would behoove the Ravens to use this potential advantage to rebuild rhythm."
It's an interesting trend that you know Offensive Coordinator Marty Mornhinweg is aware of. It's also a strategy that could end up leading the Ravens to having another heavy passing strategy. This is definitely something worth keeping an eye on during Sunday's game.
C.J. Mosley Quietly Excelling Despite Not Being 100 Percent
Just under a month ago, a lot of chatter was centered on inside linebacker C.J. Mosley.
September 13 was the date for the Ravens' Week 2 defeat to the Cincinnati Bengals, and Mosley was knocked out of the game with a bone bruise in his knee in the first quarter. The defense promptly gave up touchdowns on four straight drives, and there was a lot of concern about how the unit would do without Mosley.
After missing Week 3's matchup against the Denver Broncos, Mosley returned without much fanfare or attention against the Pittsburgh Steelers in Week 4. And after suffering what many believed would be a multi-week injury, Mosley has led the Ravens in total tackles over the past two games (17).
What makes Mosley's impact even more impressive is his bone bruise hasn't even fully healed yet, according to Zrebiec. Mosley acknowledged this week that he's playing through the injury. Bone bruises are exceptionally painful to play on, and Mosley has played at a high level while gutting it out.
As stated above, Baltimore's defense currently owns the lowest average points per game allowed in the NFL (15.4), and no doubt, Mosley's presence has been a key reason.  
"Here's a crazy Ravens stat. Baltimore's defense gave up four touchdowns on the first four drives after C.J. Mosley went out with a knee injury in Week 2," PennLive's Aaron Kasinitz wrote. "In its 61 other drives this year, the Ravens defense has given up the same number of touchdowns: four."
In addition to the four touchdowns the defense allowed while Mosley was gone, the group also gave up two scores in the game he missed. That means the defense has allowed six touchdowns without Mosley, and two with him.
Though Mosley has done quite well, RavensWire's Matthew Stevens is concerned that his injury could limit his mobility in pass coverage this week. Running back Dion Lewis has been very effective in the Tennessee passing game, hauling in 21 catches, mostly on short or intermediate routes, for 130 yards.
"Not being at 100 percent could mean he's slower than usual and less able to make quick cuts," Stevens wrote. "Considering Mosley handles a lot of the coverage duties over the middle of the field, you can see how those two things being limited might affect the team in a big way."
Mosley's coverage will be something to keep an eye on. But there's no doubt how much his presence will help the NFL's No. 1 scoring defense this Sunday.
Don't Forget: The Ravens-Titans Rivalry Used to be Bigger than Ravens-Steelers
It's easy to forget because the Ravens' rivalry with the Pittsburgh Steelers has evolved into one of the preeminent matchups in the NFL, but there was a time when the team Baltimore hated the most was the Tennessee Titans.
From 1999-2001, when both teams were members of the AFC Central, ESPN says the Titans were easily the Ravens' biggest rival.
"The Ravens and Titans bypassed any political correctness and didn't even act like the franchises had mutual respect for one another as they battled for control of the division as well as AFC supremacy," ESPN wrote.
One of the big talking points heading into this week's matchup is Pees matching wits with his old team. As ESPN put it, "How the discourse has changed between these teams from nearly two decades ago."
Former Titans' Head Coach Jeff Fisher at one point told his team to bring plenty of two-by-fours "to lay some wood into the Ravens." In the dying moments of the Ravens' playoff win at Tennessee during their run to the Super Bowl in 2000, former Baltimore tight end Shannon Sharpe said "Maybe we should charge the Titans rent to keep playing in our house. Better yet, maybe we should just foreclose on it." Those are just a couple of examples of the bad blood these two franchises used to share.
Former Ravens wide receiver Qadry Ismail summed it up best by saying, "Pittsburgh was good, sure. But, with Tennessee, there was just something different."
Libris is doing an awesome series where it's asking NFL teams to pick one photo that defines their franchise. The Ravens sent theirs in and it includes Hall of Fame linebacker Ray Lewis.
The Polynesian Football Hall of Fame announced its Hall of Fame Class of 2019 finalists, and three former Ravens were on the list. Two of them were members of the first Ravens team to win a Super Bowl: quarterback Tony Banks and guard Edwin Mulitalo. Defensive lineman Joe Fagaone Salave'a, who played for the Ravens in 2003, is also a nominee.
ESPN's fantasy football guru Matthew Berry likes Baltimore's chances of slowing Tennessee's top wide receiver, Corey Davis. He listed Davis as a receiver that fantasy owners should avoid playing this week. "I don't love his [Davis'] chances against a Ravens defense that is allowing opponents to complete just 54.8 percent of passes this season, which, if it holds, would be the lowest rate in the past six years." A reason for that is the Ravens having the stingiest nickel defense in the NFL, per ESPN.