Ravens Make 'Low-Risk, High-Reward' Trade for Peters
Count me in the group who didn't expect the Ravens to make a splash move two weeks before the NFL trade deadline, but that's exactly what General Manager Eric DeCosta did.
The Ravens acquired two-time Pro Bowl cornerback Marcus Peters from the Los Angeles Rams in exchange for linebacker Kenny Young and an undisclosed draft pick, reportedly in the fifth round in 2020.
Peters leads the league with 24 interceptions since entering the NFL in 2015 and is Pro Football Focus' 14th highest-graded cornerback this season. The move bolsters a secondary that's seen five defensive backs lost to injured reserve, and pundits are viewing the trade as a "low-risk, high-reward" move.
The Athletic's Lindsay Jones and For The Win's Steven Ruiz gave the Ravens an "A" for the trade, citing the production Peters can bring to the secondary.
"For the Ravens, it's easy to see why," Jones wrote. "They need help in the secondary and late last month reportedly had been exploring what it would take to trade for Jaguars cornerback Jalen Ramsey."
Considering the Rams acquired Ramsey for a 2020 first-round pick, a 2021 first-round pick, and a 2021 fourth-round pick, the Ravens gave up little draft capital to get a premier cornerback.
According to Russell Street Report's Brian McFarland, Baltimore is on the books for $5.8 million of Peters' $9 million salary.
"Financially, it's initially a low-risk move for the Ravens … [who] can spend the next 12 weeks seeing if Peters is a fit in a secondary with veterans Brandon Carr and Earl Thomas and decide if they want to pay him top cornerback money before he hits free agency in the spring," Jones added.
It's important to note that Peters' departure from the Rams reportedly had nothing to do with a personality problem, but rather with his impending contract situation.
That's evident with the love Peters received from his former teammates and fellow players.
How Does Peters Fit into the Defense?
According to ESPN's Josina Anderson, Peters' debut could come as soon as Sunday. He's expected to arrive in Baltimore today and practice Thursday and Friday.
It might not take long for Peters to gel into Defensive Coordinator Wink Martindale's defense after playing under a similar style defensive coordinator in Wade Phillips with the Rams.
"Peters will go from a coordinator (Phillips) who brings frequent blitzes and relies on his cornerbacks to a coordinator (Martindale) who brings frequent blitzes and relies on his corners," The Washington Post's Adam Kilgore wrote. "So it's not like the Ravens see a skill in Peters that's waiting to be unlocked. But wanting him simply for what he is makes sense."
Pundits have touted Peters' ability in man coverage, and they expect Martindale to scheme to his strengths. Peters has already faced his fair share of top receivers this season, and the numbers speak for themselves.
"They already have Humphrey, who is their lockdown corner," NFL Network's Michael Robinson said. "Now, you can have him travel with the No. 1 guy with help. And I think [Peters] is going to be an awesome addition to the Ravens' secondary."
Peters' addition gives Martindale the flexibility to move around defensive backs. One option that Baltimore Beatdown's Frank Platko offered would be moving Brandon Carr to the slot with Peters and Humphrey on the outside.
"While not his natural role, Carr has experience playing the nickel corner spot and should be plenty capable of holding his own," Platko wrote.
Platko also believes Peters will also allow Thomas to play more freely in secondary.
"[I]n addition to taking pressure off Baltimore's secondary corners, the presence of Peters will also allow Thomas to play his more natural role and give Martindale more flexibility and creativity," Platko wrote.
Short-Term Rental or Long-Term Signing, Acquiring Peters is a Win-Win for Ravens
Peters is on the final year of his rookie contract and is set to become a free agent this offseason, but pundits aren't convinced he is just a short-term rental.
There's a real possibility Peters could end up in Baltimore for the long run.
"The Ravens over the past few seasons have invested more heavily in their secondary than any team in the NFL, and it's reasonable to expect they'll consider signing Peters to a long-term deal," Penn Live's Kasinitz wrote. 
The decision could impact Jimmy Smith's future with the Ravens. Smith is in the final year of his contract. The front office will also have to factor in decisions surrounding the contracts of Ronnie Stanley and Matthew Judon.
Whether Peters stays or goes in the offseason could end up as a win-win for the Ravens either way.
"The best-case scenario for the Ravens is he plays good football over the next 2 1/2 months and they sign him to an extension, or he gets a big deal elsewhere and they get a pretty good compensatory pick for his short-term stay," The Athletic's Jeff Zrebiec wrote.
"The worst case is he doesn't play well and the Ravens limit his role and then let him walk in the offseason. If the latter occurs, he still could factor in the compensatory formula for them."
DeCosta Might Not be Done Making Moves, But Cap Space Comes into Play
With the trade deadline not until October 29th, pundits aren't counting out the possibility of the Ravens making more moves.
"Though the Ravens value their stash of draft picks, they have the resources to make another trade if DeCosta sees fit," Kasinitz wrote. "He showed Tuesday he's not afraid to pull off a surprise."
Pass rush remains one of the defense's biggest needs, but the market remains questionable. Peters will help in that department, but money becomes interesting as the Ravens are expected to have around $2 million in space following the trade.
"Pass-rushing help appears to be a necessity if the Ravens are going to make a legitimate run to the postseason," Zrebiec wrote. "It isn't clear, however, who is available at a reasonable price."
Ravens Climb Back Into Top 10 of Power Rankings
After staying relatively stagnant in the power rankings last week, the Ravens made a leap back into the top 10.
"The AFC North isn't having a good season as a whole, but it's becoming clear that the Ravens are the division's best team," Bleacher Report wrote.
The Ravens ranked inside the top 10 in five of the seven publications we looked at, with their highest ranking at No. 7 from CBS Sports.
Baltimore's biggest jump was six spots from No. 15 to No. 9 from Sports Illustrated.
"A historic week for Jackson and another win for the Ravens against a team they should beat leaves them at the top of the heap in the AFC North with room to spare after the Browns lost to Baltimore's next opponent—Seattle," SI wrote.
With a firm two-game lead in the division, the Ravens have set themselves up in prime position six weeks in. Yet, pundits like USA Today's Nate Davis and NFL.com's Dan Hanzus didn't change the Ravens' ranking from last week despite their second straight win.
While it was only a six-point win, the final score doesn't necessarily tell the whole story. The Ravens' defense bounced back, and BR made sure to give them credit.
"[T]he defense may have been an even bigger story against Cincinnati," BR wrote. "Entering Week 6, only the Miami Dolphins allowed more yards per play than Baltimore. But against the Bengals, that defense gave up just 250 yards and 10 points."
The Ravens' upcoming schedule will undoubtedly determine their spot in the power rankings with matchups against the Seahawks, Patriots, Texans, Rams, 49ers and Bills.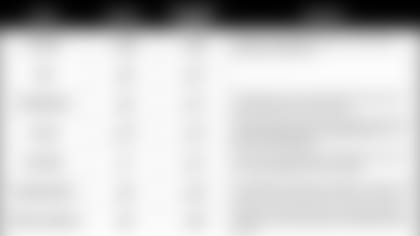 Don't look now, but the Ravens are on pace to break the NFL's record for all-time rushing yards in a season.