Pro Football Focus Names Michael Bennett as a Trade Target for Ravens
Heading into the bye week, plenty of talk surrounds the Ravens and how they'll navigate the Oct. 29 trade deadline. After acquiring Marcus Peters, CBS Sports' Cody Benjamin believes the Ravens should be buyers.
"Their first-place hold on the AFC North looks far from secure despite the Cleveland Browns and Pittsburgh Steelers sitting two games back entering Week 7," Benjamin wrote. "What they need is a reinforcement or two on 'D,' where their pass rush has been lacking and their secondary has been done in by age, injuries, and inconsistency."
Improving the pass rush is the most obvious need for the Ravens following Pernell McPhee's season-ending triceps injury, and Pro Football Focus' Austin Gayle named New England Patriots defensive end Michael Bennett as a player General Manager Eric DeCosta should target.
"The 6-foot-4, 274-pounder turned 34 years old in November but can still offer value as a rotational pass-rusher, which should have the Ravens calling Bill Belichick & Co. before the NFL trade deadline," Gayle wrote. "Bennett totaled 70 pressures in 2017 and 78 in 2018. He also offers unique positional versatility with his ability to win pass-rushing snaps off the edge or from the interior.
"Only Matthew Judon (68.8) has played more than 100 pass-rush snaps for the Ravens' defense this season and earned a pass-rush grade above 65.0. Bennett likely changes that if added to the roster before the deadline."
Acquiring a pass rusher like Bennett won't be that simple. There are a number of factors that could play into a potential trade. The first being how willing Belichick would be to deal Bennett to the Ravens just before the two teams play each other in Week 9.
And if the Ravens were to make a trade, what would the cost be? That's where draft picks and the salary cap come into play.
"The Ravens have a lot working against them here," The Athletic's Jeff Zrebiec wrote. "They only have $2 million of salary-cap space to fit in a player. They have very few 2020 Day 3 draft picks that they can currently trade. You can't barter with projected compensatory picks and conditional picks that you don't currently have. And the biggest issue of all, several teams are looking for an impact pass rusher and so few that want to trade one."
We've already seen two wide receivers get dealt this week, but the market for pass rushers isn't expected to be as strong.
"It's a lot harder to find offensive and defensive linemen right now," Sports Illustrated's Albert Breer said on Glenn Clark Radio. "Those positions really are at a premium in the NFL. The Ravens can go looking, they can ask. I just don't know where the players who are going to come available at the rate the Ravens are willing to pay."
Michael Wilbon: Lamar Jackson is 'Fred Astaire and Bo Jackson'
Lamar Jackson continues to develop into one of the NFL's most dynamic talents, drawing comparisons to Michael Vick, among others.
"If you're Pete Carroll, shouldn't you have somebody spying him the whole time?" Tony Kornheiser said.
It should be noted that the Seahawks did have a spy on Jackson and he beat it with a 30-yard run – his longest of the day.
"It doesn't matter," Wilbon responded. "This guy is that good on his feet. He is Fred Astaire and Bo Jackson in concert. He's that good."
With the way defenders talk about facing Jackson each week, it doesn't seem like an overstatement. He has as many or more rushing yards than eight teams this season. Not to mention, he's also thrown for 1,650 yards and 11 touchdowns.
"Jackson is currently on pace to finish the season with 3,770 passing yards and more than 1,300 rushing yards," The Ringer's Robert Mays wrote. "No player in NFL history has ever cracked 3,000 passing yards and 1,000 rushing yards in a single season, let alone come close to the numbers that Jackson is putting up right now. He's affecting the game in a way we've never seen before, and his ability to slice through defenses with his arm and his legs has given the Ravens a comfortable 2.5-game lead in the AFC North."
CBS Sports' analysts named Jackson second behind Russell Wilson in the MVP race, and there's no doubt he continues to be must-watch television with performances like we saw on Sunday.
"Jackson, with his electrifying style of play, has given life to this Ravens team, and to the NFL. And I can't wait to see what he pulls off next," SB Nation's Morgan Moriarty wrote.
Ravens Rise in Power Rankings as 'One of the Most Dangerous Teams in the AFC'
The Ravens checked all the boxes of a quality win against the Seahawks, and it was reflected in the most recent power rankings. Baltimore moved up in seven of the eight publications we looked at, and is firmly in the contender conversation as "one of the most dangerous teams in the AFC."
"It's time to come up with a proper nickname for Jackson, who is doing things on a football field that no one else can -- and it's happening on a weekly basis," NFL.com's Dan Hanzus wrote. " … Jackson has transformed into a star in his second pro season, and the Ravens are one of the most dangerous teams in the AFC because of it."
Baltimore jumped seven spots in Hanzus' rankings from No. 17 to No. 10, and that wasn't even their biggest rise. They moved up 10 spots in USA Today's rankings from No. 16 to No. 6, ranking as the second-highest team in the AFC only behind the Patriots.
Jackson shined with his legs in front of a national audience, but pundits were also impressed with the defensive performance. Wink Martindale's unit held Wilson, a leading MVP candidate, to 241 passing yards and a touchdown. It was a significant bounce-back after struggling earlier in the season.
"The defense was back against the Seahawks," CBS Sports' Pete Prisco wrote. "That's been their calling card for years and it enabled them to win a big road game."
Pundits will be anxiously waiting to see how Jackson and company fare against the Patriots in Week 9. A win would surely solidify them a spot in the top five.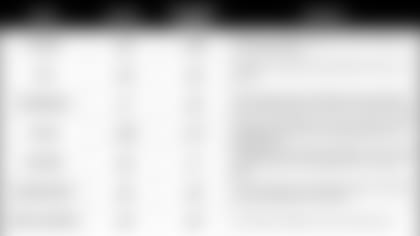 Marcus Peters Named to PFF's Team of the Week
The Ravens got a first-hand look at Marcus Peters' impact just five days after trading for the two-time Pro Bowl cornerback. Peters played in 90 percent of the defensive snaps and was named to PFF's Team of the Week.
"It didn't take long for Peters to make his presence felt in a Ravens uniform," PFF wrote. "He allowed just one reception for eight yards from four targets and recorded a pick-six to help push Baltimore ahead of Seattle."
Peters baited Wilson to throw towards him and left no doubt as he raced 67 yards in the opposite direction for the pick-six. The bold decision paid off, and it completely shifted the momentum in the Ravens' favor as they took a 13-10 lead.
"Regardless of one's opinion of Peters' weaknesses, it's fair to say he continues to command respect from opposing QBs with his big play ability."
Justin Bethel has reportedly signed with the Patriots just one day after being released by the Ravens.
PFF's Sam Monson is buying the Ravens after their Week 7 win: "The Jackson offense is unique, and it's hard to defend. They don't need him to be among the most efficient passers in the game because their rushing attack is so potent. If the defense can round into shape, they should be the class of the division."