Predictions for Ravens vs. Falcons
The majority of pundits are predicting the Ravens will fall back to .500 this week. Of the 54 analysts we looked at, 33 picked the Atlanta Falcons to win.
This is seen by many as a must-win for the Ravens, and with many pundits predicting it'll be a close contest, it looks like Sunday afternoon is shaping up to be a stressful one for the Ravens Flock.
It should also be noted that most pundits are expecting rookie quarterback Lamar Jackson to get his first NFL road start this Sunday, though veteran Joe Flacco did return to practice yesterday.
Here are a few predictions that pundits believe will lead to a Ravens victory:
Atlanta's run defense can't slow Jackson and the Ravens on the ground.
"With one of the NFL's worst rush defenses awaiting in Atlanta, it's another dream matchup for Lamar Jackson and the Ravens offense," Shaffer wrote.
The Ravens' passing attack has a strong showing against Atlanta's depleted secondary.
"When I think about this game from the Ravens' perspective, it's an appealing matchup for Lamar Jackson against that defense to try to establish the balance. Here's the running, but also I can challenge those corners and I can go deep," The Ringer's Mallory Rubin said.
"The Falcons defense is ranked near the bottom of the league, so no matter who plays quarterback, the Ravens should be able to move down the field," The Baltimore Sun's Jen Badie wrote.
Atlanta's offense, which has managed just five touchdowns in the past three games, struggles against the NFL's No. 1 scoring defense.
"The Ravens are catching the Falcons at the right time. Atlanta's once-frightening offense has gone cold," Walker wrote.
"If there's a defense that can keep [Atlanta Falcons quarterback] Matt Ryan in reasonable check, it's this one," Steele wrote.
"You've got offense and defense, and I'm going with defense, even though it's on the road in Atlanta. I'm going with that Ravens defense," ESPN's John Fox said.
Kicker Justin Tucker makes ridiculously long kicks.
"You know what I love for the Ravens in this game though? Justin Tucker in a dome. Let him kick it from 75 yards, why not?" Rubin asked.
Here are some reasons why pundits are picking the Falcons:
Ryan and the Falcons wide receivers prove too much to handle.
"The struggling Falcons are certainly beatable, but it's particularly tough to beat a good offensive team on the road. Matt Ryan will give the defense fits and whoever starts at quarterback for the Ravens will have trouble keeping up," The Baltimore Sun's Peter Schmuck wrote.
"Matt Ryan will continue his strong non-playoff season, as Baltimore is not deep enough defensively to handle all of his targets. Atlanta will begin its late-season spoiler stretch with a bang," Sporting News' Vinnie Iyer wrote.
Jackson experiences some growing pains in his first road start.
Baltimore misses Flacco's passing prowess.
"If Flacco is healthy, he needs to play, because a mostly running approach won't work on the road against the Falcons like it did against the Bengals and Raiders at home," Iyer wrote.
The Falcons defense steps up against the Ravens rushing attack.
"I can envision the Falcons stacking the box to dissuade the Ravens' running game under rookies Lamar Jackson and Gus Edwards and forcing Jackson to move the offense with his arm," Lee wrote.
The return of Pro Bowl inside linebacker Deion Jones from injured reserve sparks Atlanta.
"One not-small difference here: Guess who started practicing with the Falcons' first-team defense again this week? Deion Jones. So, flipping the script, Jackson and this current Ravens offense haven't faced a linebacker who can anticipate (and set up the defense) like Jones," NFL.com's Elliot Harrison wrote.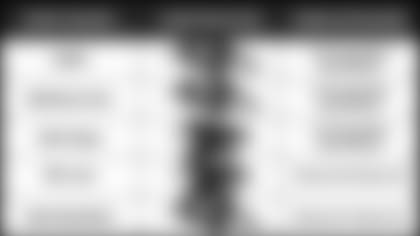 Let's Keep the Falcons One-Dimensional
The Falcons have a perennial Pro Bowl quarterback that was named the NFL's MVP just two years ago. He also has a talented trio of receivers to work with in Jones, Calvin Ridley and Mohamed Sanu. Ryan leads the league in passing yards (3,683) and Jones has the most receiving yards (1,305).
Considering how pass-happy this season has been in the NFL, and that the Falcons are leading the way in many of those categories, why isn't Atlanta scoring more than 25.5 points per game (No. 11 in the NFL)? To the Atlanta Journal Constitution's Matt Winkeljohn, it's been the other aspect of the Falcons attack: the run game.
"Falcons are running down a nightmare," Winkeljohn's headline read. "Run game is stuck in mud, and answers are hard to find."
Winkeljohn's ire has been intensified this week after the Falcons managed a measly 26 yards rushing in their last game against the New Orleans Saints. The group currently ranks No. 31 in rushing yards per game (83.1) and dead last in run plays executed (33.1 percent). Running back Tevin Coleman leads the team with 506 rushing yards, but he's only had eight carries in the past two games.
Losing running back Devonta Freeman for the season with a groin injury certainly hasn't helped, but Atlanta's blocking has been dire as well. According to Winkeljohn, the Falcons could be trying a new offensive line on Sunday by "swapping newcomer [guard] Zane Beadles in for [guard] Ben Garland, who stepped in two months ago when [guard] Brandon Fusco went down with a blown ankle."
Russell Street Report's Carey Stevenson thinks the potential guard switching could mean a big day for outside linebacker Za'Darius Smith, who can also line up inside, writing "If they are lucky enough to get [outside linebacker] Tim Williams back this week it would be a great opportunity to get a fresher Za'Darius Smith some one on ones versus these guards."
If that group continues to thrive, it'll allow the Ravens to drop more men into coverage to combat Ryan and the Falcons' dynamic passing attack.
2006 Ravens Named Franchise's Best Team by ESPN
The Ravens have enjoyed a tremendous amount of success in just 23 years of existence. The Ravens' two Super Bowl triumphs is an amazing achievement, especially when you consider that teams such as the Cleveland Browns and Detroit Lions existed in 1966 when the first Super Bowl was played.
As a result, when ESPN's Bill Barnwell took at stab at naming each NFL franchise's best team, I assumed that either the 2000 or 2012 team would get picked. Barnwell didn't go with either though, and instead selected 2006. His reasoning? That 2006 featured the best defense in Ravens history.
"The best defense in franchise history, somewhat surprisingly, is the 2006 team," Barnwell wrote. "Those Ravens went down to Indianapolis in a miserable 15-6 playoff loss in which the defense held Peyton Manning and a dominant Colts offense to 261 yards, but Indy recovered all five fumbles and forced four Baltimore giveaways."
I'm sure the 2000 group is more than a little miffed by that claim, but a little research shows that Barnwell actually may have a point. The Ravens gave up just 9.1 points per game, while the 2000 defense gave up 10.3, in what Barnwell referred to as "a much more conservative era."
Baltimore also led the NFL in total defense (264.1 yards allowed per game), red zone defense (33.3 percent touchdowns allowed), fewest first downs permitted (236). It was first in turnover margin (+17) and second in takeaways (40). Though the offense ultimately struggled in the playoff loss to Indianapolis, it had a solid year as well, leading the NFL in average time of possession (32:49) and allowing the fewest sacks in franchise history (17).
Barnwell also gave a nice shoutout to this year's defense by referring to it as the third-best in franchise history. This year's defense's 18 points allowed per game trails only 2006 and 2000. Considering how offensively minded the NFL is compared to those other two units, it's quite the accomplishment.
In addition to best season, Barnwell also named the worst season for each franchise, and selected 2007's group, which finished 5-11. He also named the 1964 Baltimore Colts as the best team in that franchise's history as well.
Keep an Eye Out for Falcons Safety Damontae Kazee
Atlanta's secondary has been decimated by injuries all season, especially when starting safeties Keanu Neal and Ricardo Allen both had to be placed on injured reserve by Week 3. Second-year safety Damontae Kazee has stepped in nicely for the Falcons though, and his six interceptions lead the NFL.
"Kazee's development has been a bright spot," Stevenson wrote. "Traditionally a slot corner, he's taken full advantage of his opportunity to play free safety."
Whoever quarterbacks for the Ravens will definitely need to know where Kazee is at all times. Against New Orleans on Thanksgiving, Kazee became the second player in the NFL to pick off Saints quarterback Drew Brees this season.
If Jackson starts for the Ravens, Stevenson thinks Kazee could become a serious problem. Jackson has thrown three interceptions in his first two games, and Kazee's aggressiveness to go for turnovers could pay off.
"He's reading quarterbacks well this season and if Lamar is late or off on a throw it could wind up in Mr. Kazee's hands," Stevenson wrote.
Baltimore Beatdown's Vasilis Lericos also named Kazee among his Falcons to watch, and noted that he's tackled well this season. Kazee has 41 tackles this year, many of which have "prevented long gains from becoming back-breaking scores," according to Lericos.
Still, it's Kazee's ability to force mistakes out of the opposition that Lericos feels the Ravens should be most concerned about on Sunday.
"The correlation between winning the turnover battle and winning the game is tremendous," Lericos wrote.