Predictions for Ravens vs. Steelers
The Ravens (13-2) head into Sunday's regular-season finale against the Pittsburgh Steelers at M&T Bank Stadium with the luxury of being able to rest starters, having locked up the top seed in the AFC and home-field advantage throughout the playoffs.
The Steelers (8-7), conversely, will be fighting for their playoff lives. To secure the final wild-card spot, Pittsburgh needs to defeat the Ravens and have the Tennessee Titans lose to the Houston Texans.
The Ravens, who beat the Steelers 26-23 in overtime in Week 5, will be looking to sweep the season series against Pittsburgh for the first time since 2015.
Despite the Ravens resting starters Lamar Jackson, Mark Ingram II, Marshal Yanda, Earl Thomas III, Brandon Williams and potentially more, and the Steelers having everything to play for, most pundits we looked at (30 of 50) still picked Baltimore to extend its franchise-record winning streak to 12 games and notch its franchise-best 14th victory.
Almost all the prognosticators who predicted the score are expecting a typical Ravens-Steelers slugfest. The prevailing opinion is that points will be at a premium, and 16 of 20 prognosticators have the game being decided by four points or less.
Here's a sample of what pundits are forecasting for the game:
Robert Griffin III, starting in place of Jackson at quarterback, will play well enough to lead the Ravens to victory.
NFL Network's Bucky Brooks: "I think the magic number for [the Ravens] is 24. If they get 24 points, I don't know if the Steelers can score enough. I think RG3 has that capability. Look for him to try and hit Marquise Brown down the field."
ESPN's Victor Cruz: "When you put in RG3 at that quarterback position, it's not like they have to call a different game. It's pretty much the same type of guy at the helm. … Obviously, he's not as elusive as Lamar Jackson is at this point in his career, but I still think he can do some of those things that can have him in favorable down and distances, manageable third downs, and in position to win the game."
Ebony Bird's Chris Schisler: "We've seen enough of Griffin to feel confident in his ability to win this game. … If he finds a rhythm and the play-calling doesn't ask too much of him, he will have success."
The Ravens defense will stifle the Steelers offense and quarterback Devlin "Duck" Hodges.
NFL Network's Daniel Jeremiah: "I have a hard time figuring out how [the Steelers] are going to score points in this game. I don't care who's not playing for the Ravens. They've got to trot 11 guys out there, and when I look at their 53-man roster, whoever they put out there on defense are going to be good football players. [The Steelers] can't throw the ball vertically down the football field, they can't get anything going in the passing game. I think what [Ravens Defensive Coordinator] Wink Martindale does schematic-wise can give the Pittsburgh Steelers trouble there as well."
NFL.com's Gregg Rosenthal: "The Ravens can only sit so many players, and their aggressive blitz package still figures to be too much for Duck to handle."'
The Steelers' stout defense will keep them in the game.
NFL Network's Jeremiah: "The one thing that goes in the Steelers' favor … defensively, especially when you look at [T.J.] Watt coming off the edge, you get a chance to force some turnovers on RG3. I could see RG3, having not played, maybe he puts a ball or two on the ground in this game."
The Baltimore Sun's Childs Walker: "The Steelers struggle to move the ball and score, but their defense keeps them competitive week after week. Between their last-chance desperation and talented front seven, they'll have just enough to get by the resting Ravens in a plodding game."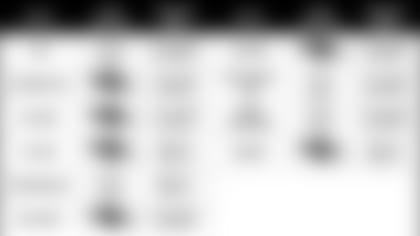 Lamar Jackson's Season 'One of the Greatest Ever' for a QB
With Jackson's spectacular, record-breaking regular season in the books, it's the perfect time to take a moment to reflect on just how special it was.
"We've been incredibly lucky to witness one of the greatest, most unique QB seasons ever over the last four months," NFL.com's Ali Bhanpuri wrote of Jackson, who remained No. 1 in NFL.com's weekly QB Index. "That's right, I said ever."
Bhanpuri wrote that Jackson's MVP-worthy season compares favorably with those of Tom Brady (2007), Aaron Rodgers (2011), and Peyton Manning (2013).
"And unlike the other three quarterbacks above, who came up short in their title bids during those MVP campaigns, Jackson still has a chance to cap his cosmic campaign with a Super Bowl win," Bhanpuri wrote.
Bhanpuri contends that a testament to Jackson's greatness is the fact that outstanding performances, such as the one he delivered in last Sunday's win over the Cleveland Browns, have become routine.
"Have football fans at large already become numb to Lamar Jackson's once-in-a-generation talent?" Bhanpuri wrote. "Three touchdown passes, 100 yards rushing, a resounding win against a desperate division rival to secure home-field advantage throughout the playoffs. Yawn. Same ol' Lamar, just a different Sunday.
"Absolute nonsense. It's crazy to think that just five weeks ago, Russell Wilson was the clear front-runner for MVP and No. 1 in the QB Index. Now, Jackson has all but locked up the award and his place atop these rankings."
After such an incredible season, can Jackson ever top it?
"Jackson has improved every season in his football life, so why put a ceiling on him now?" The Baltimore Sun's Jonas Shaffer wrote. "Next year's offense might be even more potent than this year's, and it could be his second in [Offensive Coordinator] Greg Roman's system. With Jackson's work ethic and football IQ, it would be silly to call this his best iteration."
Ravens Dominate in 'Ringer' Awards
In a major upset, Jackson was not the MVP. Just kidding. In fact, Mays said Jackson winning the MVP award "is as close to a no-brainer as it gets."
Clark said the more interesting question isn't who will win MVP; it's whether Jackson will be a unanimous choice.
"What he's making NFL defenders look like and how he's solving problems in real time is just so remarkable," Clark said. "I will remember this season in a way I have not remembered many individual seasons from an NFL player ever. … The 55-touchdown Manning season, even that is not like watching this. It's just a different way of appreciating what a football player can do when allowed to do it."
Other Ravens who received "Ringer" awards were: John Harbaugh (Head Coach of the Year), Eric DeCosta (General Manager of the Year) and Roman (Assistant Coach of the Year). Martindale also received consideration for the assistant award.
The Ravens' 30-16 win over the Seahawks in Seattle in Week 7 was Mays' choice for Game of the Year.
"That's the game where Lamar Jackson went for it on fourth down because he wanted to. That's the game where we kind of figured out that this Ravens team was, instead of being for real, was super-duper for real," Mays said. "And that is the game where I think we all realized just how special Lamar Jackson could be, even more special than we thought initially."
Pro Football Focus named an AFC Championship Game pitting the Ravens against the Kansas City Chiefs as one of the most intriguing potential playoff matchups.