Aqib Talib Talks About Facing Michael Crabtree in Joint Practices
There's a lot to be excited about with the Los Angeles Rams coming to Baltimore for two days of joint practices before Thursday's preseason game.
But there's no denying that the matchup between Ravens wide receiver Michael Crabtree and Rams cornerback Aqib Talib has the hype of a pay-per-view bout.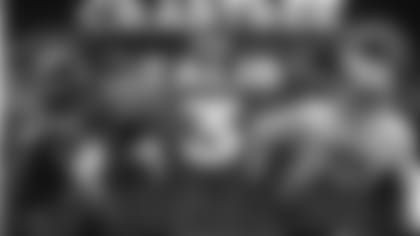 Playing for the Oakland Raiders and Denver Broncos, respectively, Crabtree and Talib fought during games each of the past two years. Each time, Talib ripped a gold chain off Crabtree's neck. Last year, both players were ejected and suspended.
Now they're on different teams in different conferences, but their paths will still cross yet again.
Soooooo, how's this going to turn out?
Nobody on the Ravens side has been asked about it recently (Crabtree said this in April). However, Talib and Rams Head Coach Sean McVay talked about their approach to the situation late last week.
Joint practices can be very beneficial to both sides as players and coaches' schemes get tested against unfamiliar foes. However, it can also be a recipe for skirmishes. According to Klein, the Rams and Los Angeles Chargers got into three fights in one joint practice last year.
"Competitive instincts and tempers seemingly rise with the temperature," Klein wrote. "The conditions for reigniting the tensions are expected to be ripe during drills, scrimmages and the game in the Maryland heat."
Harbaugh said Sunday that he and McVay agreed that there would be no tackling during the practices. Players won't even wrap up.
"The main message is that we treat the Rams like they're the Ravens. The Rams treat the Ravens like they're the Rams," Harbaugh said. "We treat each other as if we're one team, because we want to get better for the next three days."
When asked about the history between Talib and Crabtree, McVay didn't sound concerned. He said he talked to all his players and there's no room for fights.
"We can't afford to get anybody injured for unnecessary scuffles, different things like that," McVay said. "If we don't follow the rules, we won't be able to participate."
Sometimes, training camp fights can be totally media-driven hoopla. It's like the middle school playground all over again; people like to see a good fight.
But remember, the Ravens got along well when they had joint practices with the San Francisco 49ers (and then Head Coach Jim Harbaugh) in 2014, and again when Baltimore practiced with the Philadelphia Eagles in 2015.
Obviously, both the Ravens and Rams hope for two days of good practices without any skirmishes. It's a prime opportunity to grow, and shouldn't be derailed by drama.
"For many of those players on the roster bubble for both teams, it's a golden opportunity to show themselves in front of another decision maker and perhaps audition for a job elsewhere," wrote USA Today's Matthew Stevens.
Chris Wormley, Kenneth Dixon Among NFL's Top 25 Breakout 'Prospects'
Every year, much of the conversation is about first-round picks and what they will do in the NFL.
What fans often forget is that there are very talented players taken in later rounds who could just as easily break out, even if they don't see the field all that much in their first couple years.
Thus, every year Football Outsiders puts together "a list of the NFL's best and brightest young players who have barely played." This year's top-25 list includes two Ravens: defensive end Chris Wormley and running back Kenneth Dixon.
A third-round pick out of Michigan in 2016, Wormley was a run-stuffer who developed some pass-rushing prowess later in his college career (12 sacks over his final two seasons). In Baltimore, Wormley didn't play as a rookie and suited up for seven games (two starts) last year, logging five tackles and four quarterback hurries.
"He has basically replaced Michael Pierce as 'promising young defensive line prospect' on both the Baltimore roster and on our list," wrote Football Outsiders' Rivers McCown.
"His ceiling as an inside player with some pass-rush moves might be intriguing enough for him to see the field on pass-rushing downs. Outside of Pierce and Wormley, the Ravens have only oft-injured Carl Davis as an interior lineman with any kind of pass-rush promise."
As a rookie fourth-round pick in 2016, Dixon ran for 382 yards and two touchdowns and caught 30 passes for 162 yards and another score. He missed all of last season because of a torn meniscus and served a six-game suspension while rehabbing.
"We just can't quit Dixon. At least not yet," McCown wrote. "He's a great receiver out of the backfield. He doesn't go down on first contact, and he gets the most out of every run. While he's not a premium athlete, he showed plenty of burst at the NFL combine with his jump metrics. He actually had an extremely similar combine profile to Kareem Hunt.
"Still only 24, Dixon is looking up at Alex Collins' terrific season and will also have to prove himself over Javorius Allen. He still has the talent to be the best back the Ravens have this season. But time is running out for him to show that."
Dixon missed some practice time and the Ravens' preseason opener with a reported hamstring injury, according to The Athletic's Jeff Zrebiec, so he's working his way back into the competition. Ravens second-year guard Nico Siragusa made the honorable mention list.
Predicting the Next Ravens Hall of Famers
Ray Lewis and Jonathan Ogden did the "Squirrel Dance" together Saturday night during Lewis' induction speech. They stand as the Ravens' first two draft picks in team history and the franchise's two Hall of Famers.
So who is most likely to be next? Bradshaw broke it all down:
Ed Reed (next year): "Arguably the greatest safety to ever play the game, Ed Reed is a slam-dunk as a first-ballot Pro Football Hall of Fame inductee."
Terrell Suggs: "Terrell Suggs seems like a virtual lock for the Hall of Fame at this point in his career. The man known as 'T-Sizzle' has 125.5 career sacks and 34 forced fumbles. … Suggs is also a 7x Pro Bowl selection and ranks 17th all-time on the sack list, and could easily cross into the top 10 if he plays another year-or-two. Suggs definitely has the hardware and the stat sheet to justify a Hall of Fame selection, but that doesn't do justice to the kind of player that Suggs truly is."
Marshal Yanda: "So long as Marshal Yanda returns to form following his broken ankle that cost him the majority of his 2017 season, there's no reason to doubt that Yanda will find himself in the Pro Football Hall of Fame one day. … Already regarded as one of the best offensive guards of the last decade, Yanda was perhaps on his way to bragging rights as one of the best to ever play in the NFL."
Haloti Ngata: "Defensive linemen have a hard time getting into the Hall of Fame because of so much discussion over what stats make a good resume for induction. … Rant aside, Haloti Ngata is one of the greatest nose tackles of all-time, hands down. What Ngata was able to do as a gap-eating, pressure producing big-man is unheard of."
Justin Tucker: "The most accurate kicker of all-time, Justin Tucker may still have a long road ahead of him thanks to the position he plays, but he's on the right track. With a Super Bowl title to his name and a couple First-Team All-Pro nods, Tucker is definitely fairing towards G.O.A.T. status."
C.J. Mosley: "Half-man. Half-amazing. C.J. Mosley will probably live forever in the shadow of Ray Lewis as a great inside linebacker for the Baltimore Ravens, but my goodness is he still a tremendous player. In just four seasons in the league, Mosley is already a 3x Pro Bowl and Second-Team All-Pro selection with nearly 500 career tackles and eight sacks and interceptions."
Bradshaw also names wide receiver Steve Smith Sr., wide receiver Anquan Boldin and safety Eric Weddle as possibilities, but all three played the majority of their careers for another team(s). Read Bradshaw's reasoning for all three here.
The Cleveland Browns traded wide receiver Corey Coleman to the Buffalo Bills in exchange for a draft pick, reported Adam Schefter. Coleman scored two touchdowns against the Ravens in his second career game in 2016. Now he'll face Baltimore in this year's regular-season opener. [ESPN]
In "Football Morning in America" Peter King writes, "I think it's hard to imagine the Ravens keeping Breshad Perriman (three touchdowns in the three NFL seasons since being drafted 26th overall) at final cutdown. I get the strong sense they're moving on from him." [ProFootballTalk.com]