Ravens Climbing in Power Rankings
There's been plenty of discussion about what to make of the Ravens' 59-10 win over the Dolphins in Week 1, but pundits are buying.
After a dominating performance in Miami, the Ravens have climbed into the top 10 of most power rankings.
"We knew the Ravens drew a favorable matchup in Week 1, but it wasn't supposed to be that easy," NFL.com's Dan Hanzus wrote. "The biggest storyline, of course, was Lamar Jackson, who became the first QB with five or more touchdown passes in a season opener since Peyton Manning (2013). … It won't always be this easy -- it may never be this easy again for Jackson -- but it remains an incredibly impressive start to a sophomore season that just saw its expectations go through the roof."
Hanzus had Baltimore moving up two spots to No. 9, but they took significant leaps in other publications. The Ravens jumped 12 spots to No. 5 in USA Today's power rankings and nine spots to No. 8, according to ESPN.
"Jackson looked like an MVP," USA Today's Nate Davis wrote. "[The] new-look defense appeared up to Baltimore's perennial standards, but was it all a Miami mirage?"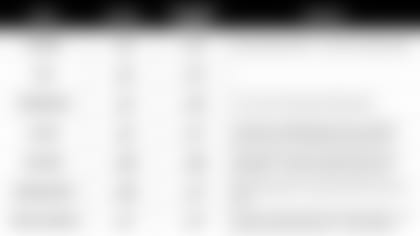 Breaking Down the Ravens' Offensive Success Against Dolphins
It didn't take long for the Ravens to impose their will on the ground Sunday. Mark Ingram II broke free for a 49-yard run on the first play from scrimmage, and Penn Live's Aaron Kasinitz broke down exactly how it happened.
Kasinitz highlighted how the Ravens used an unbalanced formation on the right side of the offensive line with tackles Orlando Brown Jr. and Ronnie Stanley lined up next to each other.
"This put two of the Ravens' biggest and best blockers on one side of the field," Kasinitz wrote. "The Dolphins didn't make a significant defensive adjustment. With no Miami linebacker positioned in front of Brown and Stanley, the Ravens had their opponents outnumbered."
With Patrick Ricard lined up as the fullback, the Ravens had an advantage to spring Ingram free for a big gain.
"We had an extra guy over there, so maybe they didn't line up correctly," Ricard told Kasinitz. "Usually I kick out the end, but he was inside, so I had to lock him in. And then Mark just hit it."
"For all the hype around the passing game, it's easy to miss that the Ravens ran for 261 yards against the Dolphins," Pro Football Focus' Gordon McGuiness wrote. "They averaged 3.02 yards after contact per carry and combined to force seven missed tackles, proving that they will still be able to run the ball in 2019.
"What makes it all the more impressive is that they were able to have that success without needing to put Jackson in harm's way, with him seeing just two designed carries and a scramble in the season opener."
Gordon noted that establishing the run game opened up play-action passes for Offensive Coordinator Greg Roman and the offense.
"With the Ravens' running game already a known threat, the emergence of an aerial attack could render obsolete any offseason blueprints for stopping Jackson and Co," The Baltimore Sun's Jonas Shaffer wrote. "After their win Sunday, the Ravens' season-ending playoff loss in January feels dated — closer to 9 years old than 9 months old."
In Jimmy Smith's Absence, Anthony Averett is Set Up to Succeed
Jimmy Smith will miss "multiple weeks" with a Grade-2 MCL sprain, and the Ravens are tasked with replacing one of their veteran starters. Second-year cornerback Anthony Averett is considered the top candidate to fill that role since he stepped in at Miami.
"The Ravens can put in Averett, a 2018 fourth-round pick, in place of Smith and use Marlon Humphrey on the other side and Brandon Carr in the slot; or they could push Carr outside, where he's most comfortable, and then use a combination of players in the slot, including Averett, Cyrus Jones, Anthony Levine Sr. and Chuck Clark," The Athletic's Jeff Zrebiec wrote. "They can also activate Maurice Canady from the practice squad for a little more depth and experience."
Ebony Bird's Richard Bradshaw debated this topic and believes Averett is more than capable of performing on the outside given the talent around him.
"With future Hall of Fame safety Earl Thomas playing center fielder for the Ravens, Averett now has the best safety blanket in the league," Bradshaw wrote. "Upfront, he has help from a solid front-seven and another talented safety in Tony Jefferson."
Zrebiec acknowledged that the secondary will face an interesting matchup against Kyler Murray and the Arizona Cardinals, "who used four wide receivers extensively in their opener and often lined up their best two, Larry Fitzgerald and Christian Kirk, in the slot."
"The life of Averett has just become a lot tougher, but he'll have enough help getting starting reps, or at least more than he's used to, to be successful," Bradshaw wrote. "Averett doesn't need to be a Pro Bowler from day one to replace Smith, but I believe that he can ease the suffering without Smith and prove his worth in a talented secondary."
PFF Highlights Andrews' Dominant Performance
Jackson and Brown were the top storylines following the Ravens' win, but Andrews quietly put together a dominant performance, and he was named to PFF's Team of the Week with a 93.9 grade.
"There were questions this offseason on how the Ravens would split time between their top three tight ends, and we got some answers in the season opener," PFF wrote. "Andrews led the group with 18 receiving snaps and eight targets, catching all eight for 108 yards and finishing the game having averaged 6.00 yards per route run."
Andrews broke franchise records as a tight end during his rookie season and was one of Jackson's most trusted targets. Through just one game, he's already on pace for a career year.
The Ravens are loading up for the 2020 NFL Draft: "They own all of their picks next year in Rounds 1-5; have extra fourth- and fifth-round picks via the Patriots and Vikings, respectively; and Baltimore is slated to earn third- and fourth-round compensatory picks," Yahoo's Eric Edholm wrote. "The Ravens will be shipping out their own sixth-rounder to New England and a seventh to Green Bay, but they've accumulated some nice assets here."
Zrebiec praised Ricard for his performance against the Dolphins: "He has to be considered one of the most physical fullbacks in the league. On Ingram's game-opening 49-yard run, Ricard walked a guy back five yards. He and Ingram set the tone for the rest of the game with their physicality on that play."
Tony Kornheiser gave credit to John Harbaugh on the "Pardon the Interruption" Podcast for handling the Ravens' quarterback situation last season. "Harbaugh identified that he wanted Jackson and the other thing that he did was he allowed Joe Flacco to leave politely … so Harbaugh gets credit for the smooth transition."