Will Ravens Trade Robert Griffin III to 49ers?
The San Francisco 49ers are suddenly in need of a quarterback after Jimmy Garoppolo, who signed a five-year contract reportedly worth $137.5 million this past offseason, tore his ACL Sunday.
Many pundits expect San Francisco's backup second-year quarterback C.J. Beathard to step in under center this week.
Another route some analysts believe the 49ers should consider is adding a veteran quarterback, either via trade or free agency. One name that has been consistently brought up as a potential answer for San Francisco: Robert Griffin III.
That Griffin is being mentioned as a viable target for the 49ers is not surprising considering the Ravens received calls about him from multiple teams before the 53-man roster was constructed.
Baltimore ultimately decided to keep Griffin on its roster and since then he has been a healthy scratch on gamedays.
So, does Griffin make sense for San Francisco? Many point to his time with the Redskins as a reason it could happen because Shanahan was Washington's offensive coordinator during Griffin's first two years, in which he took the Redskins to the playoffs and was named NFL Offensive Rookie of the Year.
During his rookie season, Griffin threw 27 touchdowns to just five interceptions. Having a quarterback come in that knows Shanahan's system, and has previously thrived in it, would mean less of an adjustment period for San Francisco.
"It makes sense until you remember that the relationship between Griffin and both Mike Shanahan and his son, Kyle, now the 49ers head coach, was extremely strained during their time together in Washington," The Athletic's Jeff Zrebiec wrote.
"It's highly unlikely that he [Shanahan] sees a greater advantage in visiting a turbulent past than in propping up the young quarterback he's already poured time and effort into grooming," Orr wrote.
"Maybe time heals all wounds, but I'm not counting on it in this case," Zrebiec wrote.
Another knock against the hypothetical trade is that the Ravens may not be interested in it.
Though Griffin hasn't dressed for a regular season game, he provides excellent cover for the Ravens. Through their first three regular season games, the Ravens have actively used Jackson on the field with Flacco, including this past Sunday on running back Alex Collins' touchdown run. Would the Ravens be as willing to put Jackson on the field if he was Flacco's only backup? Unclear.
There's also the issue of what the 49ers would give the Ravens for Griffin. This offseason, the New Orleans Saints gave the New York Jets a 2019 third-round pick for Teddy Bridgewater. Would the Ravens get that much in compensation?
The Seattle Seahawks sent a sixth-round pick to the Green Bay Packers for Brett Hundley. Would the Ravens be overwhelmed by a pick in that range, a little higher, for Griffin? Probably not, especially with how early it is in the regular season.
For now, there have been no reports of trade talks with Griffin making a move to San Francisco, but don't be surprised to see his name mentioned if more starting quarterbacks get hurt.
Ravens Drop in NFL.com's Power Rankings After a Win
The weekly power rankings have begun to get published, and it's mostly positive for the Ravens, as the majority of pundits have the team moving up.
That does not include NFL.com's Elliot Harrison, though. In fact, he knocked Baltimore down a slot from No. 15 to No. 16, despite Sunday's 27-14 win against Denver.
"Difficult group to rank," Harrison wrote. "While Ravens fans won't be pleased that they moved down a slot, I can't put Baltimore over Cincy at this point. And the main reason they dropped a smidge: The Steelers and Dolphins leapfrogged them -- deservedly."
Harrison has the Bengals directly in front of the Ravens at No. 15. He had the undefeated Dolphins jump seven spots from No. 17 to No. 10.
Harrison was also clearly impressed by Pittsburgh's victory in Tampa Bay, writing "clutch Steelers football in prime time, that's what that performance was." He moved them from No. 16 to No. 7, with that nine-spot leap being the biggest jump in his rankings. Pittsburgh is also the highest-rated of six teams (Minnesota, Los Angeles Chargers, Green Bay, New England and Atlanta) with lesser records than the Ravens that Harrison has ahead of them.
To be fair to Harrison, he pointed out how difficult it is to rank teams after the crazy parity in the NFL after three weeks.
"The Power Rankings are in, with one theme that keeps popping up: Nobody knows anything," Harrison wrote. "That's what I keep hearing, but I will simply say everybody is beating everybody."
"Consider: The Lions beat the Patriots, but were beaten by the 49ers, who lost to the Vikings, who lost to the Bills, who were blown out by the Ravens, who fell to the Bengals, who got handled by the Panthers, who lost to the Falcons, who lost to the Saints, who dropped one to the Bucs and should've dropped another to the Browns, who just Baker-d the Jets, who absolutely blasted the Lions. Huh?" Harrison wrote.
"A quick note on the order this week: It's insane to try and logically order this madness right now," Schwab wrote. "I know we say 'The NFL is crazy this season!' every year, but it really feels wild after the first three weeks."
Ravens fans can also take solace in knowing that Harrison's was the lone list of the 12 we looked at that had the team drop. The Washington Post's Mark Maske ranked the Ravens the highest at No. 8, while Harrison's No. 16 slot was the lowest.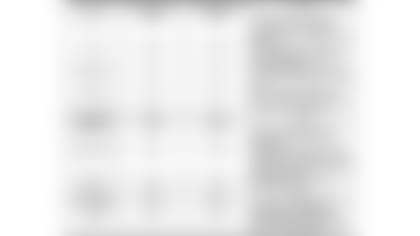 Stars Are Aligned: Ravens Will Reach Super Bowl
Get ready Ravens fans: Baltimore is heading to the Super Bowl this season!
"Grab your coffee, tilt your tinfoil hat slightly askew, and listen up, because I have a hunch that we're going to see the Ravens in Atlanta twice this season," Bonaccorsi wrote. "Week 13, and on Feb. 3rd, 2019."
Why? Bonaccorsi did some research and found a lot of eerie similarities between this season and the 2012 season, the last time the Ravens won the Super Bowl.
The first similarity Bonaccorsi found involves the Patriots. After losing to the Detroit Lions on the road during Sunday Night Football, the Patriots now sit at 1-2. The last time the Patriots held that record through three weeks of an NFL season? 2012, and their Week 3 loss was on the road in a nationally televised game (against the Ravens, actually).
"If that was the only similarity? I'd call it dumb luck," Bonaccorsi wrote. "But the similarities don't stop there."
Bonaccorsi goes on to list 10 more parallels between the 2012 season and the current one, including the Ravens' record (2-1, with two home victories and a road loss in Week 2) quarterback Joe Flacco's stats (six touchdowns and two interceptions), and Baltimore's leading wide receiver being drafted by the Arizona Cardinals (Anquan Boldin in 2012, John Brown in 2018).
Other similarities don't even involve the Ravens, like the Super Bowl being hosted in an NFC South city with a dome which Mercedes-Benz has the naming rights to (New Orleans' Mercedes-Benz Superdome in 2012, Atlanta's Mercedes-Benz Stadium in 2018).
It's an interesting theory that Ravens fans hope will play out. Here's to hoping that Bonaccorsi is onto something.
"See y'all for some Festivus Round 3 in February!" Bonaccorsi wrote.
Tyus Bowser's Whiff Does Not Go Unnoticed
The Ravens' special teams unit had an uncharacteristic tough game against the Broncos. The afternoon got off to a bad start for the unit when Broncos linebacker Joseph Jones ran through outside linebacker Tyus Bowser's block and blocked Sam Koch's punt.
"I've been in favor of giving Tyus Bowser more defensive snaps, but it was his whiff on a block that led to Sam Koch's punt being blocked and an early 7-0 deficit," WNST's Luke Jones wrote. "That's not going to garner more favor with the coaching staff."
That block wasn't the end of Bowser's day, as he played 12 snaps on defense, registering one tackle.
To Zrebiec though, Bowser's presence on the gameday roster is currently linked to his play on special teams. Bowser is fifth on the outside linebacker depth chart and has been on the field for just 29 snaps on defense over three games. Zrebiec noted that "dressing five outside linebackers is more of a luxury than a necessity."
Bowser, who was a second-round pick in 2017, definitely has a bright future, though he'll want to make sure his missed block against Denver is his last one.
"He's going to have to clean up his mistakes or the 2017 second-round pick will find himself as a game day inactive," Zrebiec wrote.
Though Koch regularly gets kudos for being an excellent punter, Zrebiec thinks his role of holder on field-goal attempts was more noteworthy against Denver. "Twice against the Broncos, Koch received a high snap from Morgan Cox and smoothly got it down for kicker Justin Tucker. That's not easy, especially in wet conditions. Koch just makes it look that way."
Jones noted that defensive end Chris Wormley is already just 12 snaps away from matching his rookie season total. "His play hasn't jumped off the page, but he's been solid filling in at the 3-technique spot for Willie Henry and is stronger and more versatile than he was a year ago."
The Ravens signed wide receiver/returner Janarion Grant to their practice squad after previously releasing him. Zrebiec believes Grant has a serious chance of being brought back into the 53-man roster before this season is over. "The Ravens love his play-making ability, but he's fighting it right now with his ball security and decision making. Getting a chance to step back a little bit and regain some confidence in practice could really help Grant."