Before Michael Pierce left Baltimore in free agency following the 2018 season, he said he expected the process to be "nerve-racking" more than exciting because he hadn't known anywhere else.
Pierce signed a deal befitting his gargantuan size with the Vikings, but when Minnesota released him two years into a three-year contract, the Ravens wanted him back.
Once Baltimore expressed serious interest, followed by a message from retired defender Anthony Levine Sr., it was pretty much a wrap.
"Your agent fields all these calls and he says, 'These teams have interest,' and you kind of mull things over, you look at their roster and everything," Pierce said. "But once he told me Baltimore was interested, everything dropped."
"For me, I just knew I missed this place. I made such great bonds here. It was a no-brainer."
Pierce joined the Ravens as an undrafted rookie in 2016 and played in all 16 games that season. He was a workhorse in Baltimore, missing just four games in four seasons and starting 14 contests in 2019 next to Brandon Williams.
Now, with Williams still a free agent, Pierce is in line to be a leader in Baltimore's defensive trenches. Pierce inked a three-year deal worth a reported $16.5 million Wednesday, reuniting with the team that first gave him a shot.
Pierce hails from Alabama, but as he drove up to the Under Armour Performance Center with his fiancé, he felt back home.
"I grew into a grown man here," Pierce said. "Seeing the streets again, seeing how things have changed, seeing the people in the building … it's surreal, man. I'm blessed to see things come full circle."
It was a challenging stint with the Vikings. Due to upper respiratory medical concerns, Pierce opted out of the 2020 season amidst the COVID-19 pandemic. The time off gave him time to focus on other passions in his life, including more serious weightlifting.
He said it was hard having to watch the Vikings play knowing he was healthy enough to suit up. Since he had extra time, Pierce also continued to keep one eye on the Ravens. He always made sure he caught Baltimore's games.
Last season, Pierce got back on the field and burst out of the gates, notching two sacks in his first game as a Viking. He took down Bengals quarterback Joe Burrow twice.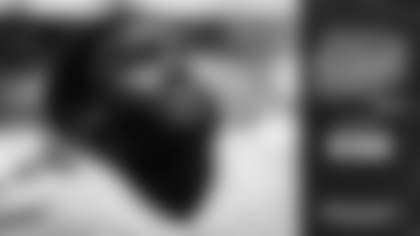 Michael Pierce Joins The Lounge
Defensive tackle Michael Pierce returned to Baltimore after two years in Minnesota. He sat down after signing his contract to discuss the lessons he's learned over the last two years and how he plans to give everything he has to help the Ravens get a championship.
Pierce started the first four games but suffered an elbow injury and missed the next four games (including one in Baltimore) before being placed on injured reserve on Nov. 13. He played in four more games, notching a sack and seven tackles, but suited up for just eight games all season.
Now Pierce returns to Baltimore looking to prove he can be the elite player the Vikings envisioned and help in more roles. He worked a lot on his pass rush the past couple years and is coming off a season with a career-high three sacks in just eight games.
"I think I got better in my pass rush," Pierce said. "In a different scheme I learned different things. Sometimes you need that to grow. It was just more responsibility."
Pierce said he expects his role will be a little different in Baltimore this time around. Last time, he had Za'Darius Smith, Pernell McPhee, Lawrence Guy and others who would collapse inside to be interior rushers. Now he expects to do more of that himself.
"It was something I was never asked to do. That's a great thing as an organization, you don't have to get that out of everybody. But over there, I had to do it and I took a lot of pride in it and worked really hard on it," Pierce said. "We haven't gotten deep into it, but I'm going to remind [my coaches] I can do it. I'm for sure going to be lobbying for it, for sure."