After Sunday's record-setting show in Miami, Lamar Jackson is still all the buzz around the NFL.
He was named the AFC Offensive Player of the Week award Monday morning, and was a frequent topic of conversation both in Baltimore and Arizona.
Let's just call this the Jackson version of News & Notes:
Jackson-Murray Are the Next Gen Quarterback
Jackson and Murray will likely continue to be linked as their careers continue because of their playing style.
They're certainly not clones, and it's always precarious to compared compare quarterbacks, but there's no doubt that both have dynamic speed and rushing ability and threaten defenses in unique ways. They are two of the fastest quarterbacks to come out of the draft in quite some time.
Though the league has become more pass-happy, the NFL is always cyclical and quarterbacks that can run may become more in vogue, especially if Jackson continues his success and Murray delivers as the No. 1-overall pick.
"It's two very dynamic playmakers, no question," Cardinals coach Kliff Kingsbury said Wednesday. "They could be the future of football if they continue to work and develop."
"I think the ability of a quarterback to move around and create on their own is really important," Head Coach John Harbaugh said, citing old-timers such as Sammy Baugh and Fran Tarkenton, as well as Ben Roethlisberger, Aaron Rodgers and Michael Vick. "It's probably something that is going to expand in different ways with different schemes now. Some of the schemes that you're talking about that are coming up from the college game and the high school game are starting to show up in the program."
Neither Jackson or Murray ran much in Week 1. Jackson had just two designed runs and one scramble that totaled six yards. Murray ran three times for 13 yards in his NFL debut.
With that said, both teams' defenses will be prepared for the quarterback to take off – and that's not something they enjoy.
"There's a lot of quarterbacks right now that have been around for 15-20 years," cornerback Marlon Humphrey. "I think the next phase of those kind of quarterbacks are in years two and three and one right now. It sucks for me. I definitely don't like [that they can run]."
Jackson-Murray Connection Goes Back to High School
Jackson and Murray will likely be connected for a long time as their NFL careers continue, but it all started back in high school.
"I was probably No. 100," Jackson said. "I don't care. … I've been hearing about him ever since high school. He's a great quarterback – fast, can throw the ball. Former baseball player. He's a great guy."
Jackson was ranked below the other now-NFL quarterbacks: No. 1 Josh Rosen (Miami Dolphins), No. 4 Jarrett Stidham (New England Patriots), No. 10 Drew Lock (Denver Broncos) and No. 12 Sam Darnold (New York Jets).
Rosen was on the other sideline Sunday in Miami. The No. 10-overall pick of 2018 (22 spots ahead of Jackson), was traded by the Cardinals to the Dolphins once Arizona drafted Murray. Rosen relieved Ryan Fitzpatrick last week and was intercepted by Marlon Humphrey on his second passing attempt.
Now Jackson will get a chance to upstage another quarterback from his high school draft class.
Murray had an interesting path to the NFL because he was originally drafted by the Oakland Athletics to be a baseball player. After winning the Heisman Trophy and starring at Oklahoma in football, Murray ultimately chose to go with football.
Jackson, who said he hasn't thought about whether he could play another sport, doesn't feel much of a Heisman brotherhood connection going on with Murray.
"That's college. We're in the NFL now," Jackson said. "You can't be a brother against me. Probably after the game and stuff like that, it's cool. On the field, not at all."
Kliff Kingsbury Says Jackson Is 'Elite'
Considering he was a big reason why the Cardinals drafted Murray No. 1 overall, it's no surprise that first-year Cardinals Head Coach Kliff Kingsbury is also a big fan of Jackson's.
Kingsbury told the Arizona press Wednesday that he first saw Jackson in a Texas A&M vs. Louisville bowl game in 2015, when Jackson was a true freshman.
"He lit it up," Kingbury said. "He ran for 200 threw for 300 as a true freshman. I was like this guys an absolute freak! I actually called my agent and said 'I got your next guy!'"
Baltimore doesn't need to go down the whole "elite" quarterback rabbit hole, but Kingsbury did use the word when talking about Jackson's Week 1 performance.
Jackson's Quote Is Now a T-Shirt
Jackson is a modest guy who doesn't utter many inflammatory quotes, but he couldn't help but drop a fantastic one-liner after the Dolphins game when he said, "Not bad for a running back."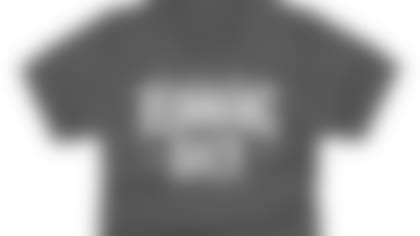 Jackson said he was a bit surprised by how much attention the quote got.
"I've been seeing it everywhere," he said. "People keep tagging me in stuff like that, making it into quotes. It's pretty cool though. It's pretty cool.
"I've just got to keeping doing the week in week out, just playing ball, winning games, scoring touchdowns."