Chris McAlister showed what the Pro Bowl cornerback can do when he's marking a team's top receiver again Sunday.
In a physical 13-10 loss to the Tennessee Titans, McAlister came up with his team-leading third interception of the year, moving up to second in franchise history with his 26th career pick.
McAlister stepped in front of wideout Brandon Jones, who had three receptions for 54 yards, in the opening quarter for the Ravens' second interception of the day. Jones was Tennessee's best receiver, as tight end Bo Scaife paced the squad with seven grabs for 72 yards.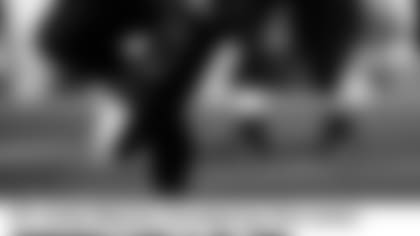 Defensive tackle Justin Bannan posted the first interception off a Kerry Collins pass that was tipped by Haloti Ngata on the Titans' initial drive.
For McAlister, the sting of a loss – which dropped Baltimore to an even 2-2 – took precedent over the glow of personal achievement.
"I've got great teammates and great coaches," McAlister said in a somber post-game interview. "That's pretty much what it boils down to. They put me in position to win."
With the Titans driving in Baltimore territory, Collins looked deep for the 6-foot-1, 212-pound receiver at the Ravens' 22-yard line.
Immediately brought down, McAlister got possession back for a Ravens offense that kept possession for 9:38 in the first quarter.
The play was simple for the 10-year veteran.
"I didn't see anything [special]," McAlister said. "I was just out there running, keeping my eyes on my man."
The pick vaulted McAlister over linebacker Ray Lewis (25 career interceptions) on the Raven's list, nine behind leader Ed Reed's 35.
McAlister is also currently tied with five other players for second in the NFL with three interceptions.
McClain Continues to Churn
The Ravens again relied on 260-pound fullback Le'Ron McClain to carry a large part of the rushing attack, posting 51 yards and one touchdown on 11 carries.
McClain also hauled in two catches for 12 yards.
The touches were crucial for the Ravens, as McClain tallied six first downs, five on the ground and one through the air.
"Whatever is going to help the team," McClain. "I just hope each week my role continues to help lead this team to victories."
McClain's score, a 1-yard plunge that capped an 11-play, 71-yard march on the first drive of the third quarter, was the only time a team has scored on the Titans in the third quarter all year.
His fourth touchdown was a highlight of 132 total Ravens rushing yards against a defense that entered the game giving up a meager 86.8 run yards per game.
"They're a great team, but we just did what we were doing all week," McClain noted. "We said we were going to run at them, and we did."
The Titans only racked up 47 rushing yards, mostly on the legs of rookie Chris Johnson's 44 yards (18 attempts).
It marked the fewest allowed all season and extended Baltimore's streak of 23 games without seeing a 100-yard runner.
"We gave up a couple runs early on, and then we settled down and started playing our game," said Bannan, who started in place of injured nose guard Kelly Gregg (knee).
Tennessee was averaging 137.0 yards a game, eighth-best in the league.
The announced attendance for Sunday's contest was 71,131 at M&T Bank Stadium…Michael Phelps, who won an unprecedented eight gold medals in the Summer Olympics, served as an honorary captain. Phelps is a Baltimore native and self-professed Ravens fanatic…The Ravens did not allow a sack for the second time this year…Head coach John Harbaugh successfully challenged an interception by Titans linebacker David Thornton in the first quarter. It was ruled that Thornton did not have possession in-bounds of Joe Flacco's short pass to Mark Clayton. Harbaugh is 2-2 on challenges.