Facing a ferocious New York Giants pass rush last week, the Ravens only allowed one sack of quarterback Joe Flacco![](/team/roster/joe-flacco/3e20766f-6520-4ca1-9901-44389aaea8b8/ "Joe Flacco"), and that came on his final throw of the day.
Baltimore will see another stellar pass rush again Sunday, as the Philadelphia Eagles may be even more hell-bent on sending everything they can at opposing signal-callers.
Both defenses are similar in what they do up front, as Giants defensive coordinator Steve Spagnuolo spent eight years serving under current Philadelphia coordinator Jim Johnson.
Because head coach **John Harbaugh** coached alongside both Spagnuolo and Johnson for those same eight years, he is expecting to see more of Johnson's brand of innovative blitz schemes this weekend.
"Jim has got a pretty exotic package," Harbaugh said of his former colleague. "Over the years, he's run all the different things he's run. Now, if he comes up with a new blitz that we haven't seen before, it'll be a new blitz nobody's seen before. He's got them all.
"We're going to have to anticipate a little bit how he's going to attack our protections, a 'what if?' type of a deal. He'll have a couple blitzes ready for every type of protection we've run, so that's part of the guessing game."
The Eagles' 36 sacks are currently tied with the Pittsburgh Steelers for the NFL lead. Thirteen different players – and at least one from every defensive position – have earned a sack.
Judging from Philadelphia's unpredictability when assaulting an offense, the rookie Flacco knows the Ravens have their work cut out for them.
"Philadelphia brings it from a lot of areas, and you have to make sure your eyes are up and you know where to go with the ball," Flacco explained. "They're good at what they're doing, so we're going to make sure we scheme, that we have a good scheme going into the game and we're running plays that we're all good at and we're good at executing."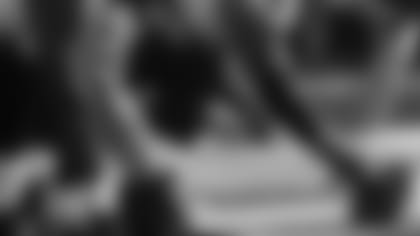 The Eagles are led by defensive ends Trent Cole and Darren Howard. Cole, who is coming off a Pro Bowl 2007 campaign where he totaled 12.5 sacks, has six this year. Howard is a veteran reserve that actually leads the team with eight sacks, the most of any player that has not registered a start in 2008.
Philadelphia is also riding high after tattooing the Cincinnati Bengals for eight sacks last week, second only to a nine-sack effort against the Steelers in Week 3.
"They're definitely a threat," said right tackle **Willie Anderson**. "They do a variety of different things, and along with great players and a great scheme, that makes for a great defense."
"They definitely walk a lot of guys up to try to beat the offensive linemen here and there, but we just have to be alert and smart on all the blitzes," agreed center **Jason Brown**.
In past games, the Ravens have neutralized blitzing teams with success running screen passes and connecting on hot routes, while using tight ends to block or running backs to chip the edges has also helped.
Baltimore needed all their options against the Giants, and will likely still need them when meeting the Eagles, especially, considering the status of Baltimore's top three offensive tackles.
Starting left tackle **Jared Gaither** sat out practice Wednesday after getting a magnetic resonance imaging exam on the left shoulder he injured at Giants Stadium.
Anderson was limited, as he is nursing a hurt left ankle.
While Terry and Anderson were both optimistic about returning by Sunday, Harbaugh said he will take a wait-and-see approach to Gaither's status.
"He's rehabbing and working to get it better, and that's what it's at," the coach stated. "You saw today it's in a sling, so we just have to see how it progresses."
When asked if anything was learned from the MRI, Harbaugh remained coy.
"Not that I have anything I want to report," he said.
Still, the Ravens' offensive line has not let the mounting injuries become a distraction.
"You can't let that slow us down," said guard **Ben Grubbs**. "We have to continue to move. We can't think about that, because when you dwell on injuries that are taking place, that can bring you down. That's something we don't want to do."
That positive mindset has held the unit together through a solid season of pass-blocking. Baltimore's 18 sacks allowed are tied for 13th in the league, despite losing right guard Marshal Yanda![](/team/roster/marshal-yanda/a93162da-9ca5-4ec8-ad51-c02253b292c1/ "Marshal Yanda") earlier in the year after tearing ligaments in his knee.
"We've had tests before," stated Brown, who is one of three linemen to start all 10 games, along with Gaither and Grubbs. "We've been rotating a lot of guys in and out on the offensive line. The thing is, we still have to perform someway, somehow."
Visit Jason Brown's, Jared Gaither's and Ben Grubbs' *Pro Bowl Bound? pages and Vote to send them to Hawaii.*